Alumni Profiles
The world according to Carl

Something special in the air
American Airlines' most-senior pilot lands for good after 37 years
By David Van Meter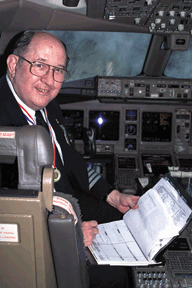 AMERICAN AIRLINES Flight No. 37 that flew in to Dallas from Zurich on March 27 was just like most other flights. Except that the person flying the 777 jumbo aircraft was Captain Jim Chaffee '64.
And after cake, coffee -- and the sentiments that come with the retirement of American's most-senior pilot ever -- the 60-year-old fly boy left his captain's chair for good. Chaffee's flight pattern started in 1962, after the Fort Worth native caught flight fever from a family friend, pilot George Eckardt, who attended Chaffee's retirement party.
"I asked him to help me get a private pilot's license," Chaffee recalled. "He said, 'Son I don't teach amateurs; if you ever want to fly as a career, come back and see me.' "
Chaffee, a student at Texas Tech, soon transferred home to TCU, earned his commercial license and was hired by American at age 23. By 29, he reached the rank of captain, an unusual feat.
Chaffee remembers planes that had no autopilot and making seven or more flights a day. He's seen the advent of the female pilot, picked up troops in Vietnam, flown to more than 20 countries and watched as aircraft has moved from manual controls to the birds of today, where a pilot's index finger -- commanding all kinds of high-tech gadgetry -- can fly a plane halfway across the world. Yet, automation and improved safety aside, flying a 300-ton mode of transportation still requires steady nerves.
"One of my most memorable flights was when the landing gear on a 727 came up through the wing," Chaffee said. "The gear went back down, but we had to fly around and dump fuel before we could come back and land."
The northern lights and flying over Greenland are Chaffee's favorite sights from above, and his favorite destination is Paris. Maybe that's why retirement with his wife of 31 years, Jeannie (the Chancellor's special events coordinator, by the way), includes building a wine cellar specializing in French red wines.
"I've been quite lucky," said Chaffee, waving off his own skill, "and luck is where it's at, because American was a viable company during my entire 37 years."

Top