Other features:
Talking History | Recollections of Dorm Life
A TCU Coup!
The inside scoop on how we landed Victor Boschini Jr. as our 10th chancellor.
By Rick Waters

Before he became TCU's 10th chancellor, even before becoming a finalist, Victor Boschini Jr. had done his homework.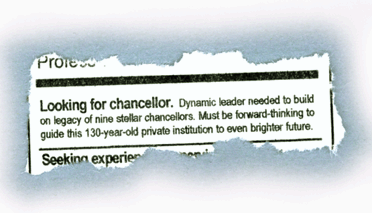 But the 47-year-old candidate from Illinois State University, known as an enthusiastic fast-talker with an inquisitive nature, had to listen first -- and answer.
"How would you describe your management style? What are your work habits like? What's your philosophy on relating to faculty and students? Describe your approach to fund raising. Give us your position on diversity and athletics." The 12-member chancellor search committee seemingly had every topic covered.
Then came Boschini's turn to do the asking, and he lugged out The TCU Fact Book, the university manual of campus statistics, thumbed to a tabbed page and began a discussion that would cover freshmen retention rates, graduate school enrollment and a host of other topics.
The real Q & A had begun.
"He looked at the trends and asked great questions," said TCU trustee R. Denny Alexander, chair of the search committee. "He took some of the numbers and made comparisons with his school and other schools of TCU's size. I was impressed with the research he had done."
So was the rest of the committee, which would later spend half a day one Saturday in December mulling the strengths and weaknesses of the seven semifinalists. Boschini's energy and enthusiasm were not easy to forget, and his name was at or near the top of everyone's list.
Had TCU used a classified ad to lure its next chancellor, it might have read something like this: Chief administrator wanted for 130-year-old liberal arts university in Southwestern metropolitan city. Must be successful in building relationships on campus and off. Must be able to take ambitious growth campaign and make it even better. Must be articulate and decisive, but maintain a team-first philosophy.
In reality, TCU found its chancellor through old-fashioned legwork. And Boschini's fast-rising reputation didn't keep him unnoticed for long.
His name was first mentioned by a few TCU alums who e-mailed Alexander about a young president in Illinois who was working masterfully with the state legislature. An executive search firm hired to assist the committee confirmed that this high-energy college president from Normal, Ill., indeed was an up-and-comer. He had private and public university experience. He was articulate. Innovative. Team-oriented. Pretty much what TCU was looking for.
"We contacted him directly as we did with the other candidates," Alexander said, "and the first thing we asked was if he was interested."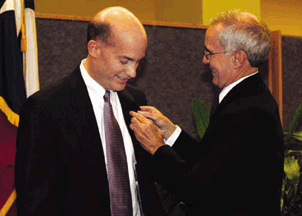 Boschini left no doubt. He had been at private institutions and public ones, but it was the private university experience that he longed to have again.
Alexander began doing background research, reading Boschini's messages to his own university community, previous speeches, articles written about him and his strategic campus plan, Educating Illinois: An Action Plan for Distinctiveness & Excellence.
"It was obvious he was a viable candidate early on," Alexander said. "The background material reinforced what we had been hearing about him."
Alexander decided from the beginning that he would visit the short list of candidates at their respective universities as he had done in the search for Michael Ferrari just five years before. It worked then and would work again.
In mid-November, Alexander spent a half-day with Boschini in his office and walked the Illinois State campus. "It was not so much a screening as it was gathering more information," Alexander recalled. "It was helpful to see him in his own setting, interacting with people at his own institution. I was able to get a feel for the school and the environment he is in and match that to his list of accomplishments."
The two connected. Boschini indicated strong interest in TCU, and Alexander believed Boschini could be compatible in Fort Worth.
The search committee sensed it, too. They checked his references and unanimously selected Boschini as one of the seven semifinalists who would be brought to Fort Worth for a confidential visit, a tour of the city and campus and a formal interview.
"I drove him to lunch where three other members of the committee joined us," said committee member Karen Baker, associate director of administration for TCU Residential Services. "After lunch, we drove the campus and community for several hours before I took him to the airport in the early evening. All the while, he asked questions nonstop about TCU. Our interaction provided the opportunity to not only know him much better, but the chance to see him in quite a different light than in an interview setting. As I drove away from DFW, I firmly believed him to be a great match for TCU."
The search committee would meet one last time -- in that marathon Saturday session -- to narrow the seven to three. Boschini was one of them.
"I was quite impressed by Dr. Boschini's energy, warm personality and enthusiasm for his work as a university president," said Robert A. Seal, university librarian and search committee member. "A major strength was his willingness to listen and to bring all stakeholders to the table when issues are to be discussed and problems need to be solved."
The three recommendations went before the executive committee of the Board of Trustees in early January, and throughout the month the finalists returned to Fort Worth with their spouses for a two-night visit and an all-important dinner with the executive committee.
By the end of the month, the committee met again, recommended Boschini to the board and scheduled a final visit -- this time to welcome him to the TCU family. The trustees voted, and hours later Boschini was introduced at a press announcement.
Alexander was all smiles.
"I am very excited about the future of TCU. Dr. Boschini has the energy and the skills to build on the important progress made by Dr. Ferrari," he said. "The [search] committee did an excellent job. I feel very confident that we got the best person to lead TCU in the future."
Top