Hail, all hail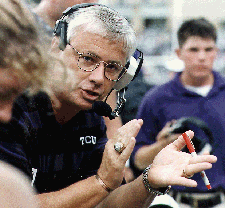 More than a winning 6-5 record (much better than predicted) returned to the football program and Amon Carter Stadium. The efforts of Coach Fran (right) and the team led to a Sunbowl invitation in El Paso on New Year's Eve, the first bowl game since the 1994 Independence Bowl.
On your mark
Get set, the University is committing itself to remain at the highest level of Division I, starting with numerous facility renovations.
The Board of Trustees approved in November what had been rumored for most of the fall: an $8.05 million package to begin the first phase of making sure TCU continues to have "a nationally prominent athletics program."
"This is a road map," said Athletics Director Eric Hyman, ". . . a long-range plan to accomplish our goals."
Tentatively, it includes:
-- an academic learning center, in proximity to Amon Carter Stadium and Daniel-Meyer Coliseum,
-- a track-and-field complex to match the national prominence of TCU's program, which will require relocation of the soccer and football practice fields,
-- and handicapped accessibility improvements to the restrooms and seat- ing at the coliseum and stadium.
The second phase will include a new baseball stadium and stadium renovations.

Century mark
Coach Dave Rubinson, head coach for the men's and women's soccer program since both began, received more than a win by his ladies on Sept. 13. The game marked the 100th TCU victory for the charismatic coach. Equally sweet, the men finished the season with a 9-8-1 mark, the team's first winning season since 1995.

Full court presence
Ranked No. 25 in a preseason Associated Press coaches poll, the Frogs showed there's nothing inflated about that number. Though dropping their regular season opener 87-85, they did so against No. 23 Rhode Island. They rebounded immediately to beat a tough Providence team 79-77, slipped by Oral Roberts 94-93 and beat NCAA Tournament regular University of New Orleans 74-61.
That last win showed an emerging balance of power within the squad, with Nailon finishing with 17 points and a game-high 12 rebounds, Fowler with 15 points, sophomore Ryan Carrol with 13 and newcomer juniors Marquise Gainous and Vladimir Jaksic with 14 and 10, respectively.
"Before the season, I didn't think we were going to be a great team," admits Nailon, but then he raises his eyebrows. "But we are good. Maybe better than last year."

Hey mister, can I have your autograph?
All-American Lee Nailon signed posters after the Frogs' first exhibition game of the season in October for members of the Buffalo Soldiers, an organization that seeks to turn around the lives of at-risk youngsters.

From the mouths of wives
Called the "power behind the glory," the wives of various coaches spoke at a Clark Society breakfast in October.
Kim Franchione told the philanthropic group gathered in the Kelly Center that her husband does indeed know what he's doing, so long as he stays on the football field.
During one road game, Kim walked into her hotel room to find her husband "knitting" together a torn seam in his pants. "No, Dennis, that's called sewing," she gently corrected. Later that day, she noticed a burn on his neck. "He told me," Kim said, "that he had noticed a few wrinkles on his shirt and decided to iron it."
Of course, in the hurry that he was, Coach Fran tried to smooth the shirt while still wearing it.
The final laugh came from Pat Tubbs, who told audience members that she has gotten used to her husband being absent from home during basketball season, but that it took her a while to get used to the idea. One Thanksgiving, the frustrated coach's wife told her husband, "Billy, I think you love basketball more than you love me." To which he responded: "But at least I love you more than I love golf."

Briefly . . .
Best in the nation
The No. 1-ranked rifle team continued to hit the bullseye at the Horned Frog Invitational in October. TCU's purple team took second overall in the air rifle, followed closely by the white squad in third; in the smallbore, purple placed second, white fourth. The shooters also smoked the Aggies in a subsequent meet.
Ace
Senior Esteban Carril needed just 55 minutes in September to capture the first ITA Grand Slam title of his career. The Gigon, Spain, native played near-flawless tennis, serving up eight aces along the way. Rankings weren't available at press time, but Coach Michael Center predicted Carril would be among the top three players in the nation.
Stroking success
In a November meet against BYU, senior swimmer Jason Flint trailed competitor Dwibi Malinovski for 175 yards of the 200-yard breaststroke event, yet pulled away to win first place. Flint, an All-American, has yet to lose a dual meet in his college career. Runner's high. Gladys Keitany may only be a freshman, but the Kenya distance runner is already moving to the head of the pack: She's the first TCU female distance runner to qualify for the NCAA Regional Cross Country Championships.
Pulling rank
Both the women and men's golf teams were among the top 10 teams in the country, and neither squad showed signs of faltering: The men took fourth place in the Rolex Match Play Championships in November, upsetting Arizona State. The women placed second at the Diet Coke-Roadrunner Invitational; ace Angela Stanford won her second tournament of the season for individual effort.
They weren't kidding
The women's basketball team under Coach Mike Petersen settled on a "We mean business" theme for this year's squad, and their first regular season game, 93-36 over Prairie View A&M, proved the slogan, with four Frogs scoring in double digits. Killer! The still-young VolleyFrogs are showing signs of maturity, winning when it counts. In this fall's case, it was sophomore Amy Atamanczuk with nine kills leading the charge in defeating Air Force in three straight sets, the Frogs main obstacle in receiving a bid to the WAC Tournament.


Top