Dirty competitors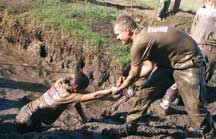 A thick coating of cold, wet mud wasn't enough to dampen the enthusiasm of these Frogs. Sixteen Army ROTC cadets from TCU competed in the Miller Lite Mud Run in October at the Naval Air Station Joint Reserve Base in Fort Worth. The boot-camp-style 10-kilometer course consisted of various feats of endurance – crawling, climbing and running – all in the mud. One of the TCU teams, Flying Frogs 1, finished fourth out of 64 teams in the co-ed division. The event raises money for several organizations, including Junior ROTC and Young Marines programs in North Texas, DFW Toys for Tots and The Fisher House.

Gates of Chair speaker shares ideas on the Middle East
Tensions may be rising worldwide, but no conflict is more important and impactful to the globe than the Middle East, Ambassador Dennis Ross told a crowd of about 400 at October's Gates of Chai lecture.


"Now is the time we have to take on the Israeli-Palestinian issues and solve them," said Ross, Counselor and Distinguished Fellow of the Washington Institute for Near East Policy and former State Department specialist for presidents George H. W. Bush and Bill Clinton.
Ross highlighted a three-step approach to resolve the conflict:
1) Have Israelis and Palestinians negotiate a real cease-fire;
2) Support a referendum of the Palestinian people that supports a two-state government without Hamas;
3) Urge the international community to stop supporting Hezbollah.
A summary of Ross's insights and opinions
Iran The U.S. could have some success in curbing Iran's nuclear program by pressuring the nation economically through stricter enforcement of existing regulations, offering Tehran the prospect of appropriate inducements, implementing security measures that dissuade and deter the regime, making the preventive military option more credible and promoting reform regardless of the nuclear situation. Even if such measures prove ineffective in the face of a clerical leadership dead set on nuclear development, they can still serve as proof that Washington is pursuing every peaceful option possible, thus strengthening the U.S. position if more severe measures become necessary.
Iraq A long-discussed regional conference with all of Iraq's neighbors should be held. None of them – Iran, Saudi Arabia, Jordan, Syria, Turkey – wants the Bush administration to succeed in Iraq (at least in the way the president defines success). And yet every one of them fears the consequences of an Iraq convulsed in the aftermath of a precipitous U.S. withdrawal.
North Korea What's happening in the Middle East is linked to North Korea because they will sell their nuclear technology to the highest bidder.
George W. Bush The administration needs to insist that a national reconciliation conference be held and not be disbanded until an agreement is reached on amendments to the Iraqi constitution.
Hezbollah The Israeli-Palestinian conflict did have an important impact on the military capabilities of both Israel and Hezbollah, its impact on Hezbollah's global terrorist capability was negligible.
Shiites The Shiites, who dominate the government, may have reason to distrust the Sunnis, but they also remain unready to recognize the Sunnis' need for formal assurance that they will have a piece of the pie.
Sunnis The Sunnis may understand, intellectually, that they will no longer hold all the positions of power and privilege, but emotionally they have yet to accept the idea of the Shiites – an underclass in their eyes –as the dominant political force.
Kurds The Kurds, regardless of what they say, expect to be independent and simply want a political framework that legitimizes that status without exposing them to threats from Turkey or Iran.

Trustees meeting yields new dorm policies
Current freshmen better get used to resting their heads on on-campus beds. The Board of Trustees at its November meeting approved a two-year residential requirement for freshmen and sophomores starting next fall.
The new policy – only freshmen are currently required to live in on-campus or university-authorized housing – coincides with the building of four new dorms in the center of campus that are expected to be completed by the end of 2007.
"Studies show that students who live on campus receive a much richer educational experience than those who live off campus," said Don Mills, vice chancellor for student affairs. "Until 1980, virtually all underclassman and a majority of upperclassman lived on campus, but the increased student population plus a healthy demand for on-campus living outstripped our residential space."
The two-year residential requirement is geared toward helping TCU reach its goal of establishing a residential environment that will enrich the student experience and reflect a recommitment to TCU's residential heritage.
At the meeting, the trustees also approved a tuition increase for the 2007-08 academic year. The eight percent increase means new and returning full-time undergraduate students taking between 12 and 18 hours will pay $24,820 in combined tuition and fees – compared to the current $22,980. The board also agreed to increase financial aid by eight percent.
"TCU is a world-class, values-centered university," said Chancellor Victor J. Boschini, Jr. "Those qualities are readily reflected in the distinctive research conducted by faculty and students, as well as the complex societal problems they regularly solve. And while increasing tuition is never easy, we cannot abandon our commitment to impart an unrivaled educational experience."
Women in Milton Daniel? It's true. In the fall, Milton Daniel Hall, historically a men's residence hall, will become co-ed. Waits Hall, a women's residence hall, will also be co-ed for sophomores on up. And that's not all. Foster Hall will be primarily a freshman residence hall. Wiggins Hall will be renovated to become Greek housing. And Jarvis Hall will be open next fall – for the last time, said Craig D. Allen, director of residential services. Jarvis will serve as office space in the future."

Wright Symposium emphasizes importance of civil engagement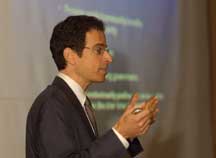 Using a mix of humor and insight, Harvard professor Tom Sander, one of two featured speakers at the Wright Syposium at TCU in October, explained the importance of civic engagement – being connected to various social networks. The event also featured a speech by Rosa Rosales, president of the League of United Latin American Citizens.
The lack of civic engagement, Sander said, can be seen by examining participation in the 32 largest civic organizations, such as the Lion's Club, Rotary and others. Starting in the early 1900s, membership in these organizations steadily rose – except for during the Depression – before plateauing in the 1950s. Since then, there has been a decline to levels not seen since the 1930s.
Similar trends, Sander says, have been found in the level of church donations and participation in city or school-related meetings. The television era, Sander says, could be the biggest culprit: "More of us are watching 'Friends' than being friends. … Television is the only activity that is associated with doing less of everything else."
Hear Rosales' speech at www.newsevents.tcu.edu/print/Rosales.MP3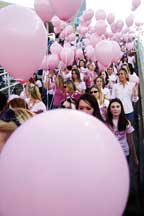 A pink out
At the TCU football game Nov. 18, fans wore pink for the 2nd annual Frogs for the Cure, an event raising money and awareness for the Tarrant chapter of the Susan G. Komen Breast Cancer Foundation. A portion of ticket and merchandise sales went to the nonprofit foundation. A special halftime ceremony honored members of the TCU community affected by breast cancer.
• 215,000 cases of breast cancer diagnosed each year in the U.S
• 10,000 free breast exam coupons handed out at the game
• 600 pink balloons released in a special pre-game ceremony
• 600 TCU community members affected by cancer who took the field at halftime
• 2 years in a row that Amon G. Carter Stadium has hosted a Pink Out event.

Hollandsworth leads class of four into Journalism Hall of Fame
The Schieffer School of Journalism welcomed four new members into its Hall of Excellence in October. The induction ceremony was part of the annual Journalism Exes Breakfast. The inductees, all journalism alumni, included writer Skip Hollandsworth, former Society of Professional Journalists director Russell Hurst, Southwest Airlines vice president of special marketing Camille Keith and sportswriter/advertising executive Jerre Todd.

"This year's Hall of Excellence class has made outstanding contributions to a number of mass communications professions," said Tommy Thomason, director of the Schieffer School. "They demonstrate the quality of those associated with our program across a wide range of media-related fields."
Skip Hollandsworth '79, an executive editor at Texas Monthly, has received several journalism awards, including a National Headliners Award and the national John Hancock Award for Excellence in Business and Financial Journalism.
Russell Hurst '52, editor of the Skiff as a TCU undergraduate, a radio announcer and newspaper journalist, was named executive director of the Society of Professional Journalists in 1962, a post he held for a record 19 years. Hurst was a radio announcer for KXOL and later a reporter for the Star-Telegram and a reporter and editorial writer at the Minneapolis Tribune.
Camille Keith '67 is an original employee of Southwest Airlines who rose through the ranks to become vice president of special marketing. Keith is responsible for developing marketing strategies for special publics and for special projects in the cities and states the airline serves.
Jerre Todd '57 worked as a sports writer in the 1950s, but made his reputation in public relations. After a stint as public relations director for the Colonial Country Club and as a consultant with Hill and Knowlton Worldwide and other firms, Todd began his own company, Jerre Todd and Associates, now called Todd Company.

Briefly famous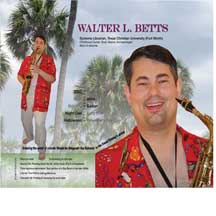 If you like to read books and you think he's sexy, come on – hang him on your wall.
Walter Betts, systems librarian of the Mary Couts Burnett Library at TCU, bares his belly in an 18-month Texas Library Association calendar. The Men of Texas Libraries Calendar, which begins with January 2007, is a fund-raiser for hurricane-ravaged Gulf Coast libraries.

Although some of the calendar guys are scantily clad – one is covered only with a well-placed cowboy hat – Betts' spread is a but more subdued. He is posed in an unbuttoned Hawaiian shirt and trousers playing a saxophone.
Betts admits he isn't eye candy.
"I'm the 'after' picture – you know, what happens after 10 or 15 years of working as a librarian," he said in an interview.
To order the calendar, go to www.txla.org/temp/TLAmen.html.

Five questions with Sanjay Gupta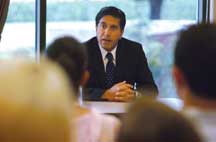 Popular TV personality Dr. Sanjay Gupta, CNN medical correspondent, practicing neurosurgeon and assistant professor of neurosurgery at the Emory University School of Medicine, was the featured speaker at the Fogelson Honors Forum in October. Prior to the forum, Gupta discussed a variety of topics during a question-and-answer session with students.
What do you think of our healthcare system compared to the rest of the world? We are running a healthcare system that is predicated on waste. Ninety percent of our healthcare budget for individuals is spent in the last two years of our lives. Is that the right thing to do or the wrong thing to do? I don't know. But it's something we in the United States do that is very different from the rest of the world.
What is your opinion of Red Cross workers being targeted by Iraqi insurgents? For a long time having the International Red Cross symbol on your vehicle or your clothing was a symbol of protection. … The first time I saw that systematically not being honored was in Iraq, where vehicles were targeted and ambulance drivers and ambulance passengers were being targeted and killed. And it was shocking. Why is this happening? As a journalist, as purveyors of news, you've got to dig a little deeper to find out what happened. Not that there's an excuse.
What is the most satisfying story you've done? There have been a lot of stories that have been very satisfying. I think most recently Hurricane Katrina was one of the most satisfying experiences as a journalist. It was a terrible experience as a human being. There was a lot of misinformation going on from politicians of Louisiana saying [the hospitals] had been evacuated, [the patients] had all gotten out, which simply was not the case. ... For me, it was a melding of my worlds, medicine and media, and ultimately it led to lives being saved.
How does advertising affect your work? I do segments and the camera goes black in and out of my segments. And they do that on purpose because there's no sense in knowing who's advertising around my segments. There's that certain distance between journalism and the sales staff and all the advertising. One time I slammed Vioxx and right after that there's an ad for Vioxx. I didn't know that was going to happen, but it happened. And I got a thousand angry calls.
Are there times when being a doctor has affected your objectivity as a journalist? When I was an embedded journalist in Iraq with the Devil Docs, they had a general surgeon but they had no neurosurgeon, and they asked me if I could do an operation. I would say that was crossing the line. But how could you not save a life if you have the opportunity to do so?

Ranch Management Unveiling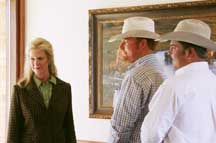 As long as there's golden sunsets and green pastures, the cowboy way of life will carry on.
That's the sentiment evoked by artist Karen Holt's brilliantly hued painting that now hangs inside the Winthrop Rockefeller Building. Her work, a 28-inch by 45-inch oil on canvas titled "Nearby … there is peace," was commissioned by Ranch Management in celebration of the program's 50th anniversary. It was unveiled in a November ceremony attended by the TCU Board of Trustees.
"I think it's beautiful," Ranch Management Director Kerry Cornelius said.
The painting depicts two cowboys on horses wading into a stock pond to round up cattle. The inspiration for the scene, which appears to take place in the late afternoon, was real-life cowboys Bobby Harter '05 (RM) and Dusty Powell, who work on the Moncrief Ranch.
"They just gave me a true insight into what the program involves and what contributions it makes to the community and the world," Holt said.

Well suited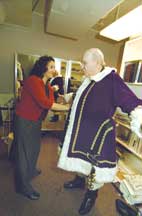 Sometimes even Santa needs to get his wish. For years, longtime friends Howard Payne '48 and TCU costume designer LaLonnie Lehman talked about creating special TCU purple Santa suits for him and "Mrs. Claus." Howard and wife Mildred Erby Payne '48 have portrayed the official University Claus couple for more than two decades. But Lehman's busy production schedule never allowed for making a special TCU holiday suit. Until this year.
Spying a piece of purple fabric in a store reminded her of Payne's request. Unable to find just the right shade of Horned Frog purple through her usual sources, Lehman finally called on the help of theatre alumnus Barry Doss '91 in New York, who was happy to ship twelve yards of luxurious TCU purple velvet to a delighted Lehman.
Lehman has been with the TCU theatre department for 35 years, but this was her first opportunity to create a Santa suit. The labor of love features details like a gold TCU logo on Santa's hat and a cluster of jingling bells at the belt. "We're in theater, so we get carried away sometimes," Lehman said, laughing.

In brief
A new name will be added to the plaque at the Veterans Plaza. At a ceremony in November, Chancellor Victor J. Boschini, Jr., announced that Landon Casillas '04, who was stationed at Fort Campbell, Ky., and killed in a training accident in Tennessee, will be added to the memorial honoring TCU veterans who died in military service.
The School of Nurse Anesthesia exceeded national accreditation standards on the first try and received 10 years of accreditation, the maximum amount of years a program can be accredited. A graduate of a non-accredited program cannot take the National Certification Examination for Nurse Anesthesia to become a certified registered nurse anesthetist. The nurse anesthesia program in the Harris College of Nursing and Health Sciences is now the fourth largest program of its kind in the country.
TCU students rank eighth in the nation in fitness, according to survey results in a recent issue of Men's Fitness magazine. The survey, conducted by The Princeton Review, asked students about their eating, drinking and smoking habits and their opinion of the university's food and fitness offerings. The University received an A grade for its "culture of fitness."
Mary Volcansek, dean of AddRan College of Humanities & Social Sciences, will relinquish her administrative duties to return to full-time teaching after the current academic year. Provost Nowell Donovan has placed a committee in charge of conducting a national search to find a replacement for Volcansek. She was the first dean of the college after it was reorganized in 2000.

TCU Tomes
Eat Chocolate, Lose Weight
Anne Isham '80
Nortex Press
Isham's book, subtitled How to Morph Yourself from an Out-of-Control, Indiscrimnate Chocoholic into a Sleek, Svelte, Sophisticated Connoisseur of Fine Chocolate, takes readers on a journey from the Mayans to Renaissance Europe to her own climate-controlled chocolate larder deep in the heart of Texas. This compilation of chocolate life philosophies, lists of fine chocolates and recipes, is enough to make one's mouth water. Purchase at www.amazon.com.
Half-life of a Zealot
Swanee Hunt '71
Duke University Press
In her second book, Hunt, director of the Women and Public Policy Program at Harvard's Kennedy School of Government, tells her own story as the daughter of oil magnate H.L. Hunt, where she grew up in a household dominated by an arch-conservative patriarch. Hunt describes her childhood, personal triumphs and shortcomings, and her constant drive for progressive change in America and abroad. To purchase, visit www.dukeupress.edu.
From TCU Press
Boys' Books, Boys' Dream, and the Mystique of Flight
Fred Erisman
TCU Press
Erisman, the TCU Lorraine Sherley Professor of Literature Emeritus, compiled this study of the more than 40 boys' aviation series written from the early 1900s to 1950s. He reveals the part played by the books and their writers in spurring the American nation's fascination with flying. To purchase visit www.prs.tcu.edu.

Conversation with Ron Hall '67
The Same Kind of Different As Me
By Ron Hall '67 and Denver Moore with Lynn Vincent
W Publishing Group
Gripping, heartbreaking and inspiring, Same Kind of Different As Me is a poignant true story about two very unlikely friends from contrasting worlds and the woman who brought them together. Denver Moore was living in the streets of Fort Worth, a hard row to hoe but a step up from his past of modern-day slavery as a sharecropper. Though rising from modest blue-collar roots, Ron Hall '71, (MBA '73) was living the high life as an international art dealer. Their worlds collided when Ron's wife, Deborah Short Hall '67, reached out to Denver. An act of charity turned to friendship, one that would become more valuable to Ron than he ever dreamed. All proceeds from the book benefit the homeless. In the first two months, it sold 30,000 copies – just from word of mouth. And there are already a handful of inquiries about movie deals.
What prompted you to make the leap from writing checks to rolling up your sleeves and serving the homeless? The real thing was that my wife Deborah asked me specifically. I went first because I wanted to be a good husband, which was motivated a lot out of guilt from having been a bad husband, and secondly I wanted to protect her. And none of it had anything to do with me actually wanting to go down there and help anybody. That all changed though.

Did Denver help you more than you helped him? Yes, I would say so. First of all, Denver would have been perfectly happy – or at least he thought he would – staying homeless because after 40 years he knew the ropes and he was the lion of the jungle. He helped me learn never to judge a person just by looking at them or their actions until I could actually know them and see into their hearts and hear what they had to say. He's also helped me know what a true friend is. I used the term friend very loosely but to him, friend meant someone you would actually give your life for.
What is the greatest thing Denver did for you? He taught me a lot about keys. The first time I ever pulled my keys out, he asked me, "Do you own something to every one of those keys? Are sure that you own those things or do they own you?" And I thought, wow, you're right. I think these things do own me because I'm controlled by my possessions. Then he taught me that God gives us all a set of keys we can take to unlock and free people out of their prisons and captivity. He said, "Most people walk by people that are in prison and never use the keys and just leave them in their pocket. But Miss Debbie took her keys out and used them to unlock the prison that I was in and set me free."
What do you hope people take from your story? For people to make a step forward to begin to love the unlovable. Love is something that will changes lives. Denver will tell you that government programs and faith-based agencies kept him alive through free meals for 40 years, either in prison or on the streets, but the first thing that changed his life was the love of a woman, Miss Debbie. And had Debbie not come along to show him that love, acceptance and forgiveness, then he would not be the person he is today.
To purchase, visit www.amazon.com or www.christianbook.com.