Indoor practice facility dedicated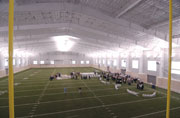 David Baugh had the best line of the day: "About the only thing my dad wouldn't have liked about this place is that he couldn't have punted in here."
After all, the ceiling is only 54 feet high.

Yup, Ol' Slingin' Sammy would be pretty impressed with the Athletics Department's newest addition which was unveiled in May — the state-of-the-art Sam Baugh Indoor Practice Facility and Cox Field.

At a cost of $7 million, the 80,000-square-foot indoor structure will provide a climate-controlled practice area for Horned Frog student-athletes and coaches. Multiple sports teams will use it: football, baseball, track and field, cross country and soccer.

Located directly behind the Schollmaier Basketball Complex at the site of the old baseball field, the indoor facility encloses the existing artificial turf practice field, giving Horned Frog teams the option to move indoors during inclement weather.

The facility features an 80-yard field with two 10-yard end zones. It is the regulation 52 yards wide and has a pair of goal posts for field goal practice.
"An indoor football practice facility has become essential in attracting the top prospective student-athletes to campus," said head football coach Gary Patterson.

"The generosity of both the Justin Foundation and Cox Family will enable us to aggressively recruit against the nation's best programs. People from around the country will look at this and say, 'This is the way to do it.' "

They already have, says Athletics Director Danny Morrison.

"We had a Nike Camp here a week earlier that brought some of the best players in Texas here, along with hundreds of NCAA coaches to watch them.

"You know what I did? I watched Gary Patterson. He had the biggest smile on his face the whole time. This will give us a great recruiting tool for years to come, as well as help student-athletes and teams practice no matter the weather."

Its location will be a huge competitive advantage, Patterson pointed out. "I've been on a number of other campuses and when it rains, they have to get on buses and drive three miles away to use the indoor facility. To have ours within walking distance is a major plus."

Patterson even envisions having the program's season-ending banquet, which recruits may attend, inside the Baugh Facility.

Morrison was also quick to thank the major donors: "We appreciate the investment the Jane and John Justin Foundation and Cox Family have made in TCU. They accelerated the vision for the Sam Baugh Indoor Practice Facility into reality and sparked the interest of other donors. Their commitment to student-athletes and the campus community is a wonderful illustration of the program's momentum."

August two-a-days are less than 75 days away. Get ready to sweat — Sammy style.

Mass appeal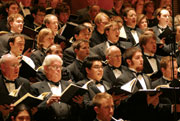 Provost Nowell Donovan calls "Requiem" a choral and orchestral masterpiece that is "unique and eternal in its appeal." Eloquent words. But not quite as eloquent as the sounds of the performers of the Fort Worth-TCU Symphonic Choir and TCU Symphony Orchestra, who enraptured the audience of a sold-out Bass Hall in April with their performance of Verdi's famous work.

Four TCU alumni joined the group as soloists: Jennifer Chung '93, soprano; Kimberly Gratland James '94, mezzo soprano; Roger Bryant '71, tenor; and Burr Cochran Phillips '94, bass. The following week, the choir traveled to Corpus Christi to perform the requiem with the Corpus Christi Symphony Orchestra.
Read more about our week of Creativity and Scholarship in Academe.

Talking news
Bob Schieffer '59 said his panelists for the third annual Schieffer Symposium would be the ideal dinner party guests.

"I can't think of a better group of people to gather around the dinner table and talk about the news," said Schieffer, namesake of TCU's Schieffer School of Journalism and moderator of CBS's "Face the Nation."

Instead of a dinner table, Schieffer and guests Tim Russert, host of NBC's "Meet the Press;" Bill Keller, executive editor of The New York Times; Jan Crawford Greenburg, ABC News legal analyst; and Earl G. Graves, editor and publisher of BLACK ENTERPRISE Magazine, gathered on stage at Ed Landreth Auditorium in late March to talk about the major headlines of early 2007.
Scooter Libby case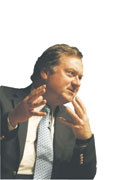 Tim Russert: "[Libby] filed a viewer complaint. And he says during the course of that complaint to me that he learned for the first time about Valerie Plame. Well, it didn't happen. I didn't know who Valerie Plame was. … As it turns out, the jury obviously, hearing all the testimony, concluded that he knew it far earlier than having talked to me. … I told the truth. I didn't enjoy it. I don't relish what happened to him and his family. But I also realize as a journalist I don't believe I had any choice."
U.S. attorney firings
Jan Crawford Greenburg: "The president has the authority to fire and hire any of these federal prosecutors as he sees fit. And that was the White House's position early on. As this story has kind of trickled out – information here and there, some of it conflicting – it suggests there is something more behind some of these firings. … Whether a crime was committed or not, I think everyone can agree this was botched from the beginning in the way the Justice Department handled it."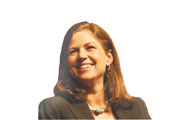 2008 election: Hillary Clinton
Bill Keller: "Whether you like her or don't like her, whether you support her or don't support her, you have to take her seriously as a candidate."
2008 election: Iraq War

Earl Graves: "The question is the candidates, where are they going to stand on this thing? Are they going to make it enough of an issue that it's going to assist in ending the war? … I happen to think we're going to be there for many years because I don't see how you extricate yourself from this situation we're in."
Corporate ownership of media
Bob Schieffer:" These have always been businesses. We talk about the citizen journalist, and we talk about bloggers. No blogger could afford to pay just the security costs alone that it costs Bill Keller to keep seven reporters in Baghdad. … This is America. It's free enterprise. Who else would finance it unless it would be private enterprise?"

Five Questions for Chin-Ning Chu
Chin-Ning Chu, an internationally acclaimed author and lecturer, is an expert in the business application of "The Art of War," the 2,500-year-old strategic masterpiece by Chinese general Sun Tzu. Chu, a naturalized American citizen who grew up in Taiwan, spoke to TCU students in February as a Frost Foundation Lectureship for Global Issues lecturer and a guest of the University's Center for International Studies.
"The Art of War" isn't about fighting, is it? It's not about war. It's about how to win without fighting. Maximize who you are. It is so long ancient yet eternal. And it is applicable in anything you do.
What made you interested in this ancient text? When I was 10 years old, my father read Chinese strategy classics to me as a bedtime story instead of Cinderella. So to me it's natural.
You are descended from the Ming Dynasty of Chinese emperors. Did they read "The Art of War?" Yes, they would have studied it. The first emperor of the Ming Dynasty, he is actually the one who overthrew Genghis Khan's children. Genghis Khan the Mongolian ran China at that time. And eventually the Ming threw them out of China. It was no small task.
Several of your books deal with "The Art of War" from a woman's perspective. How do the teachings of "The Art of War" apply differently to women? All of these books are really not about women even though they are women's issues. It's really about if you are considered an inferior how can you take advantage of that situation and turn your inferiority to superiority.
If he were here today, what would author Sun Tzu think of your interpretation of his work? He would love me. He would absolutely adore me, because in order to understand his work you must understand philosophy, the Chinese Taoist philosophy, which is a spiritual understanding. And I don't mean religion, but rather a spiritual understanding that is the basis of all Chinese philosophy. This is the reason that these principles are applicable to anything you do. Michael Jordan can apply this to basketball, the White House to political maneuvers, CEOs to business.

All that Jazz
The 30th annual TCU Jazz Festival in April featured a special tribute to Curt Wilson, who has been the director of the jazz studies program for 30 years too.
Hollywood composer Patrick Williams — who has won four Emmys, two GRAMMY awards and other honors — conducted Wilson's jazz performers in the playing of "The Sun Will Shine Today," an original piece School of Music Richard Gipson commissioned Williams to compose for the occasion.

The festival included the Andy Martin Quartet, which headlined the first night of performances. The next night, Martin, a jazz trombonist, played with the TCU Jazz Ensemble. Williams also conducted his GRAMMY-nominated "Concerto in Swing," featuring clarinet Professor Gary Whitman. As part of the event, 28 high school jazz ensembles played for ratings judged by a panel of professional jazz musicians and educators.

Energy Conference

A cleaner, more secure future for Texas was the focus of an April symposium sponsored by TCU's Institute for Environmental Studies and the Environmental Change Institute at University of Oxford in England.

More than 160 Leaders from business, science, policy and technology gathered in downtown Fort Worth for the day-long meeting, which featured, among others, Wes Jackson, president of the Land Institute, Garrett Boone, co-chair of Texas Business for Clean Air (TCBA), and Diana Liverman, director of the Environmental Change Institute at Oxford.

"As a university, we try to bring all the viewpoints around the table," said Michael Slattery, director of the Institute for Environmental Studies. "There should be no conflict between a strong economy, healthy air and good business."
The meeting was an outgrowth of the TCU/Oxford collaboration last summer when a group of 16 TCU students spent two weeks immersed in environmental issues in England.

For information: www.ensc.tcu.edu
texasbusinessforcleanair.org
www.eci.ox.ac.uk

AddRan's new Schoolmaster
TCU's AddRan College of Humanities & Social Sciences has a new dean with an appropriate name for an administrator.
Andrew F. Schoolmaster III takes over in mid-July, succeeding outgoing dean Mary Volcansek, a political science professor who is returning to the classroom full time.

Schoolmaster has served as dean and professor of geography in the College of Arts and Sciences at Eastern Kentucky University since 2004. But he's no stranger to the Metroplex. From 1980 to 2004, Schoolmaster was a geography professor and also served as an associate dean for administrative affairs at the University of North Texas.

"I'm looking forward to coming back to Texas," Schoolmaster told the TCU Daily Skiff. "I realized that those roots were rooted a little deeper than I thought, which prompted me to start looking for an opportunity to move down here again."
Schoolmaster was hired at the recommendation of a committee appointed by Provost Nowell Donovan. The committee conducted a 6-month-long national search to find a replacement for Volcansek, who was the first dean of AddRan after it was reorganized in 2000.

Volcansek said seven years was an appropriate "term limit" for her time as dean. Chancellor Victor J. Boschini Jr. credited her with raising the profile of AddRan College.

"She helped faculty, staff and students understand the value of a liberal arts degree by establishing strong programs, launching new centers and increasing the visibility of the Jim Wright Symposium as well as other symposia," Boschini said.

Trustees pass budget
The TCU Board of Trustees in April approved a $315 million budget for the 2007-08 school year that includes $9.4 million in employee compensation and $6.4 million in additional financial aid for graduate and undergraduate students.
The budget also includes $500,000 for various projects and programs, including infrastructure support for the Campus Commons and funding for student services, residential housing and student health and well-being.
"It's a remarkable time at TCU," Chancellor Victor J. Boschini Jr. said. "This budget supports our efforts to provide students a total university experience that includes access to excellent faculty and academic programs, facilities equipped with outstanding technology, opportunities for internships and ways to provide community service, both at home and overseas."
The trustees also approved making renovations to Reed Hall, the Brown-Lupton Student Center and Clark and Wiggins residence halls. When the new University Union is completed in July 2008, Brown-Lupton and Reed will be reconfigured for academic space. Wiggins will be renovated this summer to house two fraternities and a new chapter of the Gamma Phi Beta sorority. Clark will close for renovations in early 2008 and will reopen in fall 2008 as housing for both men and women.

Earning commission
They paid a dollar for their first salute.

Eleven 2007 graduates of TCU's U.S. Army Reserve Officers Training Corps participated in a commissioning ceremony May 11 in the Student Center Ballroom. They were sworn in as second lieutenants and, after having their ranks pinned on their uniforms by family members, a veteran officer gave each ROTC graduate his or her first salute as a commissioned officer.

In exchange for the honor, each new officer placed a silver dollar in the left hand of the saluting officer.
Texas Secretary of State Roger Williams '72 addressed the graduates, calling them the new "greatest generation" – a term NBC news anchor and author Tom Brokaw used to describe those who served in World War II.

"We are at a crucial moment in our nation's history when a new generation of heroes is needed more than ever," Williams said.

Caution: Phony Frogs
Beware of a scam targeting TCU alumni.

People representing themselves as TCU students have made calls and knocked on doors in parts of Texas claiming to be raising funds for a student trip to London. The people, who are selling phony magazine subscriptions, have mentioned TCU, the theater department and Barnes & Noble during their sales
pitches.

If you receive a call from someone claiming to be a student and asking for money for a London trip, call the police. For information on spotting scams, go to www.ftc.gov.

Lobbying Austin
Eleven TCU students became lobbyists in February when they accompanied David Murph, director of church relations, and Susan Adams, associate vice chancellor for student affairs and dean of campus life, to Austin at the start of the Texas Legislature's 80th session. The students' goal was to make lawmakers and key committee members aware of the benefits of continuing to fund the Tuition Equalization Grant program. TEG grants provide financial aid for students to attend TCU and other approved private Texas colleges and universities.

Spring Commencement
• 1,346 degree recipients
• 1,059 bachelor's degree recipients
• 1,038 graduates from Texas
• 677 students graduated in the morning ceremony
• 669 students graduated in the afternoon ceremony
• 359 students graduated with Latin Honors
• 249 students from outside of Texas (37 states) received degrees
• 244 master's degrees conferred
• 57 international students (from 31 countries) receiving degrees
• 55 alumni from the class of 2007 who participated in the morning ceremony
• 37 Brite Divinity School graduates (4 doctorates and 33 master's degrees)
• 14 graduates with a 4.0 grade-point average
• 11 double degrees awarded
• 6 doctoral degrees conferred
• 1 triple degree awarded

Happenings:
American Poet Nathaniel Mackey, winner of the 2006 National Book Award for Poetry, recited passages from his collection "Splay Anthem" for TCU students and faculty in February as a guest of the English department.
Around the world El Salvadorian food, Vietnamese coconut drinks, a soccer game on the Sadler lawn and a relay race involving ice, spoons and buckets are just some of the things TCU students enjoyed during International Week in February.
Frog House Nearly 60 alumni raised their hammers this spring to help build this year's Junior class project — a Habitat for Humanity house. It's the second year the Junior class has funded and constructed a Frog House.
Math path More than 100 Fort Worth school district fourth- and fifth-graders traveled a trail of 10 interactive lessons related to key concepts on the state assessment test. The activities were designed by TCU education students.
Swing Time Fort Worth alumni had a swingin' time in April when members gathered at University Christian Church to dance the night away at the chapter's swing dance event.
Black Church Summit Influential church leaders and scholars gathered in March for the third State of the Black Church Summit. The Rev. Renita J. Weems gave the keynote address.

Worth Noting:
Higher ed summit TCU Chancellor Victor J. Boschini Jr. was part of a cadre of university presidents and other top higher education officials and experts invited to a recent summit called by Margaret Spellings, secretary of the U.S. Education Department. The meeting's participants are helping chart the course of the Bush administration's newest higher education initiatives.
A gift for leadership The Neeley School of Business's Next Generation Leadership program and the University Career Services center received a boost recently when Burlington Northern Santa Fe Corp. (BNSF) announced a multi-million dollar gift to the university. The donation is the largest single gift from a corporation TCU has ever received.
The BNSF Next Generation Leadership Program is a two-year leadership development sequence that includes an innovative curriculum, a speaker series, team training forums and leadership-training workshops.
BNSF's gift will also support University Career Services, which will be housed in the BNSF Career Services Center in the new Brown-Lupton University Union. Career Services helps students and alumni assess their career goals and find potential jobs and also helps give the university and its educators insights into workplace trends.
Student Center name change The name of the Brown-Lupton Student Center will be changed to Clarence and Kelly Scharbauer Hall once the new Brown-Lupton University Union, at the opposite end of the Campus Commons, opens in summer 2008. Clarence Scharbauer III '73 is a trustee and wife Kelly Scharbauer attended TCU. It will house academic and student-activities spaces.
Rockefeller portrait unveiled While on campus in April, the TCU Board of Trustees attended the unveiling of a portrait of Winthrop Rockefeller, the former governor of Arkansas who died last year, in the Ranch Management building.

Upcoming Events:
Horned Frog Society
The biennial meeting of the National Horned Lizard Conservation Society will be in town this summer.
July 27-29

Joyce Gibson Roach '58 believes in helping horned frogs. So Roach, president elect of The National Horned Lizard Conservation Society, invites all lovers of the Phrynosoma cornutum — AKA the Texas horned lizard — to attend the society's biennial meeting, scheduled for July 27-29.

The three-day meeting, held in concert with TCU, the Fort Worth Zoo, the Nature Center, and Crosswinds Ranch, features tours at the Nature Center and the Zoo. The TCU library will provide a small exhibit of printed materials having to do with horned lizards, one of which is the thesis of Dr. Willis Hewatt, who taught at TCU for many years, on Phrynosoma cornutum.

Attendees will hear about the zoo's successful horned lizard breeding program and the nature reserve's part in a potential site of a reintroduction project involving captivity-born horned lizards.

Those interested in attending, e-mail Roach at jroach35@earthlink.net, or go to www.hornedlizards.org.

Registration costs $50 and includes two meals and free admission to the zoo.

Tomes
Conversation with Suzanne Oliver
The Faith Club: A muslim, A christian and a Jew — three women search for meaning
Free Press
Suzanne Oliver '85 was one of three women who came together in the wake of 9/11 to write a children's book about the commonalities of their three religions. But Oliver, an ex-Catholic turned Episcopalian, Ranya Idliby, a Palestinian-born Muslim and Priscilla Warner, a Jew, quickly realized they would first have to discuss their differences before they could understand their similarities. They agreed to meet regularly, and the Faith Club was born.
You planned to write a children's book about your three religions. What was your turning point?
As we got together, big issues came to the floor right away. I knew Ranya wasn't talking about the gospels the way I knew them. We were touching hot button issues without expecting it. We did write a children's book, and an agent said, "This is fine, but what's really interesting is the relationship that you have. Think about writing an adult book and see what happens."
I knew there was going to be friction exploring these difficult issues. I hesitated a little because I knew it was going to be a big commitment. As we got together, the meetings changed. We read books, talked about magazine articles; we were really forced to rethink our positions on our religions.
Did you have to study your own religion more to answer questions about Christianity?
Absolutely. I came into the project wanting to learn about Judaism and Islam. My conversations with them made me really understand my own Christian faith so much better. I had to reassess my beliefs and it surprised me also that a lot of the attributes of fundamental Christians were assigned to me as a child.
How did that change your view of the way other people worship?
Now I think of myself in a community of believers that span the globe. When I talk about the New Testament, I also talk about the Old Testament and the Quoran — what makes us different and also what makes us the same.
What were the biggest misconceptions you had about Muslims and Jews?
The one most vivid was about women in the church. My view of women in Islam was influenced by books like Princess (by Jean P. Sasson), and the movie "Not Without my Daughter." My image was they were mistreated and suppressed. So here is Ranya, and I wanted to know how she reconciled that. She was able to use the Quoran to show where she believed Mohammed came as a liberator of women. Some things are more cultural and tribal than they are specific to the religion.
Does it take being in a faith club to learn open mindedness and tolerance about other faiths?
It takes getting to know the other person, being in their home, eating their food, being around their children. If you read a book about Islam, for example, then you make a picture in your mind of someone who is much more rigid. If you can find real-life people, you will have a wonderful faith club.
For information: www.thefaithclub.com

The Money Doctor's Guide to Taking Care of Yourself When No One Else Will
W. Neil Gallagher '71 (MA)
John Wiley & Sons Inc.
Gallagher warns that the United States in tumbling toward a massive healthcare crisis brought on by a growing elderly population, a demand for better care and what he considers a misguided reliance on government programs like Medicare and Medicaid. The book outlines strategies for your protecting your money, your estate, your family and your physical, spiritual and emotional health.
To purchase: www.wiley.com.

Healthy Religion: A Psychological Guide to a Mature Faith
Walter Kania '61
AuthorHouse
The book explores unhealthy religious practices in the United States and the personality traits that cause fundamental and evangelical groups to use mind-control methods to ensure large church memberships and promote group consensus. Kania argues that a more healthy expression of religious beliefs comes from attributes of a healthy personality.
To purchase: www.authorhouse.com.

Literary Austin
Don Graham, editor
TCU Press
Graham brings together writings that portray the history, color and character of Austin. Beginning with O. Henry, the city's first important writer, the book offers an impressionistic history of the Texas's capital city from its founding to present day. The themes of natural beauty, government and education are found throughout the book.
To purchase: 1-800-826-8911.