Articles: Downloading the language | Student speak

Downloading the language
For non-native English speakers, the latest learning lab on campus is helping out in some high-tech ways.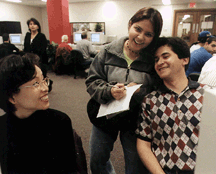 INTENSIVE English Program Director Kurk Gayle is on the cusp of the incredible. Actually, he's standing in the Union Pacific Learning Lab -- some 30 computers wired to the Net and equipped for real-time video -- but the sense of awe is similar.

IEP students (right) -- ranging from nearly non-speaking to almost well-spoken -- can receive their writing assignments online, as you might expect, or practice taking the Test of English as a Foreign Language (TOEFL), an exam nearly all seek to take at some point.

However, they also can listen to a computer-supplied Billy Joel song while the words appear on the screen or watch the uncut version of Gone with the Wind; while Rhett tells Scarlett he doesn't give a whit what she does, students can compare the spoken to the actual script. Of course, the lab, situated in an airy space in the library's basement, is only one component of the versatile 6- to 40-week IEP curriculum. Students also receive writing and reading instruction and are assigned "conversation partners" to practice their verbal skills.

"But the most amazing thing to me," Gayle contends, "are the students themselves." He quietly points to the star quarterback from Universidad de las Americas in Puebla, Mexico. Nearby, a pilot from Saudi Arabia. A local au pair from Turkey, sent here by her American employers. Or the woman seated next to Gayle on this February day, 35-year-old Hyun Joo Yee.

English sounds are a flowing stream in my ears, the Korean mother and Christian educator wrote in one of her assignments, explaining what she calls the most difficult thing she's ever done. Yee and her 5-year-old son Seok Woo Ha live in a small apartment, and he attends Tanglewood Elementary. The two left behind their home (and her husband) in Seoul, Korea, to come to TCU in January.

Yee's story is not unique, Gayle said. "We have 55 current students from about 20 countries, with very little recruiting and a global economic crisis." Indeed, the program began with 11 students in 1991; almost 100 students enrolled last year.

"There's a global teenager out there, who is looking to the West and its ways," Gayle said. "With that trend, we're seeing a huge demand for not just English, but American English."

Gayle said he will be ready: Internet-based courses will be available by summer.
"Positive Perseverance"
Though none has taken place on campus, six rapes in the last year prompted a candlelight vigil and a reward to nab the perpetrator.
Help me hold on because I want to let go. Help me see what my eyes can't behold. Hold out the hope that I'm trying to find. To replace all the hurt in my life.
Senior Katherine Barnes' original song fell silent upon the flicker of 100 candles held by students, faculty and staff in the Student Center Ballroom in February.
The sense of community -- amid the shadow of six rapes in the last year -- came through loud and clear, however.
"We wanted to provide a sense of positive perseverance, a sense of community," said Marianne M. Graham, a speech communication junior who helped organize the event.
Three of the six women assaulted have been TCU students, said Fort Worth police, who believe the same man is responsible for the crimes. The violence began in January of last year, with the latest incident occurring Jan. 17 in an apartment complex south of campus. Four days after that incident, TCU announced a $10,000 reward for information leading to the arrest and indictment of the perpetrator.
Since the first attack, the TCU Police Department has also posted across the campus news of the attacks as well as tips to avoid further ones. In addition, TCU offered rape aggression defense classes free of charge to all students, faculty and staff.
technology @ tcu
Even in concept, the William E. and Jean Jones Tucker Technology Center isn't complete, so the drawings of the much-needed facility may change, but what you see is close to what the TCU community will receive as early as 2002.
The familiar creme-yellow brick is there, but everything else about the technology center named for TCU's former first couple should raise even the most technical eyebrows.

The departments of engineering, computer science and mathematics will call the $23 million building home -- which contains no fewer than 15 labs and includes:

-- a fiber optic network and ports in each space so future improvements in technology can be easily implemented.
-- the ability to precisely control lighting, humidity and air conditioning, to save energy and to inhibit corrosion of expensive equipment. The building within practical limits will operate as a laboratory.
-- a professional development center that should help students from all three areas supplement classroom experiences with internships and other professional opportunities.

"In this era of industrial globalization, the methods of teaching are changing, distinctions between university departments are blurring, and new relationships with industry are being formed," said Engineering Chair Pat Walter. "If we use this building wisely, and grow our programs strategically, TCU can be in the forefront of technically educating our students to prosper."
El Frogs
TCU and the State of San Luis in Argentina signed an agreement in late fall to establish a graduate scholarship at TCU for scholars from the South American state. Up to 20 students may come to campus each year for the next five years. At the signing ceremory, from left to right, are Fort Worth Mayor Ken Barr '64, State Gov. Adolfo Rodriquez Saa and Larry Adams, associate vice chancellor for academic affairs.
Brite day
With five shovels of dirt, the 3.7-acre Leibrock Village began in February. The apartment-style complex, complete with a common area for meeting and studying and a playground for children, is named for former Brite Trustee Robert Leibrock and his wife Prudie. Official groundbreakers were, left to right, Brite Student Body President Nathan Digby, Bob Leibrock (son of the complex's namesake), Chancellor Michael R. Ferrari, Robert M. Leibrock and Brite Board Chair Roy Snodgrass.
D G spells service
TCU's Delta Gamma chapter hosted parties, played the piano or simply read books aloud to residents of the Lighthouse for the Blind's Lewis House in Fort Worth, said Lighthouse vice chair Deidre Massey before presenting the prestigious Lumen Award in February to the chapter's 1998 president, radio-TV-film senior Natalie Haas. Incidentally, Greek membership at TCU has risen in recent years; 36 percent of female undergrads claim Greek letters, 39 percent of males.
Stopping hunger's pain
More the 3,500 pounds of food and $9,000 were raised in November during the annual Hunger Week food drive, which included service outings to the Food Bank of Greater Tarrant County, where students helped stock boxes for delivery to the needy.
Student speak
We came to the senior conference for two reasons: to gain a broader awareness of the issues facing us after graduation, and to demystify the procession of forks at the sides of our plates.

The formal dinner, the expected highlight of the weekend, humbled us quickly. Usually suave seniors, we stared at our plates, where fish, tails folded through their mouths, stared back at us. Salt and pepper learned to travel as a unit. Bread was buttered one bite at a time.

But if we were humbled by the code of our cutlery, we were inflated by the last of the keynote speakers, young Patrick Combs. His message was, essentially, that graduates should choose careers that truly make them happy, not ones they think they "ought" to pursue. Citing the example of a young man who loved to play video games and ultimately found a job doing just that, Pat showed us we really could reach our dreams, even if they took place on a screen.

Something seemed a bit lacking in his message, though. Something about encouraging seniors at a respected college to pursue careers that coddled the self, even if in video games, was a bit skewed. Shouldn't his presentation at least mention making a wider impact on society?

"That's great that you're really passionate about that," he told me, "but I think the first message everybody needs to hear is to make themselves happy, and if some people want to make helping their career, they can do that."

So much for a broader awareness.

I think most of us felt no less nervous about the fate awaiting us after graduation and not quite certain how to go about the all-important act of networking. But we certainly knew how to manipulate our soup spoons: Tilt the bowl away from the mouth as you dip each spoonful, avoiding a circular shoveling motion. Sip delicately.

And if anything inappropriate is swimming in your soup, do not comment. The underpaid dishwasher, who is doing what he loves to do, will take care of it after the meal.

Top