Making the class | The Face of TCU
Why TCU is the "hot school"
A spectacular campus, nationally acclaimed programs, winning athletics teams
and increasingly recognized academics gives Frog Land a distinct advantage.

By Ray Brown, Dean of Admission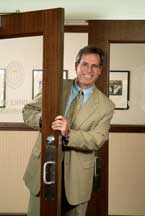 It's a good thing I'm not applying to TCU today. I'd never get in.
I heard that recently from one of our most illustrious alums. It's true that admission has gotten significantly tougher; however, it is also true that we espouse essentially the same values as those present decades ago.
We value achievement in the admission process, as determined by the transcript. What has become increasingly important, though, is the rigor of the curriculum a student has taken. If the high school offers honors or advanced placement courses, then more and more we expect to see a healthy representation (appropriate to one's ability) of those courses on the transcript. Of course, if such courses are not offered, the student will not be penalized for their absence.
Class rank has taken on added significance, too. If you're a forty-something person (or beyond) as I am, no doubt you've heard how grade inflation has become epidemic. A great deal of that conversation is legitimate, though there are many schools that remain steadfast in their resolve to a balanced grading scale.
Still, for some schools a 3.5 GPA no longer qualifies a student to be in the upper half of his or her class. Those schools are often seen as highly competitive. Rightly or not, they're just as regularly seen as classic examples of grade inflation.
If you're keeping score, you'll note I've discussed grades, rigor of curriculum and class rank as important factors in the admission process. I have not yet mentioned SAT and ACT test scores. That is intentional, as the transcript and all it renders -- grades, rigor, class rank -- is the most important element. Test scores are important, but they're fourth on the list behind the factors cited above.
While this year's average SAT score of 1174 is an all-time high for TCU, it is worth noting that 1174 is not significantly higher than it was 20 years ago.
True, the SAT continues its gradual northward trek, but when corrected for differences among exams, there is little difference in this objective criterion between those who enrolled this fall and those who attended TCU many years before.
So what's going on?
In this country, if applications for admission to your institution increase as much as 5 percent, you've had a very good year. Over the past four years, applications for admission to TCU have increased more than 60 percent, from fewer than 5,000 in 2000 to nearly 8,100 this fall.
The freshman class size has grown incrementally to 1,607 in 2004. The elements of our academic profile (grades, class rank and test scores) are all at record levels. And TCU's selectivity rating for the entering class of 2004 places us at least third in the state, according to Peterson's Competitive Colleges, 2005 edition.
High school guidance counselors throughout the state call TCU "the hot school," and most hot schools cool off. But there's no indication that a moderating of our popularity is imminent.
If you've been to the campus recently, you'll see why students are flocking to TCU. The grounds look spectacular; many of our programs are receiving national acclaim; our athletics and fine and performing arts programs are attracting widespread attention. The buzz has TCU being an institution on the move.
This groundswell of interest is not industry-wide. Several of our primary competitors failed to enroll their targeted number of students this fall. Few share the wave we are riding.
What an exciting time to be at TCU! We are fortunate to be part of an extraordinarily healthy institution, one that's firing on all cylinders, an institution whose people -- faculty, staff, students, alumni, parents and friends -- seamlessly combine efforts in the ongoing pursuit of excellence. We thank them for the role they've played in making this challenge so rewarding.
Ray Brown is dean of admission. He can be reached at r.brown@tcu.edu.