Making the class | Why TCU is the "Hot School"
The Face of TCU
From college fairs to conversations with strangers, life as an admission counselor
is a series of amazing encounters.

By John-Mark Day '02, Admission Counselor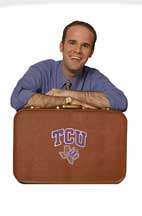 What does it mean to be an admission counselor?
That was the question I was to answer for new counselors at admission's boot camp this summer. I was to offer perspective on surviving the first year in the job and pass along any tricks I'd learned in my vast, 12-month tenure.
Looking at the group, I saw many of the same emotions I had felt the year before: excitement, fear, longing and a nagging uncertainty. One thought came to mind, one impression important for these new recruits: You think you know, but you have no idea.
An admission counselor's life is anything but boring. You learn that quickly. There's always another presentation to give, another crisis to avert, another trip to take. I've driven to the airport so many times I think my car knows the way. I've been at birthday parties or dinners or church and had perfect strangers ask my advice just because I was the TCU admission counselor.
On the road, I'm the face of TCU. A typical day begins before 8 a.m. and is filled with high school visits, fast food, counselor meetings, rental cars, college fairs, maps that don't make sense and a feeling of independence mixed with a weird, conversationally saturated sort of loneliness. The day ends about 10 p.m. with a collapse into the hotel bed after a college fair.
Things aren't any more normal in the office. There the job gets stressful too, when files are read and decisions made. The irony of this job is that I spend half my time convincing students to come to TCU and the other half deciding whether or not they can.
In between these decisions there are programs to plan, meetings to hold and a mountain of correspondence and paperwork -- just enough administrative responsibility to make you ready to hit the road again.
You push through because there is always another student with another amazing story. Like the students who have dreamed so long of coming to TCU that they call the moment their acceptance letter arrives to make sure it's real. Or the ones who want to major in music and be pre-med, or start a club hockey team or change the world, all of whom you fully expect to succeed. Or like the students who, once they're here, keep dropping by your office just to check in.
As an admission counselor I am privileged to part of an incredibly talented team and work with some of TCU's greatest students, faculty, staff and alumni. I have forged relationships with wonderful people on trips, on tours and over lunch that will remain with me always. Nothing helps a person believe in TCU quite like working with the finest the school has to offer.
Maybe it's not wise to get as emotionally invested as we do. Because then it wouldn't be as hard to tell students who've cheered for the Frogs since they could speak that they won't be able to come, at least not this year. And maybe it wouldn't be as frustrating to watch amazing students drop away because they can't afford the spike in tuition. But maybe, then, it wouldn't mean anything at all.
Earlier this year, Student Development Services held a reunion for the freshmen who attended Frog Camp, the upperclass men and women who facilitated and the faculty or staff members who mentored. Since one of the highlights of my job is the treat of attending Frog Camp, I went to the party -- and ran into student after student with whom I'd worked.
Some I had pursued vigorously, knowing before they did that TCU was a perfect fit. Some pursued me a little more than I them. Some I had to fight for to get in. Each one loved TCU. They were having a great time, and they knew they had made the right decision.
That's what I couldn't express to those rookie counselors that day this summer. You have to see that look in the eyes of a satisfied 18-year-old to know how, exactly, it feels to affect someone's life in that way. You have to live it to understand what it means to help students through one of the most crucial decisions that they've faced to that point.
And when they come, and you watch them grow, and lead and be the person they had hoped to become, that's when you understand.
That's what it means to be an admission counselor.

John-Mark Day is a TCU admission counselor responsible for Kansas, Missouri and parts of West Texas. He can be reached at j.day@tcu.edu.