Torture
Reconstructing lives is the work of the Center for Survovors of Torture in Dallas.
By Saedra Pinkerton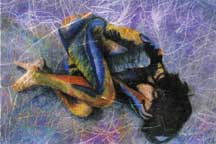 Sara went from a highly paid professional job to scrubbing toilets in dirty motels. Leaving behind the big things, parents, husband, homeland, she aches for the lost small things -- treasured photographs, home-cooked food, her native tongue. Fleeing to the United States in a dangerous attempt to survive, Sara is one of many who struggles with flashbacks, flinches at the sound of a knock on the door, tries to cover burn, whip and knife scars, and arrived with only the clothes on her back.
There are an estimated half-million survivors of torture who escaped from atrocities in their home country now living in the United States. While most Americans remain untouched by the rampant civil wars and ethnic cleansing in developing nations, charities and non-profit organizations struggle to meet the needs of these victims. Grateful for a chance to gain asylum, many rely on the services of agencies like Dallas' Center for Survivors of Torture.
Manuel Balbona '65 (PhD), director of the center, is no stranger to the dramatic upheaval faced by his clients. In May 1962, just a year after the Bay of Pigs invasion, he escaped from Cuba, leaving much of his life and history behind.
"I was born in Spain but I lived in Cuba since I was a baby," he explained. "So, technically I am also Spanish." Life in Cuba was deteriorating, but Balbona thought he was stuck like everyone else. Then came the phone call from the Spanish embassy.
"They had a plane chartered for these nuns that Castro was expelling. The plane was leaving the next day and there were two empty seats," he said.
Balbona and his wife packed a bag and boarded the plane the next morning, their six-month-old baby Deloris riding in his wife's lap.
"It seems miraculous, but I think government is more disorganized than we give them credit for," he joked. "Before we knew it, the plane took off and all the little nuns yelled 'Yay! Yay!' We made it out."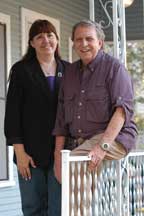 Landing in Florida with only a suitcase, Balbona was lucky to find work quickly even though he didn't have proof of his degree in psychiatry. His university in Cuba was on strike when he left and somehow he never obtained the paperwork to prove he spent four years in medical school. Eventually, he made his way to TCU where he explained his situation to the administration.
"They made a deal with me, taking pity on a refugee with a wife and child. They agreed to help me get the residency requirement and pay me a salary as long as I would stay for two years after that," he said. Grateful for the deal, Balbona worked very hard for the next few years. "I lived on 48 hour cycles. I would work one night and two days, and then sleep the next night."
Balbona went on to dedicate his career to public welfare, and began working with the Center for Survivors of Torture in 1999. The Center opened as part of Proyecto Adelante in 1997, scraping together funds from various charities and grants, and officially became a 501(c)3 in 2000. While the overarching goal of the center is to provide psychological services for asylum seekers, it becomes much more for many of the victims.
"The center provides a flavor of the home they left," he said. "Most of them miss their homes and families. And traditional individual therapy doesn't always work with survivors of torture. They don't have a disease -- they are experiencing the normal human response to torture. They need to start trusting, get a job, live somewhere, eat. They have to reconstruct a human life.
"Clients all say, 'In the beginning I was a person, now I'm not.' I am trying to help them be a person again."
Balbona's partner, assistant director Sharmin DeMoss '00 (MDiv), shares his commitment to survivors -- and his Horned Frog roots. DeMoss is an ordained minister in the Christian Church. Together, the two provide services to clients from more than 35 countries.
"Some of them arrive in a cab, straight from the airport," she said. "The taxi drivers know about us and will bring them here."
Although the number of asylum seekers making it into the country has decreased with changes in U.S. immigration policies, the center stays busy.
"In 2000, we helped 35 people," DeMoss said. "Last year we were up to 120. So, gradually, we've almost doubled. We've had to learn to help them in different ways because not every client gets as much individual attention. We have to be more creative."
Creativity is nothing new for DeMoss. She eschewed pressure to go straight from high school to TCU and went "on her own path" instead.
"I was called to the ministry at age 38," she said. "At first, I stayed away from globalization issues, but once I finally took the plunge, it's been all about interfaith and intercultural work."
DeMoss devotes her personal time to mission trips and perfecting her Spanish. She even preached a sermon in Guatemala entirely in Spanish.
DeMoss's Spanish skills come in handy at the center as well, where clients from Central and South America are common. All of the asylum-seekers typically need intense services for their first year in the United States because they are not allowed to work while their application for asylum is being reviewed -- a process that can take more than a year.
"People sometimes ask, 'why don't they work illegally like so many [other immigrants] do?' But to work illegally means risking deportation. While some immigrants are deported and back within a few days, deportation for survivors of torture is tantamount to a death sentence," she explained.
Located in a Depression-era house near downtown, the center evokes a sense of homey comfort. Some clients chat on sofas, snacking on donated crackers and cookies while others use computers to research employment opportunities or practice language skills. An old dining room functions as the art area, where clients paint flower pots with rich designs and colors -- a project designed by one of the many interns who help the center flourish.
The center operates on a come-and-go and come-as-you-are basis. Staff members interrupt paperwork or phone calls to talk with clients about everything from flashbacks to bus schedules.
Imagine arriving in a strange country with no money, nowhere to sleep and no language skills. The asylum seekers must learn everything all over again.
"They arrive very demoralized," Balbona explained. "They have been in prison, they have been tortured and beaten. If they have any extended family here, they might live with them. Or with a friend, a party member, a church member. One man lived in a garage."
"The average education of our clients is two years of college. These are people who were highly educated, the literate elite. They are the ones who will oppose the government, and so they are the ones who are suppressed. Depression is a serious problem -- the discrepancy is so great between what they are now and what they were. In their country, they were very special and suddenly here it is nothing. All they can do here is work in warehouses and clean motels. Sure, it is a land of opportunity, but it takes years."
Though Balbona and DeMoss see clients who struggle with enormous problems, they are heartened by those who succeed. One former client recently graduated from the University of Texas with an MBA. Another was reunited with her teenage daughter who just arrived in the United States.
His first year at the Center, Balbona counseled a Tutsi woman from Rwanda and a Hutu woman from Burundi. Both had left everything behind when they fled. For the Tutsi woman, her life was suddenly devastated when ethnic violence broke out.
"Her neighbor (a Hutu) came to the door and shot her husband," Balbona explained. "She was raped in front of her children. Then he came back with a group of young people. He showed them all how to rape a Tutsi. This was in front of her children, some who were the same age as the rapists."
She fled her country, and was forced to leave all of her children behind. She eventually made her way to the United States, seeking asylum.
"Another lady, a Hutu from Rwanda, was raped and beaten by the Rwandan Patriotic Front, a Tutsi group. They killed her husband and took the children," Balbona said.
Both women received counseling at the Center, and eventually shared an apartment.
"The women would tell me 'We both have lost so much that's why we help each other,'" Balbona said.
Some stories don't have a happy ending.
"We had a young woman from Cameroon," Balbona remembered. "She was a very bright university student when she was arrested, beaten badly and gang raped. She finally made it here and was back in school doing very well. But then she found out that she got AIDS from the rape. She was being treated but it was all too much for her. She decided to stop the medications and was dead within a year."
Stories like this are a reminder of the fragility of the clients seen at the center. Even though they are the only such facility in a five-state area, funding is almost exclusively provided by grants -- making for an insecure future.
When Balbona became involved with the Center in 1999, it was close to folding.
"We asked the board to make us a stand-alone," he remembered. "They gave us a couch and a printer."
"And a copier," DeMoss interjected.
"No, I stole the copier," Balbona joked.
Using borrowed office space, the group began applying for grants and eventually secured funding from the United Nations. Meanwhile, they focused on building their credentials, providing quality service, building relationships with refugee agencies and obtaining accreditation, DeMoss said.
Balbona and DeMoss constantly urge people in the business community to consider asylees for employment opportunities.
"We hope people will be open and see the options and possibilities for them," DeMoss said. "Many of them can do unpaid internships during those first months when they can't have a job. Once employers see how valuable their skills can be, we hope internships will turn into jobs."
Meanwhile, the unlikely pair travel regularly to Austin, where they recently started a second center. The hope is to expand services across Texas, helping one lost and desperate person at a time.
"So far no one has been deported," Balbona said. "It could be easier, but the courts are strict. People don't understand there are tons of victims all around us. They are at your 7-11, your gas station, they clean your motel room."
Balbona shares the mantra that has been with him since those early days in Cuba, "Even if you don't have money, you've got friends."
Comment at tcumagazine@tcu.edu.


"I was assualted and left for dead"
When John arrived in the United States last fall he left behind a promising career, a "beautiful" house and his family. His will to keep fighting for justice in Zimbabwe was broken as he faced escalating torture and attempts on his life.
John grew up in the British colony of Zambia (now Zimbabwe). He was educated at the best schools and faced a bright future. When Robert Mugabe took over in the 1980s, John was grateful. He considered Mugabe a hero for his community.
"But then we began to see a lot of corruption in the government," John said. "Eventually I joined with (opposition party) Movement for Democratic Change (MDC)."
John's work with MDC included educating citizens about their political rights -- action that angered the government.
His face clouds over as he remembers the torture he experienced at the hands of police.
"I was detained for five days with no food, no legal representation," he remembers. "My wife would come to the prison but she was told I was not there. I couldn't see my family, and I was beaten, whipped on my back and buttocks. It was very painful, an experience I would never ever forget.
"There were 20 of us. It was in June when it is very cold. The police would pour water on the concrete slab and strip us of our clothes. We shared one filthy toilet, full of excrement with no water to flush. We were called one-by-one to be interrogated and beaten."
Once he was released, John's swollen buttocks made it almost impossible for him to walk. He was denied medical aid because a police report was required for admission into the hospital. He went home where his wife treated him with smuggled medications.
When he recovered, John kept up his involvement with MDC, believing a political change was the only way to stop the widespread starvation and inequality in his country. He would be arrested and tortured four more times before deciding to leave.
"I was targeted by the youth militia," he said. "Kidnapped in my own car and forced to drive to a motel, I was assaulted and left for dead. Then the situation turned very bad. They attempted to torch my car when I was with my family."
John made arrangements for his wife and three children to go into hiding and he left the country. Arriving in Dallas, he stayed with a brother for a few months. He now lives with a church member, sleeping in a makeshift bed near the kitchen. During waking hours, John is a fixture at the Dallas Center for Survivors of Torture, where he can chat with friends, talk about what's on his mind, or just hang out and have a snack.
He has a lawyer through Catholic Charities and is pursuing amnesty. Once amnesty is granted, he will try to bring over his family. He remains hopeful that they will be reunited with the help of places like the center.
"People here have been so helpful," he says. "I thought I was doomed. I would cry. I couldn't sleep or eat. The most helpful thing in my life is the center. It's like my world had come to and end I was hopeless. Now it is better."