Study Abroad | Fine Arts | From Special Collections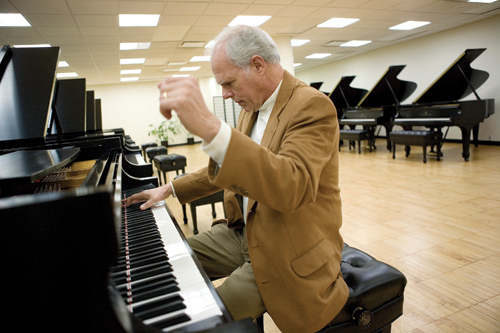 Finding the right keys
Not just any ol' Steinway is good enough for TCU's School of Music.

By Brian Abrams '06
On a warm day in July, John Owings stood in a cavernous selection room in the Steinway & Sons factory in Queens, N.Y., and stared intently at two rows of black concert pianos — five B-models and five D-models facing off like chess pieces with keyboards.
Ownings, Herndon Professor of Music and Division Chair of Piano Studies, was there to choose another 88 keys for the university.
Although these gems retail for about $90,000, they aren't all ready for the recital hall. But by day's end, one of these hand-picked concert grands would soon be on its way to Texas.
Like fingerprints, "there are no two that are identical," Owings says as he studies the gold trim on one of offerings. "There are various preliminary decisions about why I like a particular piano. Each one has certain idiosyncrasies. You've got to spend enough time with the instrument."
A little before noon, Owings jabs his fingers at one piano's yellowed keys. "Not for selection," he said before reengaging in the elimination process he started a few hours earlier. Under the room's fluorescent bulbs, Owings shifted from seat to seat (among the five D-models only) caressing the pianos with a passage from the first movement of Beethoven's "Waldstein." "The sonata is a good test piece for the evenness of the action," he said, "how the piano feels on your fingers."
He pulled his hands off one keyboard mid-tune to scoot to the next, picking up where he left off. "The left pedal on this one really changes the color of sound."
He slid to the third piano. A technician clinked keys in the next room.
Larry McCain '68, sales director for Steinway Hall in Dallas, crept in and waited nearly seven minutes before whispering over the Owing's shoulder. "You having fun?"
"I'm debating," said the TCU piano chair of 17 years, "but I think probably this one." Owings lifted himself off the bench and took a peek under the lid.
McCain, who made the trip from Dallas for a little hand-holding in the sales process, wrote down Owings' lunch order and exited the room after offering yet another firm handshake and smile.
Owings played 45 minutes more on the two final choices before tearing into his turkey panini. A technician in the next room made a prediction about which piano Owings would select.
After two more hours of interrupted play on one of the pianos, the technician poked his head into the room to see if he could be of service. (Apparently it's a sign that the selection is coming to a close.) Owings pointed to the third piano, commenting on a flawed finish on one of its keys. "You need this one right away?" asked the technician.
"Oh, I'm not leaning toward this one," the professor said. "I liked that one at first, but I played the others more. These two have really good qualities, but the one on the end is the most consistent of all of them. It felt a little stiff at first, but that's something that can be adjusted." The technician nodded and stood quietly next to McCain and another Steinway colleague as Owings continued to ponder his decision.
Shortly after 2 p.m., Owings made his final choice — though it needed a touch-up. "There's just a little minor cosmetic thing with the black key tops," he said.
"Oh, that's nothing. We can fix that," the technician answered. "I had a feeling you'd like this one."
The piano Owings selected at the end of the day-long process arrived in September. It is the 80th Steinway on campus and second grand piano Owings, who has been at TCU since 1990, hand-picked for the school. In 1999, TCU was the first school in Texas to be designated an All-Steinway School.

Comment at tcumagazine@tcu.edu.