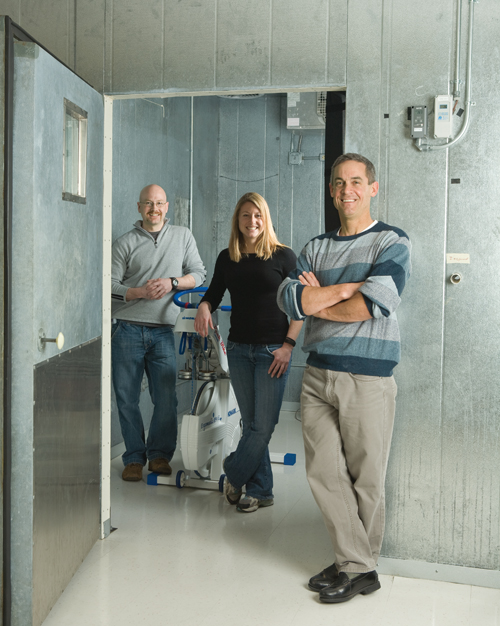 Endeavors
From NASA telescopes to hydration science to the reasons we wait in line, TCU researchers are exploring unchartered areas of academia. This year, our annual online research feature looks at the work of 15 extraordinary professors. Go to www.endeavors.tcu.edu for the full text of the stories and additional information regarding research and creative scholarship at TCU.

Salting away data under the Texas sun.
Joel Mitchell is tracking down the science behind hydration for the Gatorade Sports Science Institute.
Searching for extraterrestrial life.
Astronomy professor Pam Marcum is helping NASA get their space-based telescope ready for launch.
Exposing cultural bias.
History and Latin American Studies professor Susan Ramirez says we need to stop looking at the past through 21st-century goggles.
Laboring to understand unions in Mexico.
Immigration reform in the U.S. could have devastating effects on the economy in Mexico, so management professor Bob Greer is looking at how unions help or hinder their progress.
Putting on a show.
What does it take to stage a dance concert in New York? Elizabeth Gillaspy and Susan Douglas Roberts of Ballet & Modern Dance and Roma Flowers of Visual Lighting Design tell us.
Fighting intolerance and oppression.
Harriet Cohen and David Jenkins of Social Work study very different populations but have similar goal.
Shopping for better service.
Hate standing in line? So does marketing professor Julie Baker, whose research about waiting times and online avatars, ought to be required reading by retailers.
Uncovering the real cost of rehab.
What's the bottom line to running a drug treatment program? Patrick Flynn of the Institute of Behavioral Research found out.
Searching the scriptures betwixt and between.
Religion professor Claudia Camp's biblical research has a feminist perspective and interdisciplinary approach.
Drawing from history.
Babette Bohn, professor of art history, brings artist Guido Reni to life for a new exhibit at the famed Uffizi Gallery.
Speaking for the tongue-tied.
For many, one-on-one communication is a cakewalk compared to the prospect of addressing a crowd. Communications professor Ralph Behnke says neither form of communication has to leave you tongue-tied and confused.
Pursuing discovery.
Educational psychologist Sherrie Reynolds says it's the teacher's job to create an atmosphere of discovery and excitement.

Comment at tcumagazine@tcu.edu.