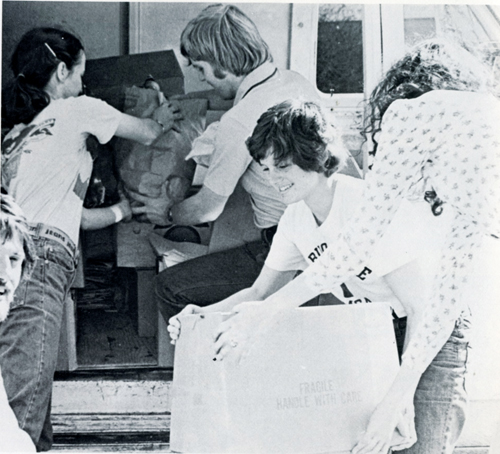 Eco ethos
Horned Frogs have long embraced thinking green.

By Kathryn Hopper
The recent green wave isn't the first time TCU students have embraced an ecological mindset. Just like clogs and bell bottoms, environmentalism keeps coming back.
For the first Earth Day in 1970, the TCU Daily Skiff ran a special "Pollution" section with a lead story titled "Filth Widespread," noting that while air quality was deteriorating in major American cities, "The problem is not as bad as in many other metropolitan cities. But it is here and if not checked could present a serious problem as other cities are now finding out."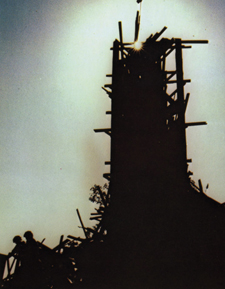 Former Secretary of the Interior Stewart Udall tried to bring environmental evangelism to campus in a speech delivered in the Student Center ballroom, calling Americans "the champion polluters of the world."
The next year, the Horned Frog reported a "Burning Issue" around the Homecoming bonfire ritual (right).
"The week before the second annual bonfire was supposed to take place, some of the ecologically minded students discovered it was illegal for TCU to have a bonfire."
Administrators decided it was too late to stop the bonfire that year, but that the Nov. 5, 1971, blaze would be the kerosene-soaked finale.
In the late '70s, the Environmental Conservation Organization collected paper for recycling and in the '90s, TCU's TERRA Club formed to save the Rainforest and boost recycling efforts. The university also launched conservation measures including installing motion sensors for lights in Reed Hall and Sid Richardson and tinting windows in Worth Hills buildings. The 1992 Earth Day Eco-Fest featured solar and electric-powered cars parked by Frog Fountain and students received refillable mugs to use at The Main.
Don Mills, vice chancellor for student affairs, said the current eco movement is even more widespread than in the past.
"It's permeating the entire student body," he said.

Comment at tcumagazine@tcu.edu.