Sibling rivalry
Zach and Kewa Nichols help Frogs, Lady Frogs to Mountain West success.

Put Zach and Kewa Nichols in a room together and it doesn't take long for the verbal competition to begin. "She's always pulling up her old results in juniors that were better than mine," Zach said, rolling his eyes. "So then I'll have to remind her of things I've done that she hasn't. It goes back and forth."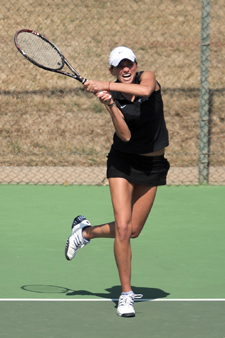 Considering the considerable résumés of the TCU Horned Frogs' tennis siblings from Austin, it's a pretty easy argument to have.
Both were highly successful juniors -- Kewa is a former Easter Bowl doubles champ, while Zach was ranked No. 1 in Texas in the boys 16- and 18-year-old divisions -- and both have played big roles in the Horned Frogs' recent success.
Kewa, a senior, was an All-Mountain West Conference selection last year after her third consecutive 20-win season and is 12-10 this spring for the 20th-ranked TCU women. Zach, a freshman, won his first 22 collegiate matches and owns a spring record of 21-4 for the 36th-ranked men.
Together, they helped TCU earn the top seeds for the Mountain West Championships and push the teams into the NCAAs.
"We've been really fortunate to have both of them," said men's coach Dave Borelli, who was the school's women's coach during Kewa's first two years. "Kewa has really strong work habits, and her competitive spirit is just amazing. She's more intense than Zach, but in their own ways they're such great competitors and great kids."
Borelli already has had plenty of chances to see Zach's competitive fire. The unflappable freshman clinched victories against No. 22 Wake Forest, No. 35 Oklahoma and No. 51 New Mexico this spring.
"Our matches always seem to come down to Zach because he's the last one on the court," Borelli said. "I don't know if he does that on purpose, but he's a good one to have out there."
Against the Sooners, he won the first set 6-4 and was up 5-2 in the second when he suddenly lost 10 consecutive games to trail 5-0 in the deciding set. He rallied to take the next five games and won in a tiebreaker, sending his teammates rushing onto the court.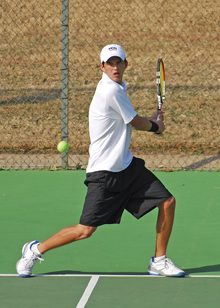 "That was a once-in-a-lifetime match," Zach said. "I've played tennis since I was 8, and in thousands of matches I've never come back from 5-0 down in a set, let alone the third set of the deciding match against a university that was top 35 at the time."
Kewa's biggest college victory also happens to be the biggest in TCU women's history. In 2006 she won the deciding match against Texas in the NCAA regionals, sending the Frogs to their first Sweet 16.
"It was great because it was a three-setter and it helped us do something no TCU team had ever done," she said. "And beating Texas is always nice."
Her success is part talent but mostly effort, said coach Jefferson Hammond, who calls her a "tennis rat" because she's always at the tennis complex working on her game.
"She really is the heart of this team," he said.
Hammond can only hope Kewa's success as a recruiter continues. After helping lure Zach to TCU, her next job is convincing their 16-year-old sister, Millie, to follow.
Millie already has been the top-ranked player in Texas in her age group, and even Zach calls her the family "prodigy." Of course, he's also quick to point out the titles she needs to win to match his success.
Let the arguments continue.

Comment on this story at tcumagazine@tcu.edu.