Flying Frogs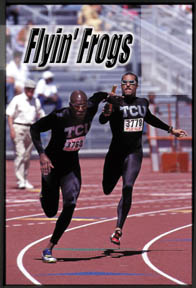 The fastest. TCU juniors Anthony Amantine and Roy Williams, two members of TCU's 4x200 team, burned up the Texas Relays in April and graced the cover of the June issue of Track & Field News, the most widely read track & field magazine in the world.
Less than a month later, TCU virtually swept the Penn Relays, setting a new collegiate record in the 4x200 (set by the 1986 TCU team) of 19.67 seconds, even beating the meet time posted by the USA National team.
In addition, the Frogs, who boast seven All-Americans, finished fourth in the country for the season, earned national champ rights in the 4x400 relay and won the WAC indoor championship.
"I knew there was a great tradition in the speed events when I came to TCU," said Coach Monte Stratton at the Penn Relays. "Tradition is a two-sided sword. It's a monster that had been created long before I arrived and before these guys arrived. Some days you have to feed the monster. Today, we fed the monster."

Champions all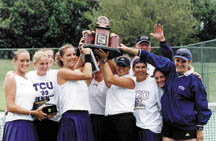 The men's and women's tennis teams began the WAC championships as the top seeds -- and that's how they finished, with both teams winning the top WAC spots in April. With the wins at Bayard Friedman Tennis Center, the No. 23 women and the No. 11 men both earned automatic NCAA tournament berths.

On their mark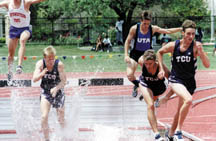 In April, TCU held its first home track meet in more than three decades at the new Lowdon Track, hosting events such as the 3,000-meter steeplechase (which includes 35 jumps, seven of them over water) as well as the Frogs' specialty sprint events. Attending schools included Rice, SMU and UTA. Right, from left to right, are junior Adam Helm, senior Jared Pope and freshman Justin Speer.

Stroking success
The men's swim team finished with a 5-4 record, receiving votes toward a top 25 spot in the last coaches poll and scoring a huge win over Notre Dame. The women finished 6-5, with a stunning upset over Arkansas in January. The women also earned Academic All-American honors.

Frog football hash marks
12,057 -- the goal for season ticket sales this season at Amon Carter Stadium, with a "home ticket team" salesforce led by WBAP radio morning show host "Hal J" Harbuck helping the effort. Incentives include a revamped Frog Alley of free fun for families, as well as season ticket packages for as little as $4 per person, per game. Call 817-257-FROG to order yours.
2000 -- the yards Heisman Candidate senior LaDainian "L.T." Tomlinson is aiming for this season. Visit LTfor2000.com for the latest information about TCU's most successful back ever.
41 -- lettermen returning to the 2000 squad, including 29 seniors.
39 -- combined negative rushing yards TCU's defense has held its opponents to in TCU's last two bowl games.
32 -- players who can bench press more than 400 pounds, with the majority able to bench 500 pounds or more. Two seasons ago, only three players could.
24.5 -- sacks logged so far by defensive end senior Aaron Schobel, TCU's all-time sack leader.
3 -- years of eligibility left for quarterback sophomore Casey Printers, a freshman All-American last year.
1 -- logo for all of TCU's sports programs, introduced this spring.

Top