More TCU entrepreneurs: Katy Briscoe '82, John "Bo" Norris '80, Johnny '73 and Diane Rowand Simons '66, Celia Smith McGrath '83 and Kevin Prigel '01



Financial statements
With conviction and class, Jim Ryffel '81 (MBA '84; RM '98) leads a growing community of entrepreneurs.
By David Van Meter

And God said, "Let there be light," and there was light. And God saw that the light was good; and God separated the light from the darkness." -- Genesis 1: 3-4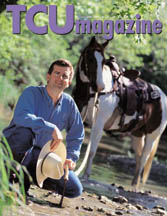 Jim Ryffel is in the dark.
He flicks the light switch. Nothing.
"Must be burned out," the 40-year-old Fort Worth businessman said, trying the switch several more times.
He settles for the next available light, revealing his attic collection. Stuffed game from past hunts. Framed landscape photographs. Bits of life packed away in boxes.
He apologizes for the mess, in stark contrast to the rest of the Ryffels' immaculate three-story home.
It took an entire Sunday afternoon to reach this room, to hear of that moment in a Montana river three decades ago. It first and forever shaped what Jim Ryffel would do and become.
It was long before he bought his first piece of real estate. Before he put Jesus first in his life. Before he met his wife, Linda Barnds Ryffel '84 (BBA '85). Before their four children -- Travis, Hunter, Madison and Elektra. Before Ryffel made his first million. Before the $6 million gift to fund TCU's upstart entrepreneurship center. Before dot-com companies and convergent media. Before the search for significance.
But sometimes, the beginning of a story belongs at the end.
After you know the measure of a man.
The real test of a man is not when he plays the role that he wants for himself, but when he plays the role destiny has for him. -- Vaclav Havel
Jim Ryffel was born in Bozeman, Mont., in 1959, the second of two children. (His sister Laura is a Fort Worth dentist today.) His father was a chemical engineer.
Job transfers took the family across the country. Michigan. Louisiana. And then to Anderson, S.C.
It was there Ryffel cornered the yo-yo market in 1968.
The boy with curious brown eyes, seeing the toy's craze coming on, purchased two yoyos and sold them for a profit at school. The next day, he bought a few more.
Finally, he rode his bike from store to store until he had the entire town's supply. At that moment, James and Faith Ryffel knew their 8-year-old son was different.
"He's always been able to recognize opportunities," James said. Finishing the thought, Faith added, "More than just wanting to make some money, I think he just recognized things that people would like to have."
Faith remembers another day driving past one of Anderson's many textile mills and seeing a bundle of left-arm fabric leftovers near a dumpster. In an age of psychedelic polyester, Faith couldn't imagine a better place for the material. Her son shouted to his mother to stop the car and retrieved the fabric.
He learned to sew on her sewing machine and made bean bags from the fabric, stuffing them with kernels of corn. He sold them all.
The family moved to Lake Jackson, south of Houston, in 1972. There, Ryffel ordered growth charts he saw in a catalog and sold them door-to-door to families that had children. Flower and vegetable seeds followed.
With his father's help, he built a darkroom in their home and began a successful photography business, shooting weddings, passport photos, high school football games. To cut costs, the 14-year-old boy bought 250-foot rolls of film and thousands of sheets of photographic paper.
Two years later, as the BeeGees and disco took the nation by storm, Ryffel worked as a deejay at a Lake Jackson radio station.
One Friday, another jockey borrowed the station's remote and held a dance. Ryffel had a better idea, adding a drummer and a light system, another father-and-son creation.
He rented a nearby fairgrounds and bought an ad publicizing the dance. Several thousand paying teenagers showed up. Disco Unlimited was born.
Ryffel reserved the hall for every Friday and Saturday for the remainder of the year. He added bubble machines and confetti cans and computerized controllers to his mobile disco production.
Fellow deejays were hired to handle the music and security guards to work the door. Ryffel and his father built a mobile unit that provided entertainment at dances in Houston, Corpus Christi and Baytown, as many as six shows a weekend. Ryffel had earned a small fortune.
He was only 17.
From the top floor of the bronze-mirrored Bank United building on the south edge of campus, you can see all the way from the newly opened Lowden Track to the M.J. Neeley School of Business.
Ryffel started Woodcrest Enterprises 18 years ago; he has held this vantage point for the last 8. He doesn't plan to ever move.
"I struggled with what to call [the company] when I first started it," Ryffel said. "I was driving through a part of Austin and I saw the name Woodcrest. The next morning, I woke up and thought, 'Gosh, that's an interesting name.' It was that simple."
A small operation, Woodcrest is only six people, including Ryffel, but it's a busy one. Directly off the elevator is a framed land-grant deed signed by Thomas Jefferson and James Madison.
It figures, real estate has been Ryffel's primary business over the years, with hundreds of properties today across five states. He started Texas Pecan Farms in 1986, one of the largest pecan producers in the state, and also owns six different cattle operations.
Ryffel's children sometimes accompany him to his ranches, where cattle are rounded up via helicopter. A drawing in his office, from his son Hunter, says it best: I love my daddy because he takes care of our cows.
Nearby is another taped-up sign: Give us the courage to risk something big for something good.
These days, it seems Ryffel and company are moving more toward virtual real estate. Ryffel was a founding investor in Internet service provider FlashNet, with shares worth $43 million when the company went public in 1999.
Ryffel also is the lead investor and strategist for Emergisoft.com, a company providing paperless administration for hospitals. (He became intrigued with the idea after filling out the same forms twice at a Fort Worth emergency room.)
And Ryffel is also the founder, chairman and lead investor, by far, of Hispanic Television Network. Begun last September and worth pennies, the company had a $1.2 billion market value in May.
"I was at a function one time and someone asked me what I did," Ryffel said. "I stopped for a minute, because I had a difficult time explaining what I do. And a friend of mine said, 'Just tell them what you do . . . you're a deal junkie.' " Ryffel smiles.
There's more to it, he believes.
"The summer before I went to college, I realized that God was real, that Jesus Christ was who He said He was, and that I wanted to try and do something with my life," Ryffel said. "My ability is what God gave me. I understand what things are worth. I can look into the future and perceive trends and ideas and just come up with ideas of what will work and what won't.
"I'm convinced beyond any doubt that I'm doing exactly what God wants me to do."
| | |
| --- | --- |
| Entrepreneurial offspring. In Ryffel's Fort Worth backyard are, from top to bottom, Ryffel and daughters Elektra (2) and Madison (6), wife Linda Barnds Ryffel and sons Travis (9), and Hunter (7). | |
FINANCE Prof. Joe Lipscomb agrees that Ryffel has a gift. He's been watching Ryffel since his days as a TCU student.
"Jim can smell a deal better than anyone I've ever known," said Lipscomb, whom Ryffel calls his primary mentor at TCU. "I have seen him bid on tractors, helicopters, real estate, whatever. If it's a bargain, he'll buy it cheap and sell it high.
"Like so many of the people who make it really, really big, Jim wasn't the A-at-all-costs student; he had a different quality. He could hold his own with the books, but he mostly had an abundance of practical intelligence, and that is what has paid off."
Ryffel initially planned to attend the University of Texas, but chose TCU once he learned of the business school's Educational Investment Fund (he served as manager of venture capital and special situations).
At the time, it was the only student-managed stock market fund in the nation. Ryffel arrived at TCU, leaving his mobile discoteque business to be managed by a friend. Embezzlement ruined the fledgling operation.
To earn extra money at TCU, Ryffel bought tools and other items in bulk and sold them from the trunk of his car on street corners.
During his junior year, Lipscomb helped Ryffel land an internship with realtor Henry S. Miller in 1980. The very next year, Ryffel bought several duplexes in the TCU area, the official start of Woodcrest.
In 1984, he became the founding investor in a software company, Data Tailor Inc., one of the first Apple software developers. Ryffel met his wife Linda that same year. She was working at a travel agency and earning her undergraduate degree while Ryffel was working on his master's.
"On our first date, he took me to the Kimbell Art Museum, to show me he had culture," Linda said. "Of course, we haven't been back since."
Other dates the two spent at the Mary Couts Burnett Library.
"I would start studying, and he would, too, but only for a little while. I would say, 'Aren't you going to study?' and he would say, 'Uh, I think I'm done,' and then we would go to Wendy's for hamburgers or whatever."
The two were married in 1986. Ryffel's Woodcrest operation was booming. Linda was working as an operations manager for an insurance company. The two shared a nice home and a country club membership. A summer home in Aspen.
And then the real estate market crashed; Ryffel lost nearly everything, but he stayed in business without declaring bankruptcy.
"It's very difficult being married to deal guy," Ryffel said. "All businesses have challenges, and they all have cycles. Back in the mid '80s, real estate was a difficult time. There were tremendous learning experiences, but they weren't enjoyable at the time."
The Christmas tree business Ryffel counts as another "learning experience." In 1994, he had dozens of properties located at busy intersections, after all. He trucked in thousands of trees and set up lots across two counties. It failed miserably.
"It was a cash business during the busiest retail time of the year," Ryffel said, smiling and pausing to find the kindest words. "It is very difficult to find trustworthy people who can work in a cash business during that time of year. I felt compelled to be there during the best times, on Saturdays, which was in conflict with what my family wanted to do."
Business lesson number one: Don't start a multiple-location cash business unless you plan to be intimately involved.
Ryffel also entered into the check-cashing business, for a short time. Business lesson number two: Don't enter a low-margin business where one bad transaction can wipe out a week's profits.
"There's nothing wrong with starting a business and then, if it doesn't seem to work, saying it doesn't work," Ryffel said. "It's better to realize that early on than when it's too late."
Ryffel is rolling his financial dice once more with HTVN, with far more than dead trees or hot checks on the line. In Ryffel's mind, HTVN is one of the marketplace's first forays into "convergent media," where television and the Internet meet.
Some say the company could be worth $5 billion by year's end. Yet, Ryffel seems more interested in simply making friends and key business alliances.
"Too often, young impressionable businessmen look at the real high-profile entrepreneur and get the idea that business is about winning and losing, and life and death," Ryffel said. "Business is not about life and death or winning and losing, it's about building a business through relationships while you're doing the right thing."
The thing is to understand myself, to see what God really wishes me to do ╔ to find the idea for which I can live and die. -- Soeren Kierkagaard
IN 1996, Jim Ryffel sat on a steamroller in a Dallas strip mall parking lot. His sons Travis and Hunter sat in his lap.
Before them was a 40-foot-long line of X-rated movies, worth more than $50,000. Then Ryffel put the steamroller in drive. He figures that was the moment when his life began moving from success to significance.
Earlier that year, he had come across a book called Halftime. Written by former TCU parent Bob Buford, the best-selling title chronicles Buford's incredible success as a television executive as well as the death of his son, Ross Buford '85, that crushed him.
The event spurred the father to search for ways to move his life from mere financial gain to more-lasting contributions: The first half of life has to do with getting and gaining, learning and earning . . . getting an education, entering the workforce, starting a family, buying a house, setting goals and climbing toward them. The second half is more risky because it has to do with living beyond the immediate. It is about releasing the seed of creativity and energy that has been implanted within us, watering and cultivating it so that we may be abundantly fruitful. It involves investing our gifts in service to others -- and receiving the personal joy that comes as a result of that spending. This is the kind of risk for which entrepreneurs earn excellent returns much of the time.
Now, Ryffel had performed good deeds before that moment. He won't tell the stories, but others will.
In college, he made a sizeable gift to Harris Hospital to help buy a piece of medical equipment for a sick friend.
On another occasion, after noticing a homeless woman parked night after night near his business, Ryffel slipped a folded check through her window. It was enough for the woman to travel back to her family and finish her education. Years later, she searched every office of the six-floor building to thank him, handing him a card and a tiny golden angel.
"Anybody who has him in their lives is lucky because their life is going to change," said Woodcrest Office Manager Donna Hill. "Just by him being there, something is going to happen to improve your life. He'll only add to your life, he won't take anything away."
Still, that morning on that steamroller was different. A few weeks earlier, Ryffel had received more than 3,000 videos as part of a settlement with a video store chain that had broken its lease.
After realizing most of the 3,000 videos he received were pornographic, he decided to quietly destroy them. Enter Bo Glenn, a former real-estate colleague of Ryffel's. After the market crash in the '80s, Glenn was "called" to Family Life Ministries. Glenn introduced Ryffel to its executive director, who challenged Ryffel to dispose of the videos in a more meaningful way.
The crushing sound of videotapes was heard all over the world. From the Dallas Morning News and Fort Worth Star-Telegram, the story traveled to local television broadcasts and then nationwide to Good Morning America and to Paul Harvey's radio commentary.
Several European newspapers also published the story.
"Everybody is on a journey," said Ryffel's wife, Linda, "and I think that was one of the turning points in Jim's life. I think he realized then that one person can make a difference."
And the stories continue. In 1996, Ryffel donated land to help an Arlington church build a new building. That same year, he invested in rundown property in east Fort Worth as part of a revitalization effort.
Last year, the Ryffels provided the seed money to begin a Christian youth camp in the Hill Country called Camp Eagle. And, of course, this past spring brought news of Ryffel's $6 million gift to establish the James A. Ryffel Entrepreneurship Center as well as a student-run venture capital fund similar to the EIF.
The professor Lipscomb, alluding to George W. Bush's political moniker, calls Ryffel "a compassionate capitalist."
Linda admits that she and Jim struggled with the TCU gift. They first planned to remain anonymous, but they also believed the gift could make a statement. "The gift was a little disconcerting for me because we are private people," said Linda, "but Jim has a great message to tell: Give back to your community, your church, your school. One person can make a difference. One person can leave a legacy."
The day after the media reported the gift, Linda called her husband, who was on a business trip in California.
"I called him and told him, 'The newspaper has a big story about the gift. You're on the front page with the Pope.' "
Linda also said their oldest son, 9-year-old Travis, came home from school that day and said a friend and a teacher had asked him about the gift.
"Travis said, 'Mom, I didn't know we were millionaires ╔ why didn't you tell me?'"
Whatever anonymity was lost with the advent of TCU's new entrepreneurship center, Ryffel figures the long-term gain will be worth it.
"I believe that in business, we can do the right thing and be successful at the same time," he said. "Maybe we can start a business reformation. There's so much good we can do. We all have more than our daily bread."
If one advances confidently in the direction of his dreams and endeavors to live the life which he has imagined, he will meet with a success unexpected in common hours . . . and he will live the license of a higher order of beings. -- Henry David Thoreau
RYFFEL is sitting on an all-terrain vehicle parked on a high spot in the middle of the Trinity River.
The Ryffels live in one of Fort Worth's most exclusive neighborhoods, Mira Vista, about five miles southwest of TCU.
Most of the high-dollar homes here sit alongside a golf course, but the Ryffels chose the Trinity River instead. Their backyard slopes down to the water's edge, but his homestead doesn't stop there.
Across the river is a 75-acre ranchette, land that almost became a housing development before Ryffel bought all 350 lots. Ryffel calls the purchase a "compromise" between his wife's desire for the city and his for the country.
Ryffel uses the ATV to cross the river, usually with his kids and their friends riding in the ATV's bed. Aside from the two business degrees Ryffel earned at TCU, he also earned a ranch management certificate in 1998.
He's using that education here. A budding fruit orchard. A garden, okra being the bumper crop this year. A donkey named Midnight, the kids' favorite. A llama. And several quarter horses, including a stunning brown-and-white paint called Geronimo.
There is a public trail crossing his land as part of the city's park system, but in exchange for Ryffel allowing the trail's easement, he was granted permission to ride his horses throughout Fort Worth's park system.
This is Ryffel's own private Eden. And here in the middle of the river, as the family Labrador Ellie romps through the deeper spots, is where he communes not only with God, but with great ideas.
"He'll go sit outside and later he'll come back in with some great idea," Linda said. "Like people who paint or play music, they can just sit down and create and perform. Somehow, ideas speak to Jim."
Ash Huzenlaub '98, who was hired as an investment analyst by Ryffel four months ago, agrees.
"Everybody's so rushed nine to five," Huzenlaub said. "What Jim has shown me is that if everyone would stop and take 20 minutes out of their day just to think, there would be much fewer problems and many more solutions."
And as the Trinity flows by, Ryffel hits one of those moments. With his distinct Texas drawl, Ryffel speaks of things more suited to latte-drinking, new-economy digit heads.
Convergent media, baby. Where e-commerce meets t-commerce, everything on the Internet delivered through your television. Being able to watch Channel 5 in Spain. This is the reason for Ryffel's trips to Mexico City on some weeks and Palo Alto -- "ground zero for new technology" -- on others.
"With traditional media, the growth curve is limited," Ryffel said. "You have to figure out where it's going to go. With as much technology as there is now, the advent of the Internet, the streaming of audio and video, it seemed just natural to me that we will go to a global programming.
"I'm hopeful that cultural barriers will disappear; not that we lose our individual cultures, but that there will be a melding of races and cultures, and the media will be one of the causes of that."
The Hispanic market has grown six times faster than any other American market. It is nearing the majority in Texas.
Ryffel rattles off statistics now second nature to him. "And it's so underserved from every aspect of business; it's wide open.
"It's global commerce. It's big. It's unquantifiable. It's -- " Ryffel moves both of his hands quickly past his head " -- shoooo!"
Ryffel wants HTVN to be the Hispanic voice on the Internet, and it's showing signs of becoming that; just this past March, it cut a deal with Yahoo! for the Internet giant to digitize the company's signal.
"We have the technology, we have the vision, but my deal worked because of relationships," Ryffel said. "The people in our deals look like a Who's Who across America. We select investors because they can bring something to the deal. We have very few investors for money, because money is not hard to find.
"Every deal depends on relationships."
With all thy getting, get understanding. Forbes Magazine
RYFFEL is in the dark.
The afternoon, and the interview, are almost over, but there is something left to see. Or something left to say.
He flicks the light switch.
Nothing.
"Must be burned out," the entrepreneur said, trying the switch several more times. He settles for the next available light, revealing his attic collection.
"Fly fishing is my deal," said Ryffel with a grin, his boots still muddy from the river. "If I golfed as well as I fish, I would be a scratch golfer."
Indeed, Ryffel first dropped his line into a Montana river when he was only 7. Go back 30 years, and you can see a father leading his son across the Gallatin river.
The icy current pulled at the young boy's feet, threatening to pull him under.
Dad, I don't think I can make it.
Son, never, ever give up. Hold my hand.
He gripped his father's hand tighter
We can make it if we do it together.
And the two did make it across. Ryffel's eyes shimmer with meaning.
"My father's support has always been unconditional, infinite and consistent," Ryffel said, "whether he approved of a particular venture or not. Even when I went off to start my own real estate business, I wasn't sure whether I had enough capital to start it. He said to me, 'Just wanted you to know, I think you can do it, so go rent the nicest office you can find.' "
Two summers ago, and quite by accident, Ryffel crossed the same river with his oldest son.
"We were at the exact same place in the river, and Travis looked at me and said, 'Dad, I don't think I can make it!'
Son, never, ever give up. Hold my hand. We can make it if we do it together.
And the two did make it across.
"He got it, just like I did," Ryffel said softly. "He got it, and he understands."

James A. Ryffel Entrepreneurship Center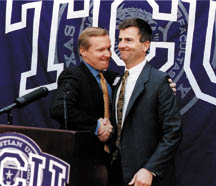 THINK every day. It'll make your work that much better, and that much easier. Develop relationships.
For that is what business is really about.
Do the right thing.
It's always better in the long run.
Commit yourself early to give back. God will honor your efforts.
Jim Ryffel '81 (MBA '84, RM '98) outlined his four-point approach to business at the March press conference announcing the $6 million gift to establish TCU's entrepreneurship center and related venture capital fund.
"I think the James Ryffel Entrepreneurship' Center could have real value if we do it the right way," agreed Fort Worth entrepreneur David Minor '80, the center's director. "In my little world, being an entrepreneur is not just about making money, it's what you do with that money."
And though the Ryffel Center is still in its infancy, Minor and others have already crafted a rough blueprint they hope will place the entrepreneurial think and study tank among the top five in the country.
A state-of-the-art facility will be created, containing the Ryffel Center and the student-run Venture Capital Program and the Educational Investment Fund. Approximately 40,000 square feet will house classroom and meeting space, including newly wired lecture halls, office space and a multi-purpose meeting facility.
Students will be exposed to entrepreneurship at both the undergraduate and MBA level. Core offerings will guide students through the entire process of becoming an entrepreneur from venture recognition, feasibility analysis, business plan creation, to starting and managing the emerging enterprise.
Additional courses will focus on venture financing, sales and marketing for the emerging enterprise, entrepreneurial skills and behavior, and family business. Curriculum will include experiential learning similar to TCU's nationally recognized Educational Investment Fund.
Other offerings include a monthly speaker series, mentoring and incubator programs and an internal business plan competition. High school students of all socioeconomic backgrounds, through various youth groups, will be introduced to entrepreneurship, its benefits and rewards from personal, economic development and social perspectives at the high school level.
An annual Young Entrepreneur Conference and Awards Program for high school juniors and seniors from across the state will also be started, with winners receiving scholarships to TCU.
Research will focus on the latest entrepreneurship trends and changes, with hopes to become the source of entrepreneurship knowledge in the Southwest.
Funding for an endowed professorship will be located, as well as for top field experts.
In addition, the center may also develop strategic partnerships with SMU, Baylor, North Texas, and Texas Wesleyan, and form a venture capital forum for entrepreneurs.



Top