Peace talks
Through the Ulster Project, Tom '72 and Karen Bonjour '72 direct a leap of faith for Irish Protestant and Catholic teens
By Saedra Pinkerton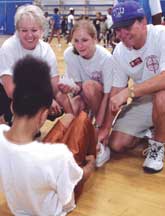 It was a typical bright Texas Sunday morning in 1994 when Tom '72 and Karen Badgett Bonjour '72 settled into their pew at St. Barnabus United Methodist Church with their kids. Expecting a traditional sermon, they had no idea that a short presentation by fellow Arlington resident Joe Francis would be a life-changing event. Turns out Joe Francis was a man with a mission, and the Bonjour family made an ideal recruit.

Francis is a crusader for peace in Northern Ireland. With violence between Protestants and Catholics at a boiling point in the six-county enclave that forms the Ulster province, he was promoting peace one American home at a time. He had established the Arlington chapter -- Texas' only chapter -- of the Ulster Project. Founded in 1975, the program has a simple premise: Take the most promising teens out of their chaotic homeland, and they will find common ground.

Listening to the presentation, Tom and Karen had no idea that their 8th-grader, Nicole, would talk them into participating. Next thing they knew, 16-year-old Lyndsey Robinson from Northern Ireland was assigned to spend July in their home. And the Bonjours were on a ride that would encompass years of rewarding work.

The Bonjours were one of 16 families, eight Protestant and eight Catholic, that agreed to host a 14- to 16-year-old teen of similar faith in their home that summer. The teens are chosen for their leadership attributes and because most young people in Northern Ireland in this age bracket have not committed to a paramilitary group, yet are old enough to grasp the intricacies of the sociopolitical divide.

As Tom and Karen prepared for Lyndsey's arrival, they studied a region that until then had been just another gloomy story on the evening news. They learned that Ireland has been at war with itself for eight centuries.

The discord, typically attributed to a religious conflict, is really a political conflict couched in religious terms. Tom and Karen discovered that Catholics are part of the indigenous Irish population that is a minority in the region today. Preserving their Irish heritage and seeking to unite Ireland outside the United Kingdom is typically important to the Catholics. The Protestants, meanwhile, are generally labeled foreigners, though their families may have lived in Ireland for centuries. Protestants were once the ruling class and discriminated against Catholics. Most Protestants now want Northern Ireland to remain a part of the United Kingdom.

After months of fund-raising for the Ulster Project and learning about Northern Ireland, the Bonjours were as ready as they'd ever be. Lyndsey arrived in town with 15 other teens, and the whirlwind round of Ulster activities began.

"The kids are literally together every single day. Even when we didn't have something planned, the kids would plan something," Karen recalls. From swimming parties and community service projects to marching in Arlington's Fourth of July parade, the teens are together nonstop.

While much of the activity promotes a relaxed opportunity for new friendships, the teens are also encouraged to confront their cultural prejudices. They are expected to attend both Catholic and Protestant services -- a common exercise for many Americans but a monumental event for young people from Belfast.

"Having the kids just go into the church is huge for them," Tom says. "The first time I went into a Catholic church, I didn't know all of the rituals, but I knew I would be allowed to stay. I have to magnify my discomfort exponentially just to understand what they are going through."

Over the years of hosting, Tom and Karen have heard heart-wrenching stories. One girl lived a block from the police station, a fortress-like structure with barbed wire two stories high. The reverberation from regular bombings would knock the girl's knick-knacks from the shelves in her room. Other teens talked about how they dreaded closing shift in the grocery store when they would be sent to search for bombs left hidden behind cereal boxes and soup cans.

During this month of sharing stories, the teens also participate in discovery sessions -- a time to address bigotry and intolerance head-on. Tom and Karen were initially surprised that conflict across the pond is not the only topic during these therapy-like discussions. The American teens are often confronted about racism and poverty in the United States.

As one former host teen put it, "I learned how to break down the subconscious physical, ethnic and cultural stereotypes society instills in our minds and look at the entire person." Cyndi Wilson, part of a host family, says her experience with Ulster has motivated her to seek a career in social work. She began her studies at TCU this fall.

For Tom and Karen, who met in a Texas history classroom at TCU, the Ulster Project experience has become much more than a month-long field trip each summer. Although Tom graduated with Karen in 1972, he was originally a member of the class of 1969. He interrupted his studies for two tours of duty in Vietnam.

"Tom loves to help people and is always working to help people," Karen says. "The project is his first love, and it always has been."

After their tearful goodbyes when the teens headed home at the end of that first summer, Tom knew he had found the outlet for his altruistic tendencies.

"It keeps him out the house," Karen says with a laugh. More seriously, "every marriage has to have some common ground, and this is something we both believe in."

The Bonjours' common ground has kept them involved for 10 years now. Tom is president of the Arlington chapter, planning the July activities and making sure the group raises the $30,000-plus needed to fund the project each year. In between board meetings and fund-raisers, Tom runs the Arlington business he founded, Sound Idea Audio & Video. Karen teaches first grade in Arlington.

Even after years of experiences with the teens, the Bonjours were unprepared for what they saw during their first trip to Northern Ireland this spring. Graffiti-covered walls crisscross Belfast -- Protestants on one side of the wall, Catholics on the other. It left an impression. Karen: "Police cars there look like Hummers or military vehicles." The sides of the vehicles extend almost to the ground "so no bombs can roll under."

Still, despite the reminders of violence and bigotry, the trip featured celebrations of the Ulster Project's successes. More than 4,000 teens have participated in the program, "and not one has joined a paramilitary organization," Tom says. In fact, three former Ulster Project teens signed the historic Good Friday peace accord in 1998.

While in Belfast, the couple met with Lyndsey and 40 other former participants. Though many are now married with families of their own, Ulster friendships tend to survive over time.

"The kids are grown now. They are teachers, medical workers, government employees," Tom says. "They were chosen because of their leadership potential, and now they spread a sense of tolerance, communication and understanding in the community."

While violence in Northern Ireland has not captured U.S. headlines lately, Tom reminds us that the underlying powder-keg issues must be continuously addressed.

"The situation is comparable to the Civil Rights movement in America. We have to keep up this work for several generations to instill new values. You can legislate anything, but until you change people's hearts, bigotry will continue."

Tom's mission for social justice comes with an unexpected perk.
"When you work with young people, it keeps you young. I get to see the world through the eyes of a 15-year-old. The enthusiasm, curiosity and passion are infectious."

To learn more about the Arlington chapter's work, visit www.upatx.com.
Comment on this article at tcumagazine@tcu.edu.