James Mattox Moudy -- 1916 - 2004
By Jaime Blanton '02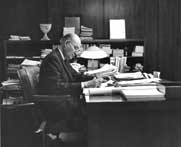 Dr. James Mattox Moudy '43 (BD '49), to-date the only alumnus to hold the university's highest post, committed his life to the things he loved most — family, faith and Frogs. A dedicated Christian minister, father and community icon, Moudy's reputation as a value driven leader helped him catapult TCU from small liberal arts institution to nationally recognized university.

Moudy, chancellor from 1965 to 1979, died Aug. 6 after a brief illness. He was 88.

Spanning more than five decades, the relationship between Moudy and his alma mater has served as the ultimate TCU success story. From the time he set foot on campus as a 23-year-old freshman in 1939 until he returned in 1957 to begin his tenure as an administrator, it was clear the man and the institution shared a unique bond.

The campus was a place Moudy knew intimately. He financed his education by mopping its dormitory floors and digging its ditches. It's where he met the love of his life, Lucille Lauritzen and cut his teeth as a Disciples of Christ minister. Later, as dean of the graduate school, vice chancellor for academic affairs, executive vice chancellor and eventually chancellor, he actively participated in its maturation.

John Roach, chairman of the Board of Trustees, knew Dr. Moudy in several of his administrative roles.

"In all of these capacities he communicated strongly his love for the university and its constituencies," Roach said.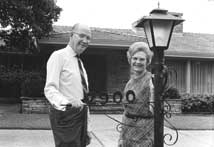 Moudy, who spent 14 years at the university's helm, is credited with advancing the institution in a number of very visible ways. His leadership and vision can be seen today in the buildings that surround campus and in the academic pursuits going on within them.

"Jim Moudy epitomized excellence and dignity as well as moral fortitude in his many years as the chancellor of TCU," said Chancellor Emeritus William Tucker, who served the university as chancellor following Moudy's 1979 retirement until 1998.

"Through his principled and unflappable leadership, he played a pivotal and indeed decisive role in grounding and shaping the university today," Tucker said.

Dr. Moudy often enjoyed long periods of study and self-reflection. Once, years after retirement, he told a student that he thought the best way to appreciate someone's connection to a place like TCU was to understand the people and experiences that made that place real.

Most of the interesting details of a person's life are tied up in the relationships we build with others, he said.

Moudy's was certainly a life full of treasured relationships.

A Texas native, he was born near Harlingen, July 18, 1916, to Helen Sunderland and Alvin Curtis Moudy. His parents, who visited Texas on their honeymoon and stayed, tried farming in the Rio Grande Valley, but when a hurricane leveled their corn crop the family moved to Greenville and operated cotton gins.

Moudy learned to love music at an early age -- a pleasure that never faded. Some of his earliest boyhood memories were of his mother, an accomplished pianist, filling their home with lovely tunes.

When Moudy was 11 years old, his father was accidentally electrocuted. In 1931, his mother decided to move Jim and his older brother, George, to her hometown of Washington, D.C. Moudy graduated from McKinley Technical High School in 1933, but his highlight from those times came that spring, when he marched in President Franklin Roosevelt's inaugural parade as a member of the cadet band.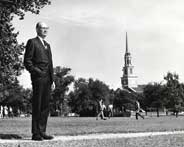 He worked in Civil Service positions in the Agriculture Department and the Treasury Department for six years and studied aeronautical engineering for two years at Columbia Technical Institute at night. He was also a semiprofessional musician, playing trumpet and occasionally French horn in civic symphony groups and dance bands.

Church always played an integral role in family life for the Moudys. It was at the urging of local youth group sponsors Dr. and Mrs. Fred Norris that Jim Moudy began to consider a life in Christian ministry. Norris, a TCU graduate, naturally thought the Disciples of Christ-based private college would be a perfect fit.

So, in 1939 Moudy enrolled. Six years older than most students, Moudy was instantly recognizable. One of the few non-Fort Worth natives on campus and the only freshman who owned an automobile, Moudy quickly distinguished himself as an active participant in student life and an academic standout.

Soon known by the student body as "Rowdy Moudy," the nickname referred more to his extensive list of extra curricular activities than his demeanor. He served in a number of on-campus music and drama organizations and was elected student body vice president.

Juggling numerous odd jobs, student activities and classes left Moudy time little time for romance, but when he met classmate Lucille Lauritzen '45, TCU quickly became, in his words, "Texas Courting University." Married for 61 years, the couple had two daughters, both went to TCU. They also enjoyed three grandchildren and three great-grandchildren.

Moudy completed a double major in economics and sociology in 1943. At the suggestion of mentor Dean Colby D. Hall, Moudy decided to pursue educational ministry. Soon after graduation, he attended the Army's chaplains school at Harvard University.

He volunteered for duty in World War II, even though as a ministerial student, he was not subject to the draft. "I thought the war was a war we had to fight," he once said.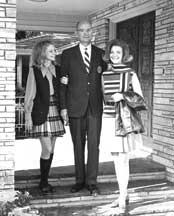 Dr. Moudy served 19 months in Europe with hospital and infantry units of the 102nd Infantry Division.

Discharged in 1946 with the rank of captain, Dr. Moudy was invited back to Fort Worth to serve as assistant minister at University Christian Church while he completed his bachelor of divinity degree at Brite Divinity School.

While finishing his second degree, which he earned in 1949, Moudy served as minister of the A&M Christian Church in College Station. He commuted weekly between school and his pastoral assignment.
He chose to follow the path that led to his recognition as an "educational statesman" when he began doctoral studies at Duke University. Dr. Moudy completed his Ph.D. in 1953, earning both Kearns Fellow and Phi Beta Kappa.

Moudy was offered his first administrative position by former TCU mentor D. Ray Lindley, then president of Atlantic Christian College in Wilson, N.C.

Moudy, who dreamed of teaching church history at seminary later described his first administrative job offer this way: "After a brief discussion, Ray offered me the job and I took it for $4,200 a year. At that point in my career I was sucked into administration, and I never got out."

During his four years as dean of instruction, Moudy helped the college earn its first-ever accreditation and oversaw the construction of a new academic building.

In 1957, M.E. Sadler, the man he would later succeed as chancellor, invited Moudy and his family to return to Fort Worth to serve as dean of the graduate school. Moudy accepted. He not only laid the groundwork for TCU's doctoral programs, but also headed the committee that ultimately led to the university's undergraduate honors program.

During his full administrative tenure, Moudy is credited with establishing six research-oriented doctoral programs.

When the administrative hierarchy of the university was overhauled in 1962, Moudy was named vice chancellor for academic affairs, responsible for supervising all scholastic efforts. He served as executive vice chancellor for one year before becoming chancellor in 1965.
When his predecessor M.E. Sadler nominated him for the job of chancellor he described Moudy as a "young, vigorous, highly qualified and inspiring leader."

"I have every confidence that the university will continue to develop significantly under his fine leadership," Sadler continued.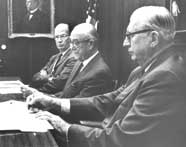 Although Moudy's name emerged near the top of Sadler's list of possible successors almost as soon as his retirement was announced, it wasn't until search committee chairman M.J. Neeley met with the Moudy family that the idea occurred to Moudy himself. Moudy, reluctant about the travel required and his fund-raising abilities, was more than skeptical.
"I was reluctant because I don't play golf, hunt or fish and those activities are frequently part of the social mechanism by which people are cultivated," Moudy recalled later.

Although, even upon retirement, Moudy expressed concern that he wasn't best suited for the job, he did acknowledge, "Assessing my performance as chancellor, I'd say I feel pretty good about the outcome, but I've left plenty of work for the next person."

Moudy's tenure was marked by rapid growth. TCU's enrollment climbed, its campus expanded and its reputation grew. Known as a stickler for details, Moudy approached every administrative task with a mixture of ardent enthusiasm and proofreaders' caution. His 14-year reign saw the construction of the Rickel Building, Sid Richardson Hall, Annie Richardson Bass Hall, the Miller Speech and Hearing Clinic and the Starpoint School. He oversaw the development of the admissions and personnel programs, and formed the TCU Press. He brought a chapter of Phi Beta Kappa to TCU.

Over the 14 years he served as chancellor, Moudy awarded 17,702 degrees, an astonishing number if you consider that TCU (through its various name changes) awarded nearly 18,280 total over the 92 years before his tenure.

Recognizing the role the university plays as a member of the Fort Worth community, Moudy hosted the most prominent dignitaries of the day -- Vice President Hubert Humphrey and U.S. Sen. John Hightower in 1966; President Lyndon Johnson, several times including once to watch the TCU-Texas football game in 1970; Texas Gov. John Connelly in 1970; and President Gerald Ford in 1978.

For Moudy, however, his crowning achievements were holding office in two of the nation's most prestigious organizations for church-related institutions. From 1966 to 1968, he was chairman of the Board of Higher Education of the Disciples of Christ, and during 1967-68, he was president of the Texas Council of Church-Related Colleges.

"For me there was no greater honor than to serve in these capacities," he once said.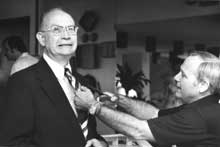 As president of the Independent Colleges and Universities of Texas from 1971 to 1973, he led a successful drive to gain approval by the Legislature for "tuition equalization" grants to help needy Texas students pay tuition costs at non-tax-supported institutions.

He was also honored to serve as chairman of the National Council of Independent Colleges and Universities in 1975.

Five honorary degrees from various institutions have been conferred on Dr. Moudy over the years.

In 1976, he was honored as Fort Worth's Outstanding Citizen of the Year by the Exchange Club.

He also received the Brotherhood Award from the Tarrant County Chapter of the National Conference of Christians and Jews (now called the National Conference for Community and Justice) and the People of Vision Award from the local chapter of the Texas Society for the Prevention of Blindness.

Moudy was a member of the Rotary and Exchange clubs. He recently completed 35 years of service on the TXU Fort Worth Advisory Board. He was a member of Colonial Country Club, River Crest Country Club, Shady Oaks Country Club, the Fort Worth Club, the Philosophical Society of Texas and many academic organizations.

In retirement, he enjoyed teaching an adult Sunday school class.
Although Moudy, not a believer in destiny per se, would balk at its mention in terms of his history and career, he would humbly concede that his love of people and possibility, coupled with a knack for being in the right place at the right time, led his life in often unimaginable ways.

"I'm certainly surprised my career took this path, but I'm pleased with the work I have done, and the life I've lived," he once said.




A quick, disciplined, expansive mind
By William E. Tucker, chancellor emeritus
The following are excerpts from Dr. Tucker's remarks at Dr. Moudy's
memorial service.

Like a legion of others, I admired Jim Moudy the man -- my professor and later my boss -- from our first meeting half a century ago to the day of his passing. And I shall continue to do so until time works its way on my senses.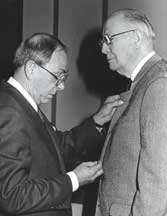 Devoted to family, he was a man of informed and vibrant faith to the very core of his being. A Christian and a minister of the Gospel of Jesus Christ, he was a student of the Bible, finding solace and strength as well as perspective therein. University Christian Church was integral to his life and work.

Captive to the true and the beautiful, especially the music of the ages, Jim had a quick, disciplined, expansive mind, and he used his remarkable intellect to full advantage as a brilliant student of Ray Petry's at Duke University.

Master of the English language, he was a verbal stickler, modeling precision and clarity in expression as well as thought. In all my years of association with him, I cannot recall a single instance in which he misused, misspelled, mispronounced a word or muddled a sentence. He just didn't do it. And -- by the way -- he expected his faculty and staff to follow his example. At this point, I hasten to add, he set himself up for considerable disappointment.

A serious man with the bearing of a stoic, he had an uncommon sense of humor. His razor-like wit -- sometimes wry, often spontaneous, never contrived -- served him well and turned furrowed brows into broad smiles over the years.

There was not a phony bone in Jim Moudy's body. He was who he was, never pretending to be more or less, and -- dear friends -- that was good enough. Very good indeed.

Put simply, Dr. Moudy was a leader of the first rank. Self-assured but humble, he had a mind of his own together with a steel-braced backbone and seldom if ever yielded to public pressure.

When asked on one occasion to pick his most significant contribution as chancellor, he singled out the planting of a Phi Beta Kappa chapter on campus. I hesitate to question his judgment, believe me, but in my view three of his many other accomplishments loom even larger.

-- He led the University into and through a particularly difficult time in American society. We call it the Vietnam Era. A high fever racked a sour nation. Cities burned. Campuses boiled over. Not at TCU. Although tempers flared, no serious eruptions scarred South University Drive. Chancellor Moudy kept his head and persuaded others to do likewise. Sometimes I thought ice water coursed through his veins. But I knew better.

-- More than any other president or chancellor, he led TCU to become a university in the richer sense of the word, a major university with full-blown doctoral as well as masters and baccalaureate programs. Give him credit. He earned it.

-- He served uniquely as a bridge between the old and the new TCU. Respecting the past, he leaned into the future with vision and resolve.

As I delve deeper in the University's yesterdays, I am struck by the degree to which the first president, Addison Clark, and Jim Moudy were alike. Both intellectuals, both men of faith, both bent to take counsel with themselves, they made it a habit to under-promise and over-deliver, and that's rare in our time.

In sum, Dr. Moudy was a good man of quiet strength. Mindful of his long and losing struggle with failing eyesight, I think of the Apostle Paul.

Wrote Paul to the sisters and brothers in Corinth: "For now we see in a mirror dimly, but then we will see face to face." Now has become then for Jim. He sees again, and we rejoice with him. Thank God Almighty. In the fullness and splendor of the eternal, James Mattox Moudy sees again.



Building boon
Growth during Moudy's tenure included both academic and physical expansion.
1967 -- Brown-Lupton Student Center. Addie joined Dr. Moudy, Malcolm Louden (then Student House president, now on the Board of Trustees) and Libby Proffer, dean of students, at the start of a major expansion for the Brown-Lupton Student Center.
1971 -- Sid W. Richardson Physical Sciences Building. The dedication of the Sid Richardson building and a remodeled Winton Scott Hall almost tripled the amount of space for science.
1971 -- Cyrus K. & Ann C. Rickel Building for Health, Recreation & Physical Education. Cyrus Rickel (right) was on had for the groundbreaking of the new building that bore his name. It was dedicated in 1972.
1972 -- Annie Richardson Bass Building. The Bass building brought together Harris College of Nursing and the Home Economics Department. A third floor was added later.
1973 -- Ballet Building. The Little Gym was converted into the ballet building.
1978 -- Starpoint School. The new school was dedicated with a former Starpoint pupil who was then a freshman among those making remarks.
1978 -- J.M. Moudy Communications and Visual Arts Building. Ground was broken for the building that bears his name only weeks after the last of several eye operations.