Howdy!
Whether students were welcomed for the first time or just welcomed back, they were treated to a heap of fun, free food and Frog spirit in August. It's just TCU's way of saying, "Howdy!"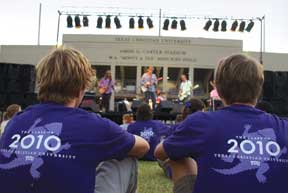 Howdy Week '06, presented by the Programming Council, is two weeks of activities from the week before the fall semester begins through the first week of classes. It's a time for students to meet, mingle and reunite. They rolled the dice and won iPods and other prizes on casino night, partied poolside at the Welcome Back Luau at the University Recreation Center and even played a game of truth or consequences.
Campus construction forced another Howdy Week tradition, the pep rally, concert and fireworks show, to relocate to the lawn behind the Dee J. Kelly Alumni Center instead of its usual spot in front of Frog Fountain. (But the crowd gathered to hear Texas country singer Charlie Robison didn't seem to mind the change of venue.) The construction also required the thousands of students moving into residence halls to navigate around road closures and adhere to special parking regulations.
New to the first-week events was the Chancellor's Assembly for incoming freshmen, held the night before the first day of classes. Chancellor Victor J. Boschini Jr. provided students with a brief history of TCU and told them what to expect from their experience here: "We study hard, wear purple to cheer on our Horned Frogs on the athletic fields of battle and rub the nose of the Horned Frog statue before tests," he said. The assembly closed with a candle-lighting ceremony symbolic of the passing of the light of knowledge.
TCU Freshman Class
by the Numbers
8,700 applicants (a new record)
1,655 freshmen (biggest class ever)
1,230 from Texas
435 from Fort Worth
262 from Dallas
146 from Houston
130 international students from more than 50 countries
65 from California (the first time a non-Midwestern state contributed the second most students
behind Texas)
40 percent male (the highest
percentage of guys since 2000)
19 percent minority
(tripled since 2000)

A grand opening
The GrandMarc at Westberry Place leasing manager Marcus Martin compares living in the newly opened apartment-style residence hall to taking a tropical cruise.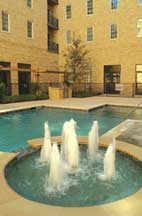 Well, almost. Despite the distinct lack of an ocean view on the southeast end of the TCU campus, the analogy is apt. GrandMarc - a partnership between TCU and Dallas-based developer/property manager Phoenix Property Co. - amounts to living in an apartment on campus.
Filling a block between Berry and W. Bowie Streets, the GrandMarc boasts all-inclusive amenities like fully furnished rooms that include a washer and dryer, high-speed Internet and satellite TV. Plus, residents - exclusive to students (except freshmen), faculty or staff of TCU - can hang out in several common areas: the game room, complete with air hockey and shuffleboard tables; video games and a big-screen TV; the movie room, with its wall-sized screen; the pool, with its spa and hot tub and a gas grill; the 24-hour gym with treadmills and a weight room; and the study area with mini-conference rooms where students can gather to work on group assignments.
The complex, done in traditional TCU brick and Spanish-style tiles, will also house a first-floor public retail center. Tenants already signed on are Perrotti's Pizza, Starbucks, Citibank and Paciugo, an Italian gelato franchise. Several additional tenants could be announced soon.
The GrandMarc helps fulfill the University's goal of housing more students on campus. The complex also provides an anchor for the reconstructed Berry Street. The street will be narrower with tree-lined center medians to make it more pedestrian and shopper friendly.
GrandMarc units are available in one- to four-bedroom units in a variety of sizes. Students pay individually, meaning they aren't dependent on other roommates to lease a bedroom in a unit. In every layout, roommates each have their own private bedroom and bathroom.
GrandMarc by the numbers
• 1,814 square feet in the largest four-bedroom unit
• 644 bedrooms in the GrandMarc
• 597 square feet in the smallest one- bedroom unit
• 340 bedrooms under lease
• 65 percent female residents
• 54 dollars more a month, on average, to live in GrandMarc rather than in a TCU residence hall
• 6 stories tall on the Berry Street side
• 5 stories tall on the Bowie Street side
• 2 courtyards, one with a fountain and one with a pool and spa
•0 freshmen allowed to live in GrandMarc

A new vision: A world-class, values-centered university experience
A clear vision and an ambitious fund-raising campaign has TCU poised to be known as a world-class, values-centered university, Chancellor Victor J. Boschini, Jr. told faculty, staff and students at fall Convocation.
"Through Vision in Action (VIA) and recent planning for a fund-raising campaign, TCU's vision has come sharply into focus," Boschini said. "Our vision at last has crystallized: We will create a world-class, values-centered university experience for our students."
Boschini said that even as VIA reconfirmed our mission of "educating individuals to think and act as ethical leaders and responsible citizens in the global community," the strategic plan clearly defined the University's vision and identified the distinguishing hallmarks of a TCU education:
• A small, friendly campus
• A major, comprehensive university, offering more than 100 majors
• Mentoring relationships between students and faculty
• The development of individual student talent
• A values-centered community with a unique church relationship
• A global outlook woven into academics, with opportunities to study abroad.
Continued success, Boschini said, will require TCU to respond to a multitude of challenges facing higher-education institutions, including fewer government resources; increased competition for students and reputation among private and public universities here and throughout the world; and an environment in which prospective students and their parents try to negotiate with several schools for the best financial-aid package.
"In these competitive and challenging times, we must be very good at what we do," Boschini said. "Day after day, week after week, year after year, we must become better. We must know – and clearly communicate – who we are and what we want to be. Simply put, TCU has a remarkable story to tell."

Top Scholars
For the first time ever, two professors - finance Professor Stanley B. Block, bottom right, and biology Professor Phil Hartman - received the Chancellor's Award during Fall Convocation. Chancellor Victor Boschini said that while he does not plan to make an annual tradition of selecting two winners, he will if, like this year, two equally deserving candidates emerge. The Wassenich Award for Mentoring in the TCU Community, was presented to Student Development Services Assistant Dean Carrie Zimmerman, director of the First-Year Experience.
Block founded the Education Investment Fund at TCU in 1973. His students manage a $1.5 million portfolio that prepares them for careers on Wall Street and elsewhere. He has published 35 books and more than 50 journal articles and is and is a leading finance textbook author. The Neeley School of Business has selected Block as its outstanding teacher seven times.
Hartman, who has received numerous teaching and scholarship awards, is a respected researcher in the study of DNA repair mechanisms and aging. He has published 56 peer-reviewed papers, made 63 presentations at professional conferences and meetings and obtained $640,000 in grants, including four from the National Institutes of Health.
Zimmerman coordinates Frog Camp and orientation, speaks at Monday at TCU, works with the TCU Leadership Program and is literally the first TCU staff member most students and parents meet.

Works in progress
Gone (for now) is Frog Fountain. Gone for good is the parking lot at the Brown-Lupton Student Center. Here to stay awhile are construction barriers, bulldozers and the cacophony of construction sounds.
Think of it as the temporary price of progress. Construction of the $100 million Campus Commons, above right, began in earnest over the summer. As of late August, the project — which calls for four new dorms, a new student union and a landscaped grassy area in the center — remains on schedule for completion in summer 2008.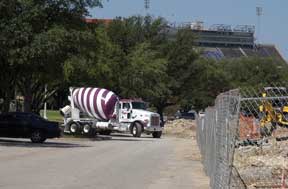 The major projects include:
Four residence halls totaling 216,000 square feet. Construction of the two halls at the north end of the Commons began in May and is scheduled to be completed in summer 2007. Work on the south two halls is slated to start in October and should be completed in December 2007.
Construction on the new 135,0000 square-foot Brown-Lupton University Union will begin in January. It is slated for completion by July 2008.
School of Education
The J.E. and L.E. Mabee School of Education Complex and the Steve and Betsy Palko Building, on the northwest corner of Berry Street and University Drive, got underway in May and should be finished in July 2007. The complex includes a renovation of the interior of the Bailey Building and restoration of the original facade, and addition of the adjoining three-story, 24,600-square-foot Palko Building.
Indoor football practice field
A new structure will be built over the existing artificial turf practice field. Construction of the facility started in August and is scheduled to be completed next March.
Other upgrades
Although the construction of the Campus Commons is the most visible, construction and renovation was undertaken across campus.
• In Ed Landreth, eight new studio offices were created. With the help of a hired sound expert, the physical plant staff planned and executed measures to soundproof the new studios as well as existing offices and practice rooms.
• In Sid Richardson, two new physics labs were created and new chemistry lab space was added.
• In the Annie Richardson Bass Building, the computer lab and two third-floor classrooms were expanded. A new patient and pharmacy lab — along with a lab support classroom — was created.
• Renovations to the Moudy building included second-floor upgrades, including lighting, life safety, ventilation, fire sprinkler and ADA restroom upgrades and audio-visual and room-darkening packages. Also, on the first floor of Moudy North, upgrades were made to the gallery display areas. In the basement, the wet process dark room was converted to digital, and new equipment and an additional office were added.
Bookstore
A new bookstore is on the drawing board. Formal plans have not yet been announced, but some of the proposed features include an outdoor wireless café and more room for retail and textbooks. The old bookstore building, damaged by a March fire, was razed over the summer.
TCU Theater, the old movie house on University Drive (in later years occupied by Stage West), also has been torn down, but TCU officials are mum for now on their plans for that space.

Beethoven comes alive
Sure, you've listened to his greatest hits on the classical music station, but have you heard Beethoven the way he's meant to be played - live and uncut? The School of Music presents "The Thirty-Two Piano Sonatas of Ludwig Von Beethoven Part Two," a series of five concerts by renowned pianist Adam Golka, a graduate of TCU's Artist Diploma Program.
The free public concerts are scheduled for September through December at Ed Landreth Auditorium. The 19-year-old Golka, who won the Shanghai International Piano Competition and received the Bayard H. Friedman Outstanding Student Award in 2003, is presenting Beethoven's piano sonatas in order, an ambitious endeavor he began with a series of concerts last spring. Call 817.257.7602..

The Peacemaker
Think you work hard? Ambassador to the Middle East Dennis Ross's job was to try to make peace in the Middle East.
Ross, director of The Washington Institute for Near East Policy and a State Department specialist under two U.S. presidents, will speak at TCU Oct. 24. He is the guest of honor for the annual Gates of Chai Lectureship in Contemporary Judaism, sponsored by the Program in Jewish Studies at TCU and Brite Divinity School. The topic of his lecture is "Facilitating Peace in the Middle East." Ambassador Ross's book, The Missing Peace: The Inside Story of the Fight for Middle East Peace, was published in 2004. He was influential in brokering several treaties and peace accords, including the 1997 Hebron Accord between the Israelis and Palestinians. He facilitated an Israel-Jordan peace treaty and helped improve relations between Syria and Israel. He serves as a foreign affairs analyst for Fox News Channel and is a frequent commentator in The Washington Post, The Financial Times and U.S. News and World Report.

Debunking the Da Vinci Code
First it was a novel. Then a movie. Then it became a three-city Alumni Association traveling seminar featuring three of TCU's most renown art, history and religion scholars.
That's the allure of The Da Vinci Code.
On three consecutive nights in June, nearly 1,000 alumni in Houston, Dallas and Fort Worth listened to evidence presented by Scott Sullivan, dean of the College of Fine Arts; Carolyn Osiek, Brite Divinity School's Charles Fischer Catholic Professor of New Testament; and Jim Duke, professor of History of Christianity and History of Christian Thought at Brite.
The verdict: While the popularity of Dan Brown's thrilling page-turner about secret codes, centuries' old mysteries and the foundations of Christianity is undeniable, the novelist deserves an F for accuracy. And so does the movie. Here is a sample of what's truth and what's fiction.
Assertion: The Holy Grail is not a chalice used by Jesus at the Last Supper. It's a code-term for a collection of documents that prove that Mary Magdalene was married to Jesus, and gave birth to His daughter.
Osiek says: False. Mary Magdalene was a follower of Jesus, and she was the first to see Him after He rose from the dead. According to Luke 8:2-3 and Mark 16:9, Jesus cast seven demons out of her. Then she, along with others, supported Jesus' ministry. Also, in John 20:16, Mary Magdalene addressed Jesus, after His resurrection, as "Rabboni," which means "Teacher." A teacher-and-disciple relationship is implied — a progressive scenario for the first century, by the way — not a husband-and-wife relationship.
Assertion: In Leonardo da Vinci's The Last Supper, the person seated by Jesus' right hand is Mary Magdalene.
Sullivan says: You can plainly see that Peter is whispering into the ear of this individual. This represents the events described in the Gospel of John 13:21-24. The individual? It's John, part of Jesus' "inner circle" of disciples, composed of Peter, James and John. It's not Mary Magdalene.
Assertion: The Priory of Sion — a European secret society founded in 1099 — guards the secret of Jesus' marriage to Mary Magdalene and watches over Jesus and Mary's descendants. Because of constant threat of danger from the Roman Catholic Church, the organization has allegedly hidden its message in literature, paintings and architecture such that only learned people can decipher the meanings.
Duke says: A Frenchman named Pierre Plantard founded a small social club named the Priory of Sion in 1954 to call for low–income housing in France. The organization dissolved in 1957, but Plantard held on to the name. Throughout the 1960s and 1970s, Plantard put together a number of bogus documents which "proved" the Jesus–Mary Magdalene theory, with French royalty being their descendants. Plantard claimed that he himself was one of the descendents of this couple. Some time later, a friend of the French president found himself in legal trouble and Plantard ended up being called to testify in the case. While under oath, the judge asked him about these documents about Jesus and Mary Magdalene, and he admitted he made the whole thing up.
Assertion: More than 80 gospels were considered for the New Testament, yet only a relative few were chosen.
Osiek says: Aside from the four canonical gospels (Matthew, Mark, Luke and John), history reveals there were only twelve other gospels in circulation during this general time, and these were clearly not "inspired Scripture." There were also Gnostic gospels that emerged later, but these are too late to be counted.

Hitting the right chords
Mimir delights
Scores of music lovers packed the house for the ninth annual Mimir Chamber Music Festival. More than 1,700 spectators showed up for five nights of performances in July on the TCU campus.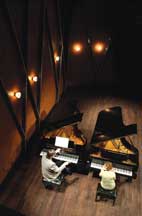 Joining the performers and faculty this season was violist Che-Yen Chen, winner of the 2003 William Primrose Viola Competition and President Prize of the 2003 Lionel Tertis Viola Competition. Other artists/faculty members hailed from the Chicago Symphony Orchestra, The Cleveland Orchestra and Cleveland Institute of Music, and, of course, School of Music Professor and Van Cliburn International Piano Competition Gold Medalist Jose Feghali.
Mimir is more than the performances. It's also a training ground for the artists of tomorrow. Each year, a select group of students receives intense coaching, attends master classes on solo and orchestral repertoire and conducts public performances.
Piano Texas
You could say piano is TCU's forte. Each summer, world-class pianists and a collection of talented students, amateurs and experienced teachers gather here for the PianoTexas International Academy and Festival (formerly TCU/Cliburn Piano Institute).
The three-week festival, held in June, featured master classes taught by distinguished guest artists, recitals by the artists and a chance for the students and amateurs to perform with the Fort Worth Symphony Orchestra.
One of the attractions is the concerto competition. This year's amateur winner was Michael Brounoff, an administrative law judge from New York. The young artists winners were Helen Cha, 21, of Hong Kong and Zhang Cheng, 16, of China.

Summer visitors
TCU was the summer destination of more than 70,000 visitors. An assortment of conferences, camps, concerts and other activities drew nearly 20,000 participants and more than 50,000 spectators to campus.
Events included:
• The weeklong Overseas Association for College Admission Counseling Conference, attended by 450 education professionals from 50 countries.
• The Advanced Placement Summer Institute, presented by the Office of Extended Education. Nearly 1,500 teachers attended the three weeklong sessions, which allow educators to discover new lecture materials and units, receive feedback from other AP teachers and learn new strategies for improving students' test scores.
• Music, dance, art and sports camps, including Camp LT, a youth football clinic presented by NFL star LaDainian Tomlinson '05.

In brief
Paperless admission
TCU is the first university in Texas - and among the first in the nation - to adopt an all-paperless application process, whichs mean prospective students will now complete the application online. Even supplemental materials, such as counselors' recommendation letters, can be sent electronically. Applicants will still have the option to print the application and mail it in.
New faces
June Koelker was appointed dean of Mary Couts Burnett Library. She had been the interim dean for a year since the departure of former library Dean Bob Seal in the summer of 2005. Koelker came to TCU in 1988 as associate director of the library. Her responsibilities have included development of the Information Commons resources.
Veda Kaplinsky, chair of the piano department at The Juilliard School in New York City, juror for the Van Cliburn International Piano Competition, and internationally recognized teacher and lecturer has joined the TCU School of Music faculty as a professor of piano. She will spend several weeks in residence each semester at TCU teaching a limited number of piano students, giving master classes and lecturing.
Paulette Burns, former director of the Harris School of Nursing, was appointed the new dean of the Harris College of Nursing and Health Sciences. Burns takes over for Rhonda Keen-Payne, who is returning to teaching. In May, Burns was honored as one of the Great 100 Nurses for 2006 by the Texas Nurses Association, districts three and four, and the Dallas-Fort Worth Nurses Executives.

TCU Tomes
Deeper Shades of Purple: Womanism in Religion and Society
Stacy M. Floyd-Thomas
NYU Press
Floyd-Thomas, director of Black Church Studies at Brite Divinity School, brings together a Who's Who of scholars in the study of black women and religion in this anthology. The theory established by Alice Walker is revisited by theologists such as Cheryl A. Kirk-Duggan and Anthony B. Pinn. In Deeper Shades, the leading voices of womanism over the past two decades are explored. Call 800-996-6987 or visit www.nyupress.org.
The Courage of My Convictions
Peter Duffy '77
iUniverse Inc.
Follow Duffy and his wife, both with successful careers, as they follow her job promotion to New York. The move results in disastrous consequences for Duffy's own career — seven job changes in five years. Duffy's story is a resource for anyone re-engineering their career, who is part of a dual career household, and who consider personal integrity and family values top priorities. To purchase, visit www.iuniverse.com.
Bridges over the Brazos
Jon McConal
TCU Press
Journalist Jon McConal and friend Eddie Lane have spent countless hours traversing the Brazos River and immersing themselves in its story. Bridges over the Brazos follows these two men on a journey to discover the many colorful stories and towns surrounding the river's bridges. Retrace their steps and enjoy their stories about the bridges over the Brazos. For information, go to www.prs.tcu.edu.

Conversation with Connie Guttersen
The Flying Circus: Pacific War –1943 – as Seen Through a Bombsight
By Connie Guttersen '85
Meredith Books
As author of the latest wildly successful diet book, Connie Guttersen '86, practices what she preaches. Even when she's on the road promoting The Sonoma Diet, the busy mother of two chooses a balance of healthy, flavorful foods to maintain her svelte figure. A longtime nutritionist, Guttersen's diet plan evolved from her work and a desire to give people a healthy, inclusive method for achieving balance at the dinner table.
How did you first become interested in weight loss?
Growing up, my father was an avid dieter. He tried every protein diet and all the shakes. He always felt really bad and the diets never worked. My mother would cook these wonderful Italian meals, and we would sit around the dinner table eating while he just had a shake. He was miserable the entire time, and I thought there has to be a better way. Even then, I knew it was important to figure out a better way to lose weight and feel good about foods.
After having babies I found myself wanting to get back in shape and lose some of that extra weight. I didn't want to go on a diet. I love food too much! So I started working with the chefs and I put into practice everything I had been trained to do. Helping myself to lose weight was much different than counseling other people because I didn't want to feel deprived.
The Sonoma Diet incorporates so many foods — even wine. What inspired such a diverse diet plan?
I went to work for the Culinary Institute knowing a lot about science and not much about food. When I first took the job, I didn't even know how to cook! They sent me to Hyde Park to get bit by the bug, and that experience really opened the door to food and flavor. I also have a great role model by living in the wine country where the food is similar to Mediterranean fare, but with Asian and Latin flavors, too. The Sonoma Diet takes that great cuisine and plugs it into a diet plan that is effective and satisfying.
How does the diet work?
It incorporates the best and most recent science about smart food combinations, such as putting together brightly colored and leafy greens with healthy fats to enhance antioxidant benefits, and combining lean meats with citrus to boost iron absorption. Instead of counting calories or points, the Sonoma Diet uses the plate and bowl concept which is an easy way to keep control and becomes second nature. The diet goes beyond the idea of low carb or low fat. Instead of eliminating breads, I stress the importance of whole grains like wild rice, brown rice, quinoa, even popcorn. And instead of giving up fats, the diet incorporates the healthiest, most flavorful fats like olive oil and nuts. These fats have been shown to have positive benefits for diabetes and heart disease. The trick is keeping it all in balance.
With 500,000 copies in print and a spot on The New York Times Bestseller list, the book is very successful. What sort of feedback are you getting?
I am thrilled to get letters every day from people who are doing well on the diet. We have a focus group that we monitor and tens of thousands of people who joined our website (http://sonomadiet.com). The obesity epidemic is worse than ever, and is especially affecting kids. I was tired of seeing fad diets that failed people like my Dad, and were often not written by nutritionist. I felt it was my responsibility and something I needed to do. It has been great to help people lose weight, get healthier, feel great and enjoy food more than ever before.