The Real True Story of the Hip Pocket Theatre
Curve around a country road to a dirt lane. Skirt the scrubgrass and sunflowers to a blue curtain blowing through a crooked doorway. Behind that curtain is the place where the magic thing happens, and you want to see it while nobody else is around. So you wrestle the fabric down and peep in, and a shirtless man with long white hair and a flowing beard comes toward you, holds back the flapping blue door of the world, and takes your hand.
By Nancy Allison
"Sorry I'm nekkid," Johnny Simons '73, (MFA '75), says as he pulls his t-shirt on. His voice is as smooth and deep as riverbed rock. I'm a stranger with a tape recorder, and much as I want to, I don't turn it on. The writer, director and creative engine of Hip Pocket Theatre doesn't like to talk much about what he does.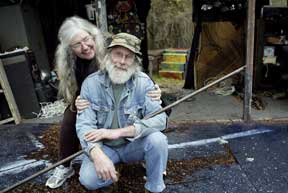 Unfortunately, I'm early. I have come to interview his wife, producer and costume designer Diane Simons '66, (MFA '73), about the 30th anniversary of HPT, the live community theater they and composer Doug Balentine '73 founded in 1976.
"I know you don't want to talk about your work," I say, to let us both off the hook. Simons allows that he is a little tongue-tied. So I tell a tale on him instead.
When he was 60, a newspaper caught him on a bad day: "I'm too damn old to do this," he had said at the end of a long, exhausting season. Simons turned 67 this summer. Reminded of his earlier words, he chuckles and says softly, "Well, now I guess I'm too damn old to do anything else."
He cranes his neck again to see if Diane (pronounced dee-ann) has appeared so she can take me off his hands. Nope, not yet. He gives up and invites me into his domain, a circular space flanked by wooden benches and camouflage-net walls shivering in the wind. In full sun it's pretty bleak, but something amazing happens in starlight, when actors are close enough to swish their capes under your nose.
"I like working outside," he says. In a week, while rehearsing the next play, he will encourage his actors with: "I know it's hard out here in the broad daylight. It's hail. Acting's hail. Ensemble is hard. There's no place to hide up here." Now, he shakes his head like a man emerging from a dream: "It's a miracle we've survived," referring to the bugbear that has dogged HPT since it began: making enough money to keep going.
* * *
HPT started on a shoestring and a wealth of quirky talent. After years of staging children's theater at Casa Manana - Johnny as director, scene painter and prop builder, Diane as stage producer and costume designer - they both felt ready for a change.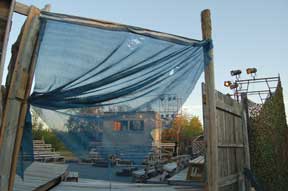 Balentine was performing at a local piano bar when Johnny heard him. Soon after, Doug began arranging the music for "Lake Worth Monster," Johnny's epic master's thesis for TCU.
Balentine remembers: "We had a very large band, a choir, horns, bass drums, soloists, actors, mimes, everybody onstage, all at one time - it was a huge challenge, like scoring Beowulf." (Balentine would leave HPT in 1990 to found Playhouse 2000 in Kerrville.)
The success of "Lake Worth Monster" and the next collaboration, "The Three Cuckolds," convinced the stagestruck trio to go out on their own. In 1976 they dug into their hip pockets for seed money, and HPT was born.
In the early days, students from TCJC, TCU and farther afield gravitated to HPT. That first season featured a whopping seven plays, among them "Mad Dog Blues" by Sam Shepard, two originals by Simons and Balentine and adaptations classics like Pete Townshend's "Tommy" and Edgar Rice Burroughs' "Tarzan of the Apes."
The group played out of a deteriorating motor court on old Highway 80. After a gun-wielding tenant produced his own show one evening, the Hipsters moved to Oak Acres on Las Vegas Trail. They cobbled together a new stage and settled in for the long haul. For 25 years, a shifting group of painters, filmmakers, poets, dancers, mimes and actors worked to make Simons' world "of the real strange and the maybe" come alive.
Fine actors such as Dena Phillips, John Moore, Gary Cunningham and Peggy Bott Kirby, there from the beginning, are with HPT still. The main reason is Johnny. A close second is the connections formed between the actors themselves.
"It's quite true to call HPT a family," says Diane, whose arrival at the interview has spread joy in the land. She leads me back through the curtain, and as the band tunes up and the barbecue and beer begin to flow before the show, we sit in front of the playhouse, its chairs and tables scattered like chickens in a yard.
The atmosphere is festive outdoor depot/Clampett sitting room: People come and go, meeting and mixing, awaiting transportation to Johnny's world. Most stop off to see Diane, and she welcomes everyone as an old friend. Many of them are old friends, faithful members of HPT audiences for decades.
The practical half of the arrangement, Diane is HPT's grant writer, publicist and cheerleader. Someone once called her Johnny's redeemer and inspiration. Ample and fair where her husband is lean and tan, she is an amiable, unflappable force without which HPT wouldn't exist.
Chilean author Ariel Dorfman, who became a friend during the five years the Simonses taught at Duke University, calls Diane "incredibly talented" and says her "theory of taking shreds and pieces [to make her costumes] lies behind the whole idea of the HPT: theatre done using scant resources and the riches of the human voice, the human body, the human heart."
* * *
Three years ago HPT moved to a pasture on Silver Creek Road. Even though the actors are unpaid and can't quit their day jobs; even though the digs are shantyish and the costumes recycled; even though Johnny and Diane each make only 13,000 smackers a year and the shows go on thanks to grants and volunteers and gifts in kind - the signs are still good that everybody is up for, as the season brochure warned 10 years ago, "a new bunch o' wildness outdoors."
The lineup this season is a sampling of the kinds of plays Simons has always staged: adaptations of work by writers he admires, plus his own original scripts and lyrics based on characters from his life and his love for Cowtown. A film fanatic and voracious reader, he has lovingly adapted Fellini, Beckett, Wells, Kafka, Twain and Lorca for the stage.
In the process, he has influenced scores of performers who have gone on to found their own theaters or become directors or teachers themselves. His collaboration with Balentine produced some of the most over-the-top "un-Broadway musicals" ever made, introducing audiences to unforeseen longings and unforgettable characters: old Pantalone and sparky Pinocchio, the fractious couple Pinky and B.B. Ruebottom, and, of course, Molemo, embodiment of the imagination's eternal river.
While Simons prefers outdoor theatre, HPT can play indoors when it needs to: Queen Elizabeth Hall in London, upstairs at the While Elephant Saloon, in the grand hall at the Kimbell Museum, Duke University. HPT is the only Texas theatre company to haul off to Scotland with all its puppets, props and people to perform at the Edinburgh Fringe Festival. A four-year collaboration with the Kimbell Museum culminated in an exhibit of Diane's costumes (she is the only living artist ever to have work displayed there) and a gala fundraiser for the Fringe trip in 1983.
His Tarrant County longevity notwithstanding, Simons' work is probably better known outside the state, from national theatre journals The Stage and American Theatre to The New York Times and London's Sunday Times. Two doctoral dissertations have explored the genealogy of his characters and analyzed his pedagogy.
Where a few benighted critics dismiss HPT as old hippies just having fun, others see organization, dedication and professionalism. Some assert that Simons is a genuine artist, unafraid of taking risks or making sacrifices for his work. Some say his greatest skill is his ability to teach, both onstage and off.
* * *
In 1976 Simons established the drama department at the Northwest Campus of Tarrant County Junior College. He has taught at Texas Wesleyan, Duke and TCU. David Yeakle '87 recalls classes with Simons in the basement of Ed Landreth Hall where he taught the essentials of making theatre: how to get at the heart of things. "Johnny gave us the tools to glean from our own lives and everyday experiences the deep truths of existence, and then he showed us how to express them."
When Simons was a boy he had polio and wasn't expected to walk, reminds Peggy Bott Kirby (or "Meema," as she is known to fans who have watched her play Johnny's grandmother for 30 years). "He took dance lessons of all kinds to strengthen his body. Consequently he has a more physical approach to acting than many directors do."
The Department of Ballet and Modern Dance was founded in 1949 at TCU, the first university in the country to offer a fine arts degree in ballet. Simons became a ballet/theatre major and was highly influenced by David Preston, ballet instructor from 1949 to 1963. As a senior, Johnny played King Dodon in the TCU production of "Le Coq d'Or," Rimsky-Korsakov's opera in three acts.
Staged by the music, dance and theater departments, the production was an amazing collaboration between actors and dancers interpreting lyrics sung by operatic soloists and music performed by the orchestra. The confluence of all the arts onstage at once would become a signature note of Simons' work.
Another unmistakable influence springs from his love for the rollicking physical tradition of commedia dell'arte. "Comedy of art" began in the Italian marketplace more than 400 years ago, when troupes of masked actors playing stock characters conveyed universal feelings and situations by clowning and improvisation. Jacques Lecoq (1921-1999) resurrected commedia in the 1950s and founded an influential school of theatre in Paris. Lecoq's forteL was teaching poetry through techniques of moving the body in order to express "what lies behind words." Several noted mimes, Simons among them, studied with Lecoq.
"Johnny has an ability to dance and mime and is very fit, so he can show the lyrical quality he's looking for," long-time Hipster Gary Cunningham says. "He doesn't tell you how to say a line; he shows you exactly how to move so that you know exactly what emotion to convey." Adds John Moore '74, who has worked with Johnny since the first HPT summer: "Johnny's ability to move actors around the stage regardless of talent level is phenomenal and legendary. He's not prone to theories. He's responsive to people, and to life itself."
* * *
Diane and I have been talking for about an hour when Johnny suddenly comes out from behind the playhouse. It's almost showtime, and Diane asks, "Is everything all right, hon?" She seems ready to spring into action it if it isn't.
Johnny wants to tell me something: "I don't know why, but I've been thinking about the early days - even before I knew you were coming - and I wanted to mention to you that I was the first recipient of the Fine Arts Guild Scholarship Fund at TCU." The guild gives one scholarship a year to a senior in the arts.
"I've been thinking that those ladies and gentlemen, whoever they were, are personally responsible for this thing that we have here. I was straddling ballet and theater, and they were kind enough to help me out. Whoever they were, I'm grateful."
I try to get him to say more, but he's done. He makes his way back to the curtain. "They're responsible!" he calls over his shoulder.
And then he's gone.
Comment at tcumagazine@tcu.edu
Read more at www.hippocket.org