Night with the Nobels
One month after the World Trade Center and Pentagon attacks, four Nobel Laureates brought TCU a message of peace.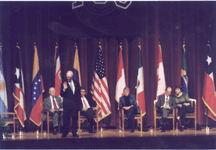 Only five people in the Western Hemisphere have been awarded the Nobel Peace Prize; four were on campus Oct. 11 as guests of the International Leadership of the Americas program. It marked an occasion Moderator Jim Wright, former Speaker of the House, called "an honor."
Addressing an audience of 53 student leaders from 11 universities throughout the Americas, as well as a large contingent of TCU students and folks from the community, the four distinguished world leaders left two overriding messages: Peace is hard work, and one person can make a difference.
"There is nothing glamorous or idealistic about peace, and there are no quick and easy answers to obtain it," said Laureate Oscar Arias Sanchez, former president of Costa Rica. "Peace begins, not out there, but with each of us. We all have the power to do something."
Arias opened the evening by noting that ". . . darkness cannot drive out darkness, only light can do that. Hate cannot drive out hate, only love can do that."
"I want to remind you tonight that there are many crisis in the world, but they do not make the news," Arias said. "We need to begin to address the crisis of poverty that plagues humanity."
Laureate Jody Williams, who was recognized for her work banning and clearing land mines, echoed Arias' comments by noting that this is ". . . a horrible, delicate moment for the globe."
"We will not resolve the terrorism until we resolve the fundamental inequalities of this world," she said. "It is the fundamental responsibility of this country to eradicate that element of terror.
"One person can spark a movement. I believe real leadership is caring enough to get up and take the first step. I can assure you if you do, you will make a difference," she added.
Adolfo Perez Esquivel, 1980 prize winner from Argentina, said being a leader means walking together with the people.
"What we have to do is make possible what seems to be impossible," he said. "(Peace) is something we need to have within because we can't offer others what we don't have."
Laureate Norman Borlaug, father of the "Green Revolution" told students how to be part of the solution. "Learn while you are here all you can about science and technology, then use your talents to reach for the stars," he said. "And when you do, it will be to the benefit of your neighbors, and friends and the world."

Jazzed up about Waikiki
Add the Honolulu Jazz Festival to the impressive list of invitations the world-renowned TCU Jazz Ensemble has had over the years. This summer, about 20 students stayed in Waikiki for five days after being selected as one of only five university jazz bands to perform at the 8th Annual Honululu Jazz Festival, an international gathering of the best of the best. While they had time for beach bathing and sightseeing, the trip included daily clinics and workshops that band leader and music Prof. Curt Wilson said were the best part of the trip. Above, Todd Alonso '01 warms up before a performance.

The search is over
With the selection of the first dean of the College of Communication, the university ends its nearly two-year quest to fill all seven dean's chairs.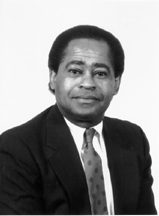 On Sept. 10, Bill Slater cheered loudly with us from the stands at the TCU-SMU football game.
On Sept. 11, he wept with us at campus prayer services.
In November, Dr. William Slater, dean of the Reynolds School of Journalism at the University of Nevada at Reno, accepted a new future as a Frog -- and as the first dean of the College of Communication.
Provost William Koehler called Slater a "perfect fit" and said the choice was unanimous.
Slater, who will head the college beginning in the spring, called his move "a perfect opportunity."
This 30-year communication veteran is already being called a team-builder, a long-term leader, His mission: to unite the departments of radio-television-film, speech communications and journalism, to find funding sources for their unique professional programs and to help the college increase its national prominence.
While on campus in September Slater said there is no reason TCU can't be a premiere institution in the country. He was attracted to the university because of its forward thinking and compassionate nature.
"This is one of the most caring places I have ever seen," he said.
Slater's career Highlights:
* Vice president at the University of Maryland, Oregon State University, Western Illinois University, West Virginia University and Boston Broadcaster, Inc.
* Dean at the University of Nevada at Reno, Eastern Washington University and West Virginia University.
* Teacher at the University of Washington in Seattle, University of Southern California and University of Arizona.
* Newspaper and broadcast journalist in Boston, Washington, Cleveland, Seattle, San Francisco and Baltimore.
* Radio and television news anchor in Boston and covered the White House and Congress for Westinghouse Broadcasting Co.


Student recognition
When beloved (sometimes dreaded) history Prof. Ben Proctor retired in 2000 to emeritus status, his former students wanted a way to show the value of his lessons. So far they have found almost $40,000 ways -- which will endow a scholarship for an undergraduate history major whose area of interest is Texas/Southwestern history. The first scholarship will be awarded next fall. The announcement was made at a breakfast in the library during Homecoming in October. Proctor was not only a favorite around campus, he was an All-American football player, a Harvard-educated historian, author of the definitive biography on William Randolph Hearst and a teacher at TCU for more than four decades.

Peace broker talks about War
When former Senator George Mitchell visited campus, he told listeners that much was buried in the rubble of the Sept. 11 attacks.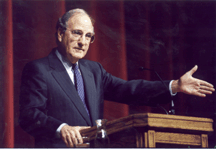 Sometimes it takes force to make peace, former Senator and international peacemaker George Mitchell told a full Ed Landreth Auditorium Oct. 3.
"No matter what we do, there will be more attacks," he said. "So we must be aggressive and seek out the terrorists and disrupt their plans. The failure to do so would be evidence, even in the eyes of the terrorists, of America's moral and physical weakness.
"But that does not mean anything goes. Our efforts must include focused military action, even as a broad coalition of support is maintained."
Here as the fourth Fogelson Honors Forum speaker, Mitchell's remarks were a salve to many worried listeners who were still reeling from the Sept. 11 attacks.
As the author of the Mitchell Plan, a report presented in April designed to end the Palestinian and Israeli conflict, and as a leader in peacemaking efforts in Northern Ireland, Mitchell spoke from experience.
"When the World Trade Center collapsed on Sept. 11, many died. So did many illusions. Such as America's sense of invulnerability, safety and optimism," he said. "We thought this couldn't happen to us."
As Mitchell reiterated the need for a global coalition, he said, "The notion of America going it alone is also buried in the World Trade Center."
There are times the use of force is necessary to protect individual liberty and justice, he said.
"The making of peace is a long, slow and difficult process," he said. "But patience is precisely what will be needed."
"Still," he added, "there is no such thing as a conflict that can't be ended. No matter how hopeless it might seem, I believe peace and justice can be obtained."


Two of TCU's best professors recognized at fall convocation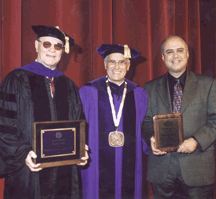 Chancellor's Award for Distinguished Research and Creative Activity
When Prof. Ralph Behnke received the University's top award at convocation, the honor afforded him about three minutes in Ed Landreth's spotlight and a $20,000 grant for his research in the field of communication apprehension and anxiety, of which he showed none.
Behnke used his time not to discuss his work or the fact his colleagues consider him "hands down the leading expert in the country in the field of communication anxiety," but to pay tribute to his students for providing inspiration for his work and his colleagues for "fuelling the fires."
As Behnke was being praised for "epitomizing the teacher-scholar model," he praised those individuals famous and not-so-famous who shaped his life, his career and his education.
"I am perhaps most thankful to Albert Einstein who said, 'Make things as simple as possible but not any simpler,' " Behnke told the audience. "That's how I define elegance."
Wassenich Award for Mentoring
Richard Allen is seldom speechless. But after the Chancellor lauded the contributions that earned him the Wassenich Award for Mentoring in the TCU Community this year, the beloved radio-TV-film professor was so choked up he could do little more than shake Chancellor Michael Ferrari's hand.
In his nine years at TCU, the Emmy Award-winning Allen has trained in life lessons, challenging his students to reach higher and dream bigger. The individual attention Allen devotes to his students has influenced countless lives.
One student expressed it this way: "To say he has been, and continues to be, a role model in my life simply scratches the surface. He not only spent four years challenging me academically, but he also taught me about taking chances and living the life I've wanted."
The award, established in 1999 by Mark '64 and Linda Pilcher Wassenich '65, carries a cash prize of $3,000 and recognizes faculty or staff members who transform the student experience through informal conversation and interactions.

LEAP-ing into action
Not many college students would spend a Saturday digging ditches and then say it was a good day, but following the second annual TCU LEAPS event in September, some did. The ditch was just one place the nearly 700 students, faculty and staff volunteers were assigned during the all-campus community service effort -- others visited homes for the elderly, packed food boxes, sorted donated clothing or painted a house. More than 30 agencies and local charities benefited from the event, which began with workshops the night before to help volunteers understand the value of their service.

Messenger of tolerance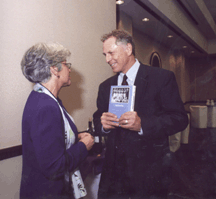 Morris Dees tells the campus we must be connected by understanding, not divided by hatred.
As civil rights lawyer Morris Dees shared his vision of a united country, men from distant lands were planning the final details of suicide and mass murder, which they would commit the next morning, Sept. 11.
Dees' Sept. 10 words, given in a packed Ed Landreth Auditorium, seemed prophetic the next day as the world watched in horror the direct results of hatred.
"There is a battle going on over whose America this is and whose version of America is going to prevail," Dees said. "And there will be those who will go to supreme efforts to make sure their viewpoints will prevail."
Dees was the fourth distinguished speaker in the annual Gates of Chai Lecture sponsored by the Jewish Studies Program at TCU. His message of tolerance and acceptance received a standing ovation.
Dees, the son of an Alabama Jewish cotton-gin operator, is a life-long champion of civil rights. Co-founder of the Southern Poverty Law Center, he won some of the largest litigation cases in the country against hate crimes and the Ku Klux Klan.
During his September address, Dees said that we must build bridges, not divides.
"Those bridges will be built from friendship, love and understanding," he said in his soft Southern drawl. "When people can learn to talk instead of fighting, then I think we might have a chance."
The Gates of Chai Lectureship was created and endowed by Gates of Chai Inc., in memory of Larry Kornbleet and family members of Stanley and Marcia Kornbleet Kurtz who perished in the Holocaust. Additional support has been received from Harold Ginsburg and Robert Ginsburg, in memory of Marcus Ginsburg.

Financial asset
About 40 area Educational Investment Fund alumni gathered at Homecoming to recognize Finance Prof. Stan Block's rich contributions to their futures. Founded by Block in 1973, the EIF is a student-run portfolio worth $1.5 million. Block, considered a guru in the field, has shared his skill and knowledge with 700 EIF students over his 34 years at TCU. Funding for an endowed chair being established in Block's name has reached the halfway mark.

A mother's love
Betty DeGeneres, mother of comedian Ellen DeGeneres, urged students and community leaders to address social and human rights issues through communication and understanding when she was on campus in October as part of National Coming Out Day events. The evening, which focused on the importance of tolerance and acceptance between parents and children, particularly related to sexual orientation, was sponsored by eQ Alliance, an on-campus support group for gay, lesbian, bisexual and transgendered students.

Sound advice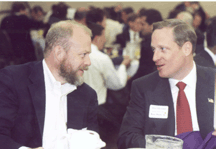 It was standing room only when Ross Perot Jr. came to campus in November for the Neeley MBA Executive Speaker Series' breakfast. His message was upbeat as he encouraged local businesses to keep the economy going. "After Sept. 11, I told my teams to be aggressive," he said. "You've got to spend money and be active to beat (Osama) bin Laden." Left, Perot, president and CEO of Perot Systems and chairman of Hillwood Development Corporation, visits with Garry Bruton (on left), management associate professor.

Fundraising "dawns" on athletes
Cars streamed to Amon Carter Stadium before daybreak on Sept. 14 when WBAP and ABC Radio and the TCU athletics department teamed up to raise more than $35,000 for the Red Cross Disaster Relief Fund in only four hours. A nearly constant flow of traffic kept the 110 student athletes and coaching and staff members busy handing out American flags, pins and ribbons as well as TCU football tickets. In all, TCU gave away more than 1,000 tickets for the Frogs' football game against East Carolina.

Accomplishing the unexpected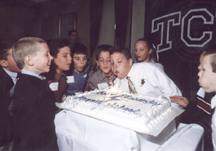 Blow they might, but the current class at the Starpoint School couldn't extinguish the sparkler that served as a candle on the school's 35th anniversary cake. A fitting analogy for a school that has been not only a bright light in more than 500 former-student's lives but has a spirit that is equally inextinguishable. This school for kids with learning disabilities is housed on the TCU campus and serves as a laboratory classroom for TCU students.

In brief
Nursing appoints new director
Dr. Paulette Burns, former associate professor and coordinator for the graduate program at the University of Oklahoma, Schusterman Health Sciences Center, assumed duties as the new director of the Harris School of Nursing in August. Burns plans to increase enrollment, make research more accessible and offer seminars for professional nurses.
Supply chain center opens
A Center for Supply and Value Chain Studies launched by the M.J. Neeley School of Business will help businesses find ways to integrate their procurement, production, logistics and marketing functions and to work more effectively with customers and suppliers. Nancy Nix, formerly an instructor in the marketing and logistics department at the University of Tennessee in Knoxville, has been hired as center director. Programs begin in spring 2001.
Dual degree for leaders in education
Teachers who want to become administrators can get high-level preparation in both fields with the new combined master of business administration and doctorate in educational leadership (MBA/Ed.D) degree now being offered. Students will enroll initially in TCU's MBA program, then apply for candidacy in the educational doctorate program after successfully completing the first year of the MBA program and coursework in educational administration. Internships at local, national or international businesses or educational agencies will be required all three years.
Stay in school
Chancellor Michael R. Ferrari has taken the reins of a community-based effort to keep local students in school. Spearheaded by the Fort Worth school district and led by Ferrari, a commission of business leaders, local chambers and faith-based organizations will draft a plan to reduce the Fort Worth school district's drop-out rate to the state average or lower by 2004, and raise the district to top levels of achievement nationally by 2010.
In the top 50
The Department of Physics and Astronomy has been recognized by the National Association of Graduate Professional Students (NAGPS) as one of the top graduate physics programs in the nation. A survey of 32,000 graduate students in the U.S. and Canada selected about 50 PhD programs for the recognition, including major research institutions like Cornell, UC Berkeley, Stanford and Harvard.
It's a family affair . . .and a few relatives and a bunch of friends
When spring commencement outgrew Daniel-Meyer Coliseum, the options were limited -- move to another location or limit the number of guests. The students made it clear through a survey that they wanted lots of guests, even if it meant moving. So this May, graduates will receive their degrees downtown in the Tarrant County Convention Center. Events coordinators are already searching for ways to "purple up" the convention center, and others are noting that lining up the graduates and gowned faculty before hand will be much easier -- and more comfortable -- since it can all be done inside. The morning reception at the Alumni Center, which will include fine food, refreshments and entertainment, will run from 10 a.m. until noon, and commencement will begin at 2 p.m. downtown.

TCU Tomes
Presidential Inaugurations
By Prof. Emeritus Paul Boller, Jr.
Harcourt Brace Publishing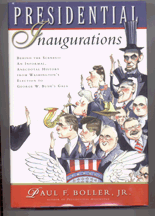 History Prof. Emeritus Paul Boller, Jr., is perhaps one of the nation's most knowledgeable observers of American presidents. With wit and craft he writes books which, through engaging anecdotes, make even our dullest leaders entertaining. His fifteenth and most recent work, Presidential Inaugurations: Behind the Scenes -- An informal, Anecdotal History from Washington's Election to the 2001 Gala, would be a perfect book club selection for those longing to become more politically astute.
Boller covers everything from how the president-elect arrives in Washington for the ceremony to the traditions surrounding the parade and evening ball. As he reveals the human side of this sometimes-forgotten national event, Boller offers surprising, fascinating and often quirky human-interest stories which will keep even the most politically uninterested turning the page.
America, September 11: The Courage to Give: The Triumph of the Human Spirit
by Jackie Waldman, Brenda Welchlin and Karen Frost
Conari Press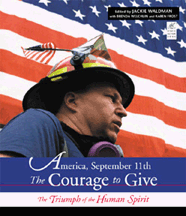 Karen Frost '90 and Brenda Welchlin' 90 joined author Jackie Waldman to prepare this inspiring tome about some of the firefighters, airplane passengers, rescue workers, police, medics, relatives of missing loved ones, and strangers who sprang into action to save lives and help their communities.
Those profiled include Larry Hawk, who organized a rescue of victims' orphaned animals despite his sister's death in the World Trade Center; the citizens of a Montana town who formed a protective circle around a mosque; and the New York City firefighters whose sacrifices touched a nation.
All proceeds from the sale of the book will go to the American Red Cross and the New York Firefighters Fund.

Letters
My London, too
I praise Jennifer Klein not only for her obvious talent, but for her ability to expand her perspective. Traveling to the United Kingdom can seem like a parallel dimension -- the world is somehow very familiar and yet, somehow, very different, especially to a Texas native.
My first trip to the UK last January was certainly an eye-opener -- I had never had a sense of how young America truly is until I arrived in a land that seemed much older. And while I admit that my beloved iced tea and 24-hour grocery stores were terribly missed, my Scottish companion led me through many wonderful "local" experiences in the land of flats and town centres. The children were quiet, the young adults friendly and polite (whether wearing school clothes or something more suited to the young woman on the back cover); the older adults lacked the vague American look of suspicion.
Perhaps most importantly, I was never made to feel like a foreigner. While British (or African, or Asian) accents turn heads in the U.S., not a single person blinked twice upon hearing my unmistakably American voice. All my questions were answered clearly, without a hint of derision toward my obvious tourist status. And soon, I started to feel very much like a "local" -- and even more, like a global citizen, rather than an "ugly American."
I'm returning to the UK this January. I will be "expanding my horizons" even further, visiting mystical sites, strolling through London, and trekking through the Scottish Highlands. I hope I will be as inspired as Ms. Klein was. And I know I will feel my mind and heart expand -- I will become a greater person not because I'm American, not because I'm more than others, but because I'll truly be a part of a much larger world. Thanks to Ms. Klein for sharing her experiences -- and for helping build excitement in my veins again.
Susan C. Hopper '95
Fort Worth
Try again
The magazine that arrived today was a big, big disappointment to me and my wife. The article by Jennifer Klein was thoroughly disgusting. I don't care to open up a TCU Magazine and see the tattooed rear end of someone, and the back page picture looks like something from a brothel. Surely TCU can beat this!!!
Joel '58 and Mary Lummus
Amarillo
Proud to be a purple American
I was going to write this letter anyway, but this afternoon, Tuesday, Sept. 11, seems a most fitting time. I am sitting here stranded in a Dallas hotel room watching the news of the most terrorizing act of violence that has ever taken place upon American soil, trying to figure out how to get home to my family in San Antonio, now that the FAA has grounded every plane in the U.S. So, this is a good time to respond with the emotions I felt when reading Jennifer Klein's article, "My London."
Never before today have I felt more proud to be an American. Not because we "have iced tea and Horned Frog football," but because we are a great and powerful nation, an embracing nation, and still, to an extent, a Godly nation. Take those away and we are nothing.
Ms. Klein reminded me of myself as an idealistic freshman at TCU. I, too, spent time studying in London through a TCU program, in 1993. I was in Mexico that summer as well, with another TCU program. I, too, came home and wrote a paper about how closed-minded the U.S. was. I wrote an opinion article in the Skiff denouncing our "obsession with the right to kill" and asserting, too, that the "right to bear arms (is) a right to violate my safety." I did not understand the reasons behind the creation and continued existence of the Second Amendment at the time. I'm pretty sure Ms. Klein doesn't yet have that fully understood either. I was in your shoes, Jennifer. I was right there with you.
There is nothing wrong with using an international experience to develop "cross-cultural understanding," as Ms. Klein suggested. In fact, it's an opportunity I recommend to everyone. But to develop this understanding does not mean one must be "embarrassed" by her own powerful nation. The U.S. is not powerful by accident. Our country is not strong because "people are friendly and helpful", or because "(one) can get all the Tex-Mex and iced tea (one) wants." To paraphrase a Frenchman whose name I should, but cannot remember, America is great because America is good. Once a nation ceases to be good, it will cease to be great.
As a Jew, where is the best and safest place in the world to live today? Palestine or the United States? I thought so. How about as a born-again Christian? Would you choose Afghanistan or the U.S.? Once again, I thought so. As an opinion writer, what would you pick to call home -- the U.S. or China? How about as a homosexual? A black person? A political dissident? A capitalist? A laborer? You would be hard pressed to find a significant percentage of any of these groups choosing a place other than the United States to call home.
America is good. Most of our current leadership have a heart for God. On this very day, our citizens are praying, donating blood, coming to the aid of the injured and the families of the victims of the act of terrorism. We are showing, in just the eight hours that have passed since the World Trade Center collapsed to the ground, that we can come together as one -- that our countrymen's lives and our freedom mean more to us than political factions, color, religious differences or anything else. That together we will overcome terrorism and any other attack on personal freedom, and that we will defend that freedom with a vengeance. This nation is not (yet) afraid to stand up for what is right and what is good, and that is what makes us great.
I don't mean to berate Ms. Klein. I was in her place not too long ago. TCU's abroad experiences taught us to open our eyes. And that we did. In doing so, we had to challenge our own beliefs, our own convictions and our own country in order to get our eyes all the way open. I am grateful for the opportunities TCU gave me to experience the world. I have widened my view of the world, and I understand people better than I would have without those experiences.
But those same experiences have brought me full circle. Upon returning from my first experiences abroad, I, too, felt sorry for and embarrassed by our "closed-minded" society. I criticized the buildup of our military, of which my brother and father are a part. I almost rejected my faith. Now, I can finally see, through those same experiences in retrospect, that the freedom and goodness of the United States are blessings and are to be envied worldwide.
There is still a great degree of inexcusable bigotry in the U.S., which we must work to rid from our society. But as I sit in this Dallas hotel and watch as the people of our nation come together in the aftermath of this hateful terrorist attack, I am more proud of our nation today than ever. I would not want to be from anywhere else. I'll take the U.S. any day. I anticipate that one day soon Ms. Klein will feel the same way.
I apologize for the length of this letter. I am having a hard time trying to contain these thoughts to anything shorter. God bless America.
Natalie Taylor Ochsner '96
San Antonio
Beyond the first light
Small wonder, isn't it, that having our eyes opened is essentially the promise of Satan in the Garden of Eden. "You will be like God, " the devil said, "knowing good and evil." It was called the tree of knowledge, oddly enough. Well, we didn't become gods, and we didn't wise up much, either. I think what makes some folks pitiable is they stop eating as soon as they think their eyes are open...they think the first light is all the light, not knowing that light isn't always sight. You kept learning. I hope I did. Lots don't. Terrorists don't. Bigots don't. Bullies don't.
We are a nation of peoples who fled these things: racism, bigotry, religious persecution. How dare someone vilify us for setting out to be a prosperous nation and then achieving it! We are a nation where Hillary Clinton and Rush Limbaugh can go to the same worship service and mourn our lost. Try that in Ireland.
Mike Taylor
Father of Natalie Taylor Ochsner '96
Not so "cheeky" please
I am so sorry to write this letter but must express my shock when I opened my recent copy of TCU Magazine to page 6. The picture of the young man showing his graphic "cheeky" could be taken the wrong way. I read the article and appreciate the young woman's remarks -- well written. However, I think the other pictures in better taste tell the story. My point is that some people may not read the article and such a picture is in poor taste for a Christian magazine. I know the culture abroad is being represented, but so are you TCU. And you have a choice.
Thank you for receiving what I hope is constructive criticism.
Martha Fenger '62
St. Louis, Mo.
Shared experiences
Thank you for the TCU Magazine that arrived today (Fall 2001). As a Brite '54 grad I truly enjoy reading about TCU and the wide variety of issues covered. Especially the piece by David Becker. Having served as a hospice chaplain in St. Louis, Mo., for several years, I could readily empathize with his descriptions of various traumatic situations. Also, having spent a few weeks in London representing the Christian Church (Disciples of Christ) in 1988 as part of a world-wide gathering of ministers, the descriptions of diversity by Jennifer Klein were outstanding. Thanks again for a quality magazine.
Harsh Brown '54
Columbia, Mo.