Coming to America
Five "Lost Boys of Sudan" find a home at TCU.
By Jaime Walker'02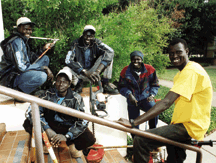 On days when the sun sets TCU aglow -- grass green, breeze blowing -- Ray Brown likes to walk to lunch. If he's lucky, he spots "the guys."
When he does, the impulse to embrace is usually overwhelming. Brown, suit-clad, white, All-American dean of admissions, always envelops these Sudanese friends. It's a sight -- the men are all extraordinarily tall by U.S. standards (one towers at 6-foot, 11-inches), dressed in hand-me-down-work clothes, skin as black as night. But when one greets Brown, both men have ear-to-ear grins.
"I'm sure it's an odd-looking sight, but it's one I cherish," Brown said, controlling the tears that well up as he talks about these refugees, men who have experienced war and personal hardship in ways he will never understand.
"Honestly, this story is what life is all about. It's about overcoming obstacles and about people coming together to help and serve other people. This is how friendships are formed and memories are created."
Brown first met the five men in May when they arrived in north Texas from a refugee camp in Kakuma, Kenya. His church, St. Paul Lutheran, is one of a number of organizations working to bring many refugees, known as the Lost Boys of Sudan, to the Dallas-Fort Worth area.
He said he has been nothing but "awed, inspired and humbled" by the men he now calls friends. Brown helped these friends find work at TCU, and said his whole family has been blessed by their interaction with "the guys."
"I have been one of the coordinators of sorts," he said. "My wife and my family have been instrumental too. We love to have the guys over to the house, or sitting next to them in church. It blesses my life and warms my heart."
Daniel Mac, Matthew Marial, Peter Ajok, James Ajith and Mach Apach say they have two sets of stories.
"What story do you want to hear?" Apach asks. "We have our time in Sudan and our journey here, and there is the time here so far, three months. We have much to say about both things."
Mach and the others are among thousands of Sudanese boys, now men, who fled the country on foot in the late 1980s. Battling constant civil war, harsh environmental conditions, starvation, rebel troops, animal attacks and the deaths of friends and family members, they studied English in the refugee camps and dreamed of a better life in the America.
The group's journey to TCU has been a long one.
"Here you do not see death every day," Mac said. "Here people are at peace and happy." He said sometimes they miss the homeland, though it's hard to miss a place where death and worries were so constant.
The men talk easily about their days here when Brown, members of the church and TCU faculty and staff rallied to their aid. In just three months, they found an apartment, furnished it with castoff TCU furniture, landed temporary jobs with the university's grounds crew and started learning about their new world.
Mac summed up the group's experience best when he said: "We are not sad here. We are encouraged. We don't see war every day or hear that a friend has died and know there is nothing we can do.
"We came to the United States for education and opportunity. We have found friends and learned a lot. The people we have met show they care about us and we are happy to be with them."
Challenges still lie ahead, however. The men say they are lucky to have jobs. Many of the more than 50 other Sudanese refugees in the area are not so fortunate; and yet, employment for these five still is not permanent. The men say they are "working hard for education," but there are still language barriers and general educational development (GED) classes to be taken. Brown said he worries "the guys" might be facing sensory overload from all the newness their new life.
"Everything they have experienced since May has been a miracle, but even blessings can be overwhelming sometimes," he said. "I know they can handle any challenge with tremendous courage."
"We are not afraid of these things," Marial said.
"We will do well to take care of all these things," Mac said. "It is why we are here, why so many have helped, why we have worked so hard. This is our dream and our life, you understand, now we have to live it."

Top