Environmental Defense Fund | Eddie Bernice Johnson '72 | Energy shortage in 1979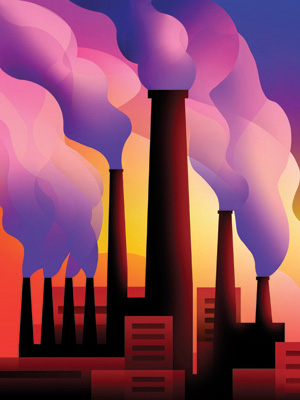 Power players
In February a group of investors proposed taking public-utility giant TXU private -- a $45 billion deal that if finalized, could be the largest corporate takeover ever recorded. Yet Horned Frogs involved in the negotiations know that with those billions comes something even more valuable: a possible blueprint for producing energy while protecting the environment.
By David Van Meter
Big Brown Creek is a nice stretch of water as Texas creeks go. It's a good place to start, too, when talking about the battle for clean air, the battle that Jim Marston '75, regional director for the Environmental Defense Fund, and Mike Slattery, director of TCU's Institute for Environmental Sciences, independently began waging more than a year ago.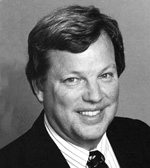 The creek bubbles up around where Central Texas stops and East Texas begins. Thirteen miles downstream, engineers dammed it to form Fairfield Lake. Farther down, the stream reemerges across flat rolling prairies and stands of hardwoods, mesquite, conifers and grasses.
The area is used primarily for dry-land farming. Even TXU calls the meandering waterway a handsome habitat for osprey, bald eagles, deer, raccoons, foxes, beavers, squirrels and armadillos.
Big Brown Creek also is the namesake of the state's oldest coal-burning power plant. Big Brown burns mostly low-grade lignite, which heats a boiler, changing water to high-pressure steam, which powers a turbine. Result? Clean electricity delivered over power lines straight to you and millions of others -- and environmentally damaging chemicals flowing out of smoke stacks by the cubic ton into a wide-open Texas sky.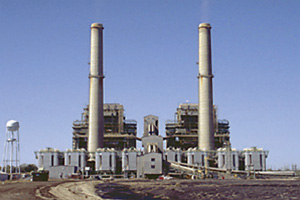 * * *
Texas ranks seventh in the world in greenhouse gas emissions (spewing out more CO2 than Britain), according to the Environmental Defense Fund (see sidebar), and TXU is the state's biggest corporate contributor. TXU has implemented filters that it says keeps much of the pollution it creates from entering the atmosphere, but still, the EPA estimates that Big Brown emits more than 82,000 tons of sulfur dioxide, 6,700 tons of nitrous oxide and 1,200 pounds of mercury each year.
So Slattery and others wondered why TXU unveiled plans in April 2006 to build 11 coal-burning plants, all using dated technology, all assembled in only four short years. Prior, TXU had built plant after plant harnessing cleaner natural gas.
Hurricane Katrina wreaked havoc with the price of natural gas, but why the break-neck speed to build these plants? Gov. Rick Perry fast-tracked the plan. Approval seemed almost a formality, Slattery recalled, and that alarmed city leaders statewide.
But it wasn't just the number of plants, it was their location. All would be built within a 60-mile stretch of farm- and ranchland between Waco and Dallas-Fort Worth, with easy access to the dirty, low-grade coal abundant in East Texas.
A "ring of fire," Slattery called the idea. Catch the wind on the right day, and noxious fumes would affect Waco. The next day they might settle in Fort Worth, or in Dallas.
Slattery studies how pollution scatters on "dominant transport winds." He likens this plan to tearing open a feather pillow to see what happens, only instead of feathers, its toxic smoke that settles everywhere.
By that summer's end, opposition to TXU had united more than a dozen Texas mayors. The Clean Air Cities Coalition was created, backed by a legal team and alternate plans to meet Texas' energy needs.
When scientists were added to the coalition, Slattery and several TCU departments were asked to answer two questions: Where would the added pollution go? And how much damage would it do?
"Emissions from coal-burning power plants are the largest single anthropogenic (from human activity) source of environmental mercury," he said. "And mercury contamination of aquatic food webs is one of the most important environmental problems facing humans."
Slattery and his research team assessed wind trajectories, analyzed short weather episodes and weather during an entire ozone season, and accounted for particulate matter concentrations. From wind samples taken day to day, along with soil, water and fish tests, they calculated the effects of the 11 new plants.
Their conclusions and TXU's differed dramatically.
"It was frustrating, the way the TXU studies were skewed," Slattery said. "They chose days that seemed to fit their model. In fact, 60 percent of the days were used when winds were from the north, which takes pollution away from the Metroplex."
Critics contend that the TXU-sponsored scientists based their work on shorter periods of time. Their calculations even claimed that despite adding 11 coal-fired plants, overall pollution would be less.
It seemed too good to be true -- and Austin attorney Marston was among the first to expose that it was.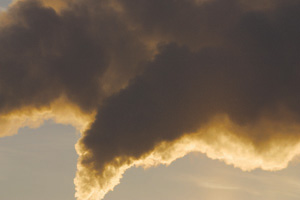 * * *
When Marston joined the Environmental Defense Fund in 1987, he thought he'd seen it all. Then he began looking into TXU's new coal plants and found that the plan to reduce pollution was really a plan to increase profits: The 11 new plants would significantly raise TXU's legal pollution cap, with the surplus to be sold to states needing extra "pollution credits."
Marston's greatest fear was that the plant permits would undermine the credibility of the cap and trade system, which allows for the sale of pollution credits but not to create a business from the practice.
"They were gaming the (cap and trade) system," he said. "TXU was going to make money by making the global warming problem worse."
When these facts became apparent, Marston remembers, anger and action groups showed up at levels unlike anything he had experienced in 17 years of EDF causes. Environmentalists were motivated by the magnitude of the new emissions to be generated by the plants; Texas remains the nation's top carbon dioxide emitter, the EDF reported earlier this year, and the initial increase of 11 plants would have doubled the state's emissions from 55 million tons to 133 million tons each year.
Marston's EDF office organized a response with three goals: to stop as many of the plants as possible, to prevent TXU from exporting the coal plants to other states, and to send a message to other utility companies -- that any future TXU-type plans should be rejected.
He considered the odds of stopping the plants remote.
The all-out grassroots campaign included television, billboard and online ads. Nearly 50,000 EDF members and activists took action, sending emails, attending public hearings across Texas and submitting public comments. The EDF spent $1 million for $200,000 in television ads and an army of lawyers.
Concurrently, the mayor's coalition was preparing to grapple with the Texas legislature over the issue. Slattery himself was two days from testifying when a group of private investors -- Texas Pacific Group and Kohlberg Kravis Roberts, along with Goldman Sachs -- announced they wanted to buy TXU. And they sought EDF support, saying they wouldn't proceed unless they could transform their new TXU into a "green electricity generator."
Marston led the 17-hour negotiating session that resulted in the deal between the buyers, EDF and the Natural Resources Defense Council.
"When we set out to take on TXU's plans for the 11 power plants, many of us thought we'd kick up a lot of dust and we'd get this on the map -- maybe make life difficult for TXU," he said. "Few people thought it would be possible to actually stop very many of these plants. Maybe pick off one or two, but never eight."
If approved by shareholders and state and federal regulators -- completion of the deal could stretch well into 2008 -- the buyout will encourage energy companies nationwide to build cleaner plants. It also could prompt new support in Congress for a mandatory federal cap on global warming pollution.
"It's one thing for companies in California to take the lead in reducing pollution," Marston said, "but this is Texas." Marston sits on the company's advisory board, and he says he will insist that TXU hold to its commitments.
The investor group says it will support mandatory national cap-and-trade global warming legislation and cut emissions to 1990 levels by 2020. The investors say they will double their investment in clean, renewable energy and tie executive compensation to climate stewardship.
"Our plan wouldn't squeeze out emerging technologies," Marston wrote in a March Texas Observer op-ed. "Over the next decade, as needed, our plan would add plants utilizing the latest advances in technologies, such as fuel cells and storage of off-peak, renewable energy."
The new-and-improved TXU plan couldn't come soon enough, Marston concludes.
"TXU has awakened the environmental consciousness of Texans," he said, "and I believe the political landscape of our state will never be the same."
* * *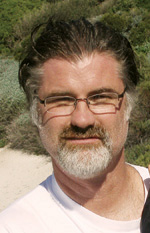 Marston and his TCU ally Slattery smile with measured satisfaction when talking about the biggest energy deal in history. Yet worried brows remain fixed in Austin and on campus.
"As big a deal as this was, there are still 140 or 150 active plans for coal-fired power plants throughout the United States," Marston said. "Some of them will be replacing older power plants, but many others are new plants."
"I think the story is far from over," Slattery added. "I think if indeed the buyout goes over, then there are still concerns about individual units."
The chief offender may be the Oak Grove coal-burning plant, slated south of Dallas-Fort Worth, meaning exhaust would move upwind on most days. It will produce more mercury than any plant ever built, Slattery said. If his dominant wind transport models are correct, its smokestacks will significantly diminish the air quality for 6 million people more than 40 days every year.
So the big TXU-sized battles continue for Marston and Slattery. Yet both will tell you that the smaller efforts -- recycling plastics and metals, keeping cars tuned up -- will help win the war now underway. Marston left a high-paying attorney position nearly 20 years ago to make a difference in his daughter's life, and in her world. One of his first lessons EDF taught him was that no part of the planet is too small to preserve. He remembers when aggressive logging companies began clear-cutting forests, taking out what they called "trash trees," among them the Pacific yew tree.
True, the yew trunk is often contorted or malformed, its twigs are slender, hairless, and green, its root system fibrous and tough. And it's darkish red, scaly, bark is tough on the eyes, but turns out this "worthless" tree is also the chief source of taxol, an extract that remains one of modern medicine's best treatments for uterine cancer.
"You wonder how many things we missed like taxol because we eliminated their source," Marston said, pondering the unknowable.
But he does know one thing. Doing right by the environment is no longer a choice.
If it ever was.
Read an interview with Marston: www.environmentaldefense.org/article.cfm?contentID=6028
Read Slattery's report to Congress.
For information: www.environmentaldefense.org
Contact Slattery at m.slattery@tcu.edu.
Comment at tcumagazine@tcu.edu.