Old school, new school
Education complex combines traditional look and 21st century amenities.
By Mark Wright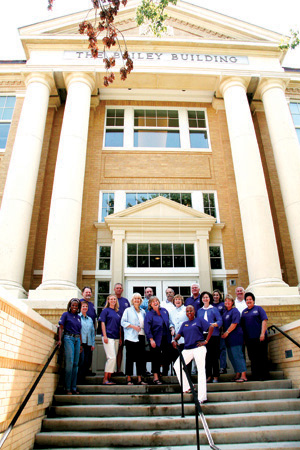 What's old is new again. In July, the College of Education (which was the School of Education before a name change in June) moved into the $10 million Mabee Foundation Education Complex.
The new facility is actually two buildings connected by an enclosed, multi-level glass corridor. It includes the new 23,000-square-foot Steve & Betsy Palko Building, shown top right, and a renovation of the 13,000-square-foot Bailey Building.
At 93 years old, the Bailey Building is among the oldest structures on campus. Originally home to Brite College of the Bible, Bailey has housed education students and faculty since 1958.
The just-completed renovation restored one of Bailey's classic features, a north staircase leading to a column-lined doorway. In an earlier overhaul in the late 1950s, the stairway was removed and the entrance dropped to the level of the basement windows. Now, the north entrance is back to its 1914 look.
While portions of the outside might remind some of the good old days, the inside of the complex is state of the art. The Mabee Foundation Education Complex provides additional classrooms and faculty offices, a large common area and space for an academic center and growing graduate programs. And classrooms in the complex will be connected with both wired and wireless capabilities.
Comment at tcumagazine@tcu.edu.