Linda Kaye 1942-2007
|
Linda the saver
|
Gone, not forgotten
|
Recollections
|
Gallery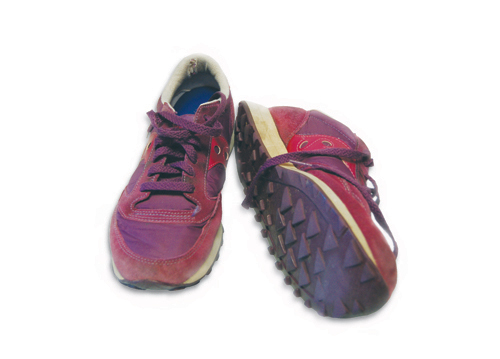 She was a keeper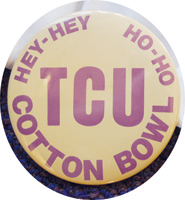 Long before eBay turned collecting into something you did at a desk, Linda was an avid scavenger, haunting yard and estate sales for interesting items for her many collections.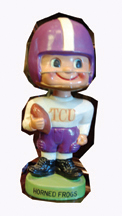 One large room in the Kaye home near campus was a museum of TCU bric-a-brac — much of which she gathered while photographing events on campus for 50 years. Belt buckles. Gimme hats. Used soda cups. Bumper stickers. Historic buttons and pennants. Even cookies and candies in TCU wrappers. Sensing her final days looming, she donated it all to the university in the summer.
The extensive collection, which is being cataloged and organized, filled 54 large moving boxes, seven of which are wardrobe boxes crammed with shirts, jackets and other TCU clothing. Some items will eventually be displayed on campus.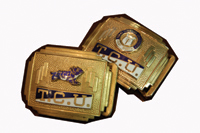 TCU is also the recipient of her impressive collection of Judaic items like menorahs and dreidels. They fill 12 cartons.
But it is the 48 large cartons stuffed with boxes of Linda's negatives that are the true treasure. Dating to the mid-50s, her negatives are the university's history. She was the only photographer for TCU for decades, and her lens captured moments both mundane and memorable. Once the negatives are cataloged and preserved, they will be stored in the library and available for use.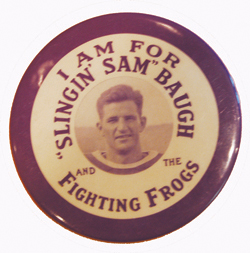 Of course, Linda didn't just seek out all-things-TCU. Her other collections, which remain in the family home, include extensive (and impressive) memorabilia from Howard "Hopalong" Cassidy, a large selection of items from Car Talk's Ray and Tom Magliozzi, and half of one room covered in Nolan Ryan commemoratives.

Comment at tcumagazine@tcu.edu.