Linda Kaye 1942-2007
|
Linda the saver
|
Gone, not forgotten
|
Recollections
|
Gallery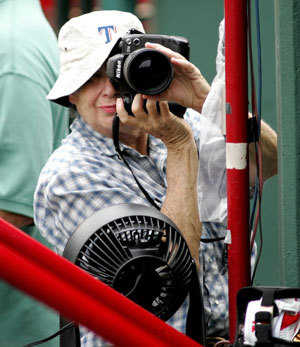 Gone, but never forgotten

Linda would be horrified by all the fuss. In life the she eschewed all recognition, even getting mad at this magazine staff when we started putting in photo credits. But now her admirers can show their respect. Here are some of the ways that are in the works:
- The Schieffer School of Journalism sent a contingent to her room in her final week to induct her into the school's Hall of Excellence. She's the first photojournalist.
- The Schieffer School also will name an endowed scholarship for her for photojournalism students. Contact David Nolan at 817.257.5260 to contribute.
- Items from her collection of memorabilia will be featured at various times and places around campus.
- TCU Athletics will honor her with a permanent photo gallery when the new Dutch Meyer Athletic Complex is finished.
- Brite Divinity School's Jewish Studies program will showcase her assortment of menorahs.
- In April, the Texas Rangers will dedicate the photographer's well next to the visitor's dugout at The Ballpark in Arlington to Linda. A permanent plaque will be installed in the corner where she liked to set up shop. They also will display some of her photos and her purple tennis shoes in the Ranger's Museum.
- The School for Classical and Contemporary Dance dedicated the fall concert to Linda, in fond remembrance of her beautiful dance photographs and her tenacious spirit.

Comment at tcumagazine@tcu.edu.