Grills Gone Wild: The Rise of Tailgating at TCU
|
Best tailgate scenes
|
Stadium map
|
Gallery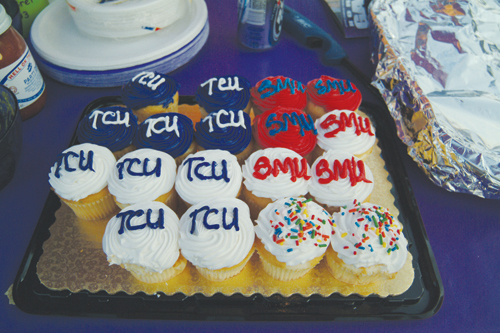 Where to get your grub on
What are the best tailgate spreads around Amon G. Carter Stadium? The Lettermen's smoker? The Tailgate Command Unit? The Ladner/Huffman/Muckleroy big-wig wingding? The magazine staff scouts out the sweetest setups and top amenities.

By Rick Waters '95, Mark Wright '07 (MS) and Nancy Bartosek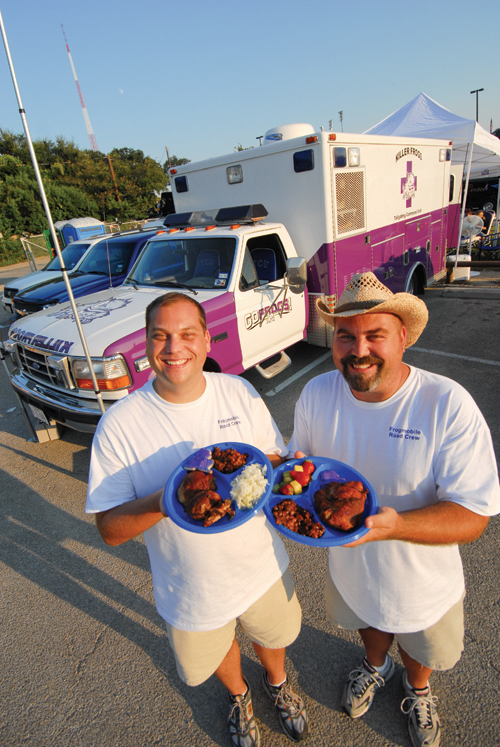 The Tailgating Command Unit
Tom '84 and Tim Gibbons '95
Setup You can't miss them. Well, actually, it's their rig you can't miss. The Gibbons brothers own the Tailgating Command Unit (yes, TCU), a purple-and-white fully functioning ambulance they found on eBay and fixed up. Originally used by the Denton County EMS, the rig has purple lights, purple upholstery, an ear-piercing siren, flat-screen TV, microwave, sound system and more. There's even a purple gurney for stretching out. And the license plate: TL-G8N.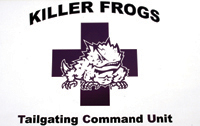 Scene They get to Lot 4 (which is first come, first serve) when the gates open and back the monstrosity up to the grassy hillside. About 15 to 20 join the party a few hours before kickoff. It's largely a family affair, along with some close friends and co-workers. The brothers won't say what they paid for the ambulance, but Tom points out that his two kids, Hilary '07 and Ryan '07, graduated from TCU this year, so he has no tuition payments to make now. Tom's wife, Lorie, thought the guys were crazy at first, but when she saw Tom sketching out the concept, she got on board. "It was the next step for us," she says. "Tailgating is a lifestyle."

Food They send out emails to friends and family members the week of the game and decide on a menu with a vote. Typically, it's standard gameday fare — wings, burgers, kabobs, chicken, beans, fruit, even some horned frog cookies topped with purple icing.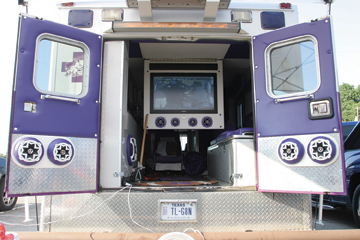 Traditions Tim wears the same TCU T-shirt until the team loses, then he replaces it. In September, the brothers drove the rig down to Austin for the Texas game and found themselves featured on the local NBC affiliate. They planned to buy and decorate a bus — until they spotted a red-and-white, Nebraska-themed rig called The Big Red Meat Wagon at the Texas Motor Speedway. "We had been thinking about what we could do, how to take our tailgating to the next level, and when we saw that, we knew that's what we had to get," Tim says. It helps that the rig is big – their old van could only carry one passenger after loading in all the gear.
* * *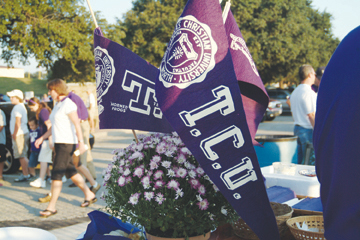 The rah-rah ralliers
Kory Nix '98, Jerry Loftin '65, et al
Setup Several years ago this group of 30 TCU friends built a big flagstone patio and each game three couples are in charge of the food. They feed several hundred every game.

Scene Kory's group and the one next door, Jerry Loftin's group, just spill together into one big food spread. Loftin's group has two built-in grills and set up two satellite TVs. Loftin has reeled in a host of adopted Frogs, like attorney and former judge James Wilson, a UTA grad who has attended every home game for the past 12 years. At homecoming the centerpiece for the buffet had three historic TCU pennants brought by Daryl Lester '66 (MBA '68; RM '96).

Food It changes every week, but includes buckets of beer, hot dogs, smoked briskets, hot dogs, hamburgers, grilled chicken, smoked ham and a host of snacks, desserts and goodies.

Traditions The Nix group has the names of their group on bronze plaques on the walls of the patio. They feed anyone who walks up since they just want to spread good will and build school spirit.
* * *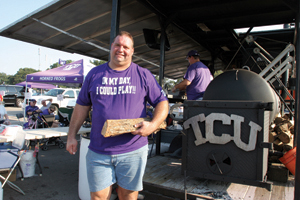 The lettermen's smoker
John Marsh '91, et al
Setup When your motto is "Love all, feed all," you have the biggest tailgating scene in the TCU universe. Ex-letterman John Marsh '91, who often wears a purple T-shirt that says In my day, I could play, heads the operation, although he needs six to eight cooks to pull it off. The group's nearly 39-foot, 25,000-pound, two-story pit smoker, which they've had since 1998, is, "One brisket shy of a ticket," says cook Mike Bulla '89. They park it the day before a game, have a ceremonial lighting of the pit and work through the night (going through a cord of firewood and a half-dozen gas cans) to be ready to serve the next afternoon.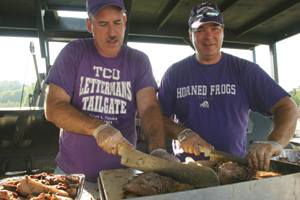 Scene With nearly 300 mouths to feed, the lettermen's scene spills out from its spot in Lot 3. The group set up camp there in 1992 and has seen it grow every year since. It's open to everyone. Dues paying lettermen pay $5 a plate. Walkups pay $10. A wristband system helps keep track of everyone. Seconds and thirds are encouraged. "It's not a money-making venture," says Marsh. "It's just a good way to get everyone together and rally support for the team. Flat-screen TVs carry a couple of different games, while multiple washers games hold court.

Food Brisket, ribs, sausage, turkey, ham, barbecue, wings, and when Arkansas returns to Fort Worth in a couple of seasons, they'll serve hog. Rice, beans and veggies are served cafeteria style with lengthy lines. Beers, sodas and water wash it all down.

Traditions When TCU played at the Liberty Bowl in Memphis in 2002, Marsh and company were the first ones in the lot, drawing the attention of a local TV station. When the team arrived and saw him stealing attention from them, he never heard the end of it.
* * *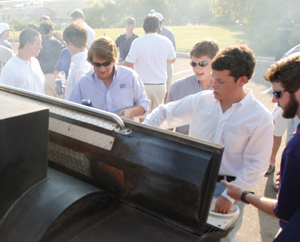 The student scene
Student Government Association

Setup This was Year Two of a new approach to student tailgating. Five years ago, the SGA organized the first student tailgate on the Morris Practice Fields. But grilling was not allowed and students could only bring a six-pack or less. It flopped. In 2006, when new surface lots around the stadium opened, Student Affairs moved the tailgate to a lot north of Brachman Hall with more relaxed rules for food and beverage. The lot is cordoned off and lined with Porta-potties and trash barrels, corraling students into one giant space. CSC Event staff, hired by Athletics, check IDs and stamp hands of students of drinking age. TABC patrols the lot for violators, but students are encouraged to be vigilant and police themselves, says outgoing SGA president Jace Thompson.

Scene Fraternity and sorority heaven. Technically, this tailgate is open to the whole student body and any group or organization can reserve a spot in advance, but it is heavily dominated by Greeks. White button-up shirts and khaki shorts for the guys. Sun dresses and boots for the girls. Each organization brings and cooks its own food. SGA hires a band. Student Affairs pays for the gigantic GoVison screen for game-watching. Some groups line up sofas and hay bales with blankets. Some bring horseshoes. Others blare boom boxes. As many as 2,000 students attend, and that number swells by another 1,000 during Parents' Weekend and Homecoming.

Food Burgers and hot dogs are most popular, but some groups mix in brisket or fajitas or sausage or fried chicken. Keystone flows abundantly.

Traditions Students walk over to the game right at kick-off (or a little after) en mass. Student Affairs and the SGA are trying to make this tailgate a tradition, says Darron Turner, assistant vice chancellor for student affairs.
* * *
The originals
Jim Ladner '74, Royce Huffman '74, Hal Harbuck, Harold Muckleroy '74

Setup This group built the first tailgate patio in 2001. "I told the Athletics department that if they let me build one, and do it up nice. there would be patios all lined up and down the lot," says Jim Ladner '74. "And sure enough, that's what happened." Ladner had an architect sketch a design and showed it to TCU, which wasn't sold at first. "They told me, 'Everybody is going to want one of these.' I said, "I know. That's the point.' " Eventually TCU conceded. (Each parking lot holder pays for the patios using TCU-selected contractors.) To stay ahead of others, this group added a second level and have designs on expanding it further up the slope.

Scene With strings of purple twinkle lights, a "disco" ball made of purple lights and a flagpole, this group has a club-like atmosphere, right down to people packed in like sardines. Ladner and company have no idea how many people come by, but pro golfer J.J. Henry '98 is a regular. They plan for up to 300 hungry fans.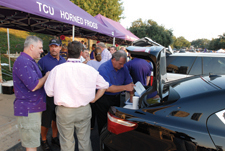 Food It's a cornucopia, different each time: smoked pig, boiled shrimp, fried fish, tamales, brisket, sausage, chicken. Everyone chips in for the buffet.

Traditions The group is vigilant about closing the party as the game starts, but then they open again at half time. They also hang a chandelier to light the hill behind them. "We hung one up one year, and we started winning, so now it's a tradition," Huffman said as he dodged wasps (which had inconveniently built their nest in the tree) while hanging the chandelier this year.
* * *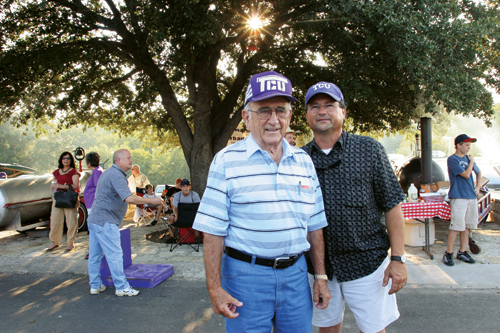 The father and son tandem
Dickie (attended in the '50s) and
Jon Durham (attended '78-'79)
Setup The giant oak tree that Dickie Durham sits under was but a hillside sapling when he started tailgating four decades ago. There was no upper deck at Amon Carter Stadium and Jim Swink was the Frog hero. Gameday food came from a picnic basket. More than 40 years later, he's in roughly the same spot relaxing, gulping a cold beer and talking about the Frogs with his son Jon and their big smoker.

Scene Slow-paced and low-key, the Durhams lounge in folding chairs in the shade, occasionally getting up to play washers. Mostly it's just people-watching. What's different from tailgating in the mid-50s? Says Dickey: "It's gotten louder and more crowded. There are more cars, but it's better organized and the food still tastes as good as it ever did."

Food Heavy on meat: ribs, brisket, pork loin, chicken. There's also an assortment of veggies.

Traditions Seven seasons ago they bought the smoker. Three years ago, they built a patio. The one constant: cold beer.
* * *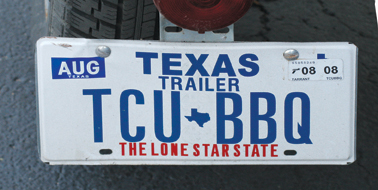 The BBQ brothers
Brian '93 and Platt Allen '88
Setup The big Texas flag tent in Lot 6 marks the way to the Allen brothers, Brian '93 and Platt '88, and their distinctive smoker. The cooker features a "TCU BBQ" license plate and a Shiner Bock tap with a horned lizard on top.

Scene Mostly younger parents and their children. It's the pre-game meeting place for a lot of "old" Sigma Chis and Kappa Sigs. The Allen brothers make enough grub to feed up to 100 people. No one is turned away.

Food Platt Allen typically cooks 12 racks of ribs, 20 pounds of chicken and 20 pounds of sausage. Some of the more exotic items include pheasants and jalapeno summer sausage.

Traditions The Allens were among the first tailgaters in Lot 6, which was reserved for university officials and public safety personnel until Platt convinced the university in 2001 to turn the lot into reserved gameday parking. Platt recalls that the often-extreme Texas weather can make tailgating an adventure: "We've had rain that has just blown through. We'll scramble to get everything put away. It'll last 15 minutes and then we'll have to unpack it all again. We've been here on cold days. It sleeted on us once. That was interesting: watching the ice melt as it hit the smoker."
* * *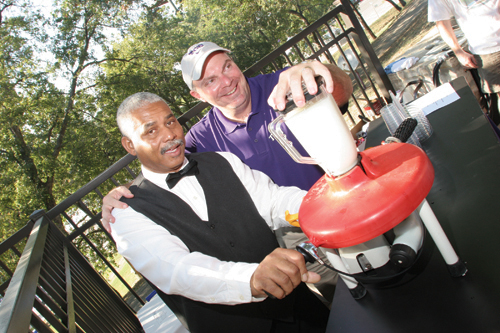 The Daiquiri Whacker
Mike Flynn '85

Setup On the northwest corner or Lot 1, Mike Flynn '85 and company can be found enjoying homemade margaritas. About six years ago Flynn and wife Jan took a chunk of their life savings and invested in a primo parking spot (with trees and shade). A few years later, they added a patio with built-in custom grill. "In a way, I see it as giving back to TCU," he says.

Scene Often joined by Hal Brown '88 and family, the talk centers around football. Flynn was a center on the 1984 Bluebonnet Bowl team under Jim Wacker, who also coached Brown. Flynn now enjoys access to parking lot neighbor Tom Hill's satellite dish after the two expanded the patio into a common area.

Food Sandwiches, barbecue, fajitas, burgers, hotdogs. But Flynn is widely known around Amon Carter Stadium for his gas-powered margarita mixer, the Daiquiri Whacker. "It sounds like a weed eater when you start it. The first time I used it, I had about 50 guys come over and want to look at it."

Traditions Flynn tries to be set up ready to party two hours before kickoff. "The margarita mixer is the first thing that gets packed," he says.

What other tailgating scenes are among the best? E-mail us about it at tcumagazine@tcu.edu.