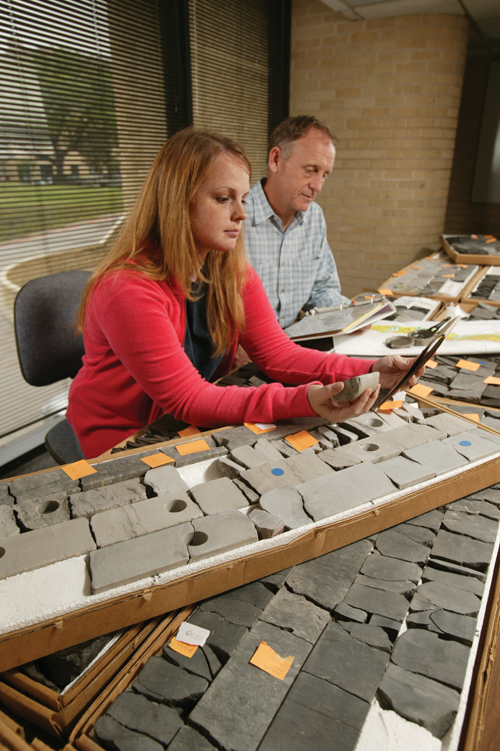 Shale secrets
?Three new Energy Institute labs promise to tease out the unknowns in the Barnett Shale.

By Nancy Bartosek
Core lab
?Drill cores might not look like much to the uninitiated, but to anyone searching for gas or oil, they are the road map to success or failure.
Which is why geology Professor John Breyer is so excited about the new core lab he's establishing under the auspices of the Energy Institute. He's been studying the intricacies of shale for several years and understands that while all shale looks pretty much the same, there are vast differences in its ability to give up gas or oil.
"There are good wells and bad wells and we want to find out if the differences in geology are the reason," he says, noting that students have already begun to examine core samples to help answer those questions.
Shale cores are rather rare since drilling shale is such a new practice (conventional exploration is in limestone or sandstone pockets).
Several core samples have already been donated by local companies, but these 300- to 400-foot long, 3-inch diameter cylinders take up a lot of space.
So Marvin Gearheart, TCU Trustee Emeritus and member of the EI Board, has donated a large warehouse for the cores they hope to collect from local energy companies.
Floyd "Bo" Henk '78 (MS '81), chief geologist at Matador Resources and a member of the EI Board, is helping with the technical design of the facility.
Once they have the space, Breyer says that companies will be delighted to have an independent educational facility to study, store and protect the cores.
"The information we can glean from the core will only add to everyone's understanding of the shale," Breyer says. "And if you want to understand black shales, this will be the place to come."
Chemical analysis lab
?You can figure out a lot by looking at shale through a microscope, but to decipher its elemental composition, geochemical analysis is needed. So Dan Jarvie, president of Worldwide Geochemical L.L.C., adjunct professor at the EI and a member of the advisory board, is setting up a chemical analysis lab for the Institute at his company's facility in Humble.
There, students will work beside him to study the chemistry of shale cores. Jarvie, who consults all around the world, said every company he has approached has happily agreed to contribute samples for study, which is remarkable since it's usually difficult to get companies to release information considered part of their competitive advantage.
"By looking at the chemical parameters of the shale, we can assign a geochemical risk to it, which tells us the likelihood of its productivity," Jarvie says.
A Notre Dame man, Jarvie is delighted to be part of the Institute and proudly announces his association with TCU everywhere he goes. In fact, the work he does for the American Association of Petroleum Geologists he does, "as the Energy Institute person."
He is proud to be associated with an organization that is doing so much for the industry and community.
"The companies in Fort Worth are very interested in free thinking, pursuing new ideas and interacting with the university and the professions," he says. "It gives a lot of leverage to the operators to be connected to the Institute."
Center for GIS and Remote Sensing
?Of the various tools petroleum geologists use, none is as essential as Geographic Information Systems, or GIS. Fortunately, TCU has the oldest such educational laboratory in Texas, founded in 1981 by Ken Morgan, who now directs the Energy Institute.
"GIS mapping is the foundation of all decision making for gas or oil drilling," he says. "We plan to use our GIS Center to develop a database of the entire Barnett field."
With 28 state-of-the-art workstations, the center only needs a director, for whom a search is under way. The Center will be used to train students and for continuing education training for the community.

Comment at tcumagazine@tcu.edu.