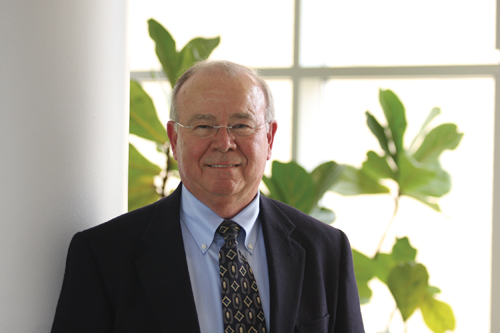 Wanted: Landmen
People entering the petroleum land profession are flocking
to a new certificate program.

By Nancy Bartosek
There's one constant about drilling natural gas: Mineral rights must be acquired. And petroleum land professionals, known as landmen, have to do the acquiring.
So in 2007, the Tandy Center for Leadership Development in the Neeley School of Business created the Petroleum Land Practices Certificate Program in cooperation with the Energy Institute to fill that need.
"The gas firms are growing like crazy, and there aren't enough landmen to go around," says John Baum, director of the Tandy Center and professor of professional practice in management. "We're trying to help prepare people to move into areas where there are job shortages and make sure they can step in and be effective."
So far 120 people -- those new to the industry and seasoned professionals -- have enrolled for the 55-hour extended education program, and dozens more are enrolled for the fall. One company filled an entire program with its employees.
Because landmen must be familiar with a wide range of areas, the program employs a host of faculty and professionals from the industry as instructors. A typical session will include nine or more teachers from eight different fields, ranging from ethics and economics to leasing and legal issues.
The students even take several field trips, including visits to a drill site and the courthouse.
The next project between the Tandy Center and the EI is under way as well. By spring they will offer a technical leader certificate program to prepare people who manage projects in the complex world of natural gas drilling.
More information:
www.neeley.tcu.edu

Comment at tcumagazine@tcu.edu.