Other paths traveled...
Pulling out all the stops |Facing Lithuania | Size wise



Now and Zen -- Claude Ware '46

by Nancy Bartosek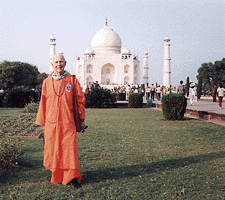 Each morning begins at six.
An hour of meditation.
Twenty minutes of T'ai Chi Ch'aun, 88 fluid movements in all.
A hike around a park.
A vegetarian lunch.
Then, a few administrative duties for Bao Phap, a developing monastery for the International Buddhist Cultural Heritage Foundation in Monterey Park, Calif., All in all, it's a quiet, meditative life of study and service for 78-year-old Buddhist monk Claude Ware '46 (MBA '48).
And quite different from what the former TCU jazz drummer and Southern Baptist envisioned while gobbling fries in his parents' Fort Worth burger joint at Magnolia and Jennings in the early '40s.
"I was raised in a good Christian home, went to church and belonged to a youth group but never felt a connectedness," said the man who walked a rather ordinary road before his Buddhist ordination. "It took years of going down the road I was on before I realized there was something else. All of a sudden I had these two paths that I could take."
His road diverged in 1976, the year he met Thich Thien An, a Buddhist master who was teaching Zen philosophy at UCLA. "This man coming into my life made all the difference. I didn't even have to stop and ask myself. They say when the student is ready, the master would appear. I was ready and there he came."
The musician whose education was paid for with jukebox nickels doesn't regret taking that divergent road. It led to inner peace and contentment. Still, Ware recalls with great fondness early days with the band, especially one particular trip to New York with bandleader Don Gillis and brand new band uniforms, thanks to Fort Worth newspaper mogul Amon Carter. It was there that the TCU Jazz Band made a name for itself performing on the steps of city hall for Mayor Fiorello LaGuardia.
Ware, who now serves as the administrative assistant for the Secretary General of the Vietnamese American Buddhist Congress, acknowledges his path toward enlightenment was circuitous. In the years between TCU and ordination, the now-divorced Ware earned a doctorate, raised two children, taught psychology at various institutions and applied human factors to operating equipment in the aerospace industry. After tiring of that, he ran a private family and marriage clinic while working for the County of Los Angeles as a research analyst, specializing in drug and alcohol abuse, a topic he came to know intimately over a seven-year period that included a breakdown and two heart attacks. Desperate to recover his ruined health, Ware turned to meditation and began studying the philosophy that eventually became his destiny.
"Buddhism is really the leveling force behind my ability to stay sober," said the monk, now dry for 33 years.
The man who jokes that he's the only "round-eye" at the temple is happy and content with his decisions. Except one.
"I've often thought I should have stayed on the faculty at TCU," he said, referring to his two years as a graduate student teaching psychology. Those were the same years he wiled away evenings plunking the piano for the Curley Broyles '44 Band. "Staying at TCU was one road I should have taken."
So, the teaching continues. Ware regularly leads chants and adorations and presents Dharma, or law, talks for the English-speaking members. He still guides T'ai Chi students through private lessons and teaches meditation traditions (also the focus of his book) at a local Chinese Buddhist college.
"Teaching keeps me involved," he said. "I'm certainly not a perfect human, but I want to tell others what I've found and it's the best way I know."
Top