Splash Page
|
Alumni profile
| Notables
Notables

Page turner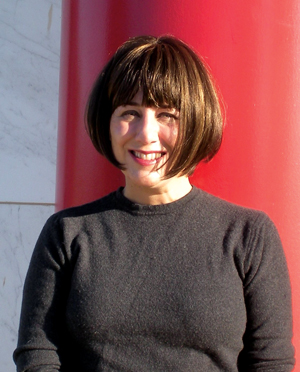 It all started with Charlie and the Chocolate Factory.
In 2004, Karen Furlong '87 gave a copy of that children's book to all 900 third-grade students in Rio Grande City in Starr County.
This year she hopes to give 2,000 books to young students in the impoverished border town where her family lived for two generations.
"The children may go to a nice, clean school but then go home to colonias -- in many cases homes without running water or proper sewage," Furlong says. "Obviously, a book can provide a certain level of escape."
Four years ago, the TCU journalism graduate (now living in Dallas) decided to start Starr Readers, a group that collects and distributes new books. The gift of books was a way of sharing her love of reading with children and honoring her mother and grandmother. Her grandmother, Rebecca Garza Rodriguez, served on the Rio Grande City school board for 25 years.
The Lincoln Park Barnes & Noble in Dallas provides a discount and waives the sales tax for Starr Readers.
"I am a firm believer that the thirst to learn more about the world comes from reading for pleasure," says Furlong, now a flight attendant with private aviation provider NetJets International.
"Good readers excel more in many facets of their lives. And it all begins with a children's book."
To learn more visit starrreaders.com. To donate, send checks to Starr Readers, 3125 Damascus Way, Dallas, TX, 75234. - JM
- - - - - - - - - - -
Comic relief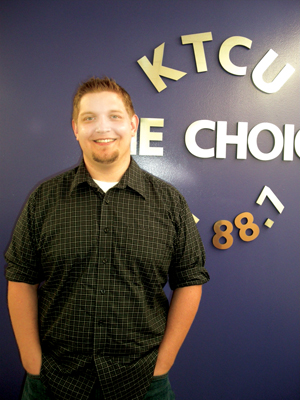 Scott Hinze '02 said comic books helped him learn to read by making something he struggled with as a child fun.
Now he's translated that affection into a long-running radio show, a highly successful podcast and a means for giving back to troops in Iraq and Afghanistan.
With the help of KTCU station manager Andy Haskett, Hinze began broadcasting his twice-weekly "Fanboy Radio" program in 2002 while he was a Radio-TV-Film student.
The live radio talk show focuses on all things pop-culture related, including movies and video games, though comics and graphic novels are its primary niche.
The program is broadcast at 1 p.m. on Wednesdays and 6 p.m. Sundays on KTCU, is syndicated on CBKU in Halifax, Nova Scotia, and, most important, the podcast reaches more than 100,000 online subscribers.
Hinze has been giving back as well. In 2006, his "Fanboy Radio" co-host, who'd served in the military in Germany, was talking about how boring it can be for service personnel overseas. Comic books, which are lightweight and portable, and can be traded and left behind without guilt, are widely appreciated.
In response, Hinze and some of his associates founded Heroes4Heroes, a charity that ships comic books to military personnel. The USO helped them iron out the logistics and Heroes4Heroes sent their first shipment of some 5,000 comics, half to Baghdad and half to Fort Hood, in late 2006 at a cost of $1,000.
Ever since, he's been soliciting comics from readers who need to cull their collections and collecting donations to ship them. Hinze, a showman at heart, raised $10,000 for Heroes4Heroes with a lively live art auction at a comics convention in Arlington last year.
The organization has been shipping thousands of comic books overseas every other month since then. In April, Heroes4Heroes received a thank you letter from Commanding Gen. David Petraeus.
"This is not about politics," says Hinze. "The men and women who put on a uniform and represent us around the world -- we want to give that entertainment value to those heroes."
For information, go to fanboyradio.com. - CF
- - - - - - - - - - -
Dedicated doctor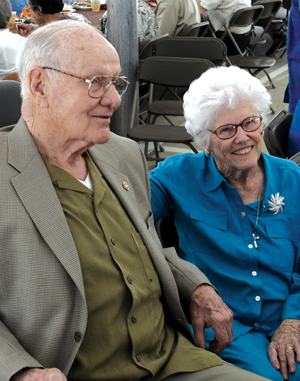 It's standing room only when Dr. David J. Pillow Sr. '49 teaches a class on senior health issues at North Hills Hospital in North Richland Hills.
Pillow, 85, one of the founding fathers of the hospital, has a loyal following after decades of providing medical care to the community. In honor of his service, North Hills Hospital in October named its newest 8,000-square-foot building the Dr. David Pillow Senior Health Clinic.
"I am in awe," Pillow says. "From a legacy point of view, I've always wanted to be known as a good doctor."
And that he has been. Pillow started seeing patients in North Richland Hills when he and another TCU grad, Charles A. Rush '49 opened the Pillow-Rush Medical and Surgical Clinic in 1955. The practice grew and soon the doctors decided to create a hospital north of Fort Worth.
Pillow and Rush joined three other TCU alumni, Drs. Martha J. Chapman '50, Robert E. Chapman '50 and Bruce K. Jacobson '50, as well as another doctor, to open the 20,000-square-foot Glenview Hospital in 1961. That hospital was sold and relocated, yet Pillow remained a leader. He was chairmen of the Board of Trustees for North Hills Hospital when it opened in 1983 and he is a board member emeritus today.
Pillow is also the medical director for the 500-patient Radiant Healthcare based in Southlake. He also teaches at Tarrant Community College and lectures at area retirement centers and at North Hills Hospital.
"He has such dedication," says Randy Moresi '74, chief executive officer of North Hills. "To this day he is teaching. About 100 people will show up for one of his classes." - JM
- - - - - - - - - - -
Semper Fi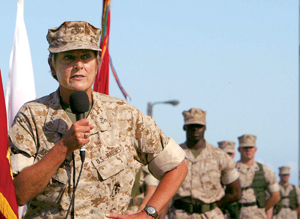 Maj. Gen. Mary Ann Krusa-Dossin '74 didn't have a military career in mind when she set off for TCU in the late summer of 1970.
It wasn't until after graduation and an entry job as a bookkeeper in a Chicago dress shop that she realized she wanted something more challenging.
"It just wasn't my thing. I think I learned that I didn't want to be enclosed by four walls; I needed something bigger," recalls Krusa-Dossin.
She enlisted in the Marine Corps and was commissioned a second lieutenant in 1975, entering a field that had just been opened up to women: military police.
In the 33 years since Krusa-Dossin joined the Marines, she's worked all over the world, from Camp Pendleton in California to Camp Lejeune in North Carolina, from the Pentagon to Okinawa, Japan.
Last year she was promoted to major general, making her the second-highest-ranking female Marine, and currently serves as the commanding general of Camp Butler in Okinawa, commanding a mix of Marine and civilian personnel.
Krusa-Dossin is married to a retired Marine. They have a now-grown son who was born during her first assignment in Japan. "I remember bringing him home in a T-shirt that said 'Made in Japan', " Krusa-Dossin says.
When asked if the role of women has changed since she first joined the Marines, she says the changes are striking.
"It's much more open," she said. "There's not much that we're restricted from anymore. We have fighter pilots. That wasn't open to women when I came in."
Krusa-Dossin joined at a time when she was able to benefit from those newly expanded roles.
"The Marine Corps has given me so much in terms of opportunity, in terms of building character. I've been blessed. Truly I have." - CF
- - - - - - - - - - -
Star turn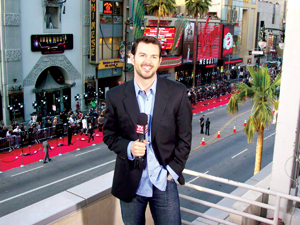 Marc Istook '98 thought he'd have a career interviewing sports stars when he graduated from TCU with a degree in radio-TV-film, but he ended up talking to Hollywood's hottest celebrities.
After Istook left Fort Worth, his home town, he worked for ESPN doing behind-the-scene graphics before heading to KTEN in Denison, where he was weekend sportscaster, an anchor and, finally, sports director.
But Hollywood was calling. Istook moved to Los Angeles in 2001 to pursue some other projects, including a local sports talk show. Then in 2007 Istook landed a spot as co-host of a Food Network program called "Gotta Get It," where he and co-host Sunny Anderson highlighted random kitchen gadgets, from a refrigerator with a TV in the door to an avocado slicer.
Istook, who describes himself as "an OK cook for a single guy," says he stumbled into the job randomly when he ran into one of the producers of the show in New York City.
After the Food Network show ended, he got a gig as a correspondent on a Direct TV show called "Hometown Heroes" highlighting positive things people were doing in their communities.
Now he's an entertainment reporter for the TV Guide Network, reporting for "Hollywood 411," and having tete-a-tetes with Eva Longoria, Reese Witherspoon, Katherine Heigl and Miley Cyrus.
His "Hollywood 411" correspondent's job is ongoing, but Istook is working on another project on the side, one that, at least nominally, returns him to TCU. He's started up a production company that creates documentary-style videos about the college-admissions process. The goal is for them to air on TV.
"Over the course of my career, I've spent a lot of time behind the camera too, and I had the idea to do a how-to series for teens and I got together with a person who had a background in college administration and we came up with this," Istook says.
The name of his production company? University Drive. "It seemed like a natural fit." - CF

Comment at tcumagazine@tcu.edu.