Articles: Cultivating an identity | On their toes

Rock around the clock
KTCU -- thanks in part to a handful of student DJs -- is no longer just another sleepy campus radio station.
By Robyn Ross '99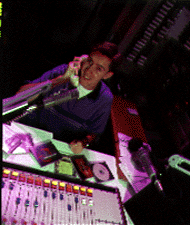 Chip Adams spends about 12 hours a week entertaining several thousand people he will never see.
But he's not a blindfolded juggler or a prison inmate dancing in front of one-way glass. He's program director for KTCU, 88.7 FM on the TCU-area's dial and winner of FW Weekly's Best Modern Rock Station two years running.
The radio-TV-film senior works many more hours than the 12 he spends on the air; in fact, he describes his program director position as "a 6 a.m. to 2 a.m. job."
Second only to station manager and instructor Andy Haskett, Adams recruits and trains student volunteers, draws up playlists and interviews up-and-coming alternative bands. All this in addition to being an on-air personality. And all this, too, amid classes, extracurricular activities and graduation less than a year away.
On a typical Thursday night at KTCU, Adams handles the modern rock show and his friend and fellow DJ Jason Falgout keeps him company. Adams mostly cues and announces the songs; Falgout mostly teases him when he's trying to talk.
"Thanks for tuning in to The Choice," Adams begins, speaking into the mike as one song fades out and the next one begins. "Right now you're listening to Live. . . live." "Oh, you're so punny," Falgout taunts.
The song begins and Adams' headphones come off.
"Punny, but not funny. I don't plan any of it," he said. "When I turn the mike on, it's whatever comes out of my mouth‹sometimes it's good, sometimes it's bad. Who knows what I'm going to say."
Like most DJs, Adams started as a student volunteer, working a few hours a week. These days, he still marches in the band and is a member of the band fraternity, but his studies and the station now take up the largest chunk of his time.
"Every format has a printed-up playlist the DJs follow with what song at exactly what time they're supposed to play it, and if they don't I'm calling and yelling at them," Adams said. "Plus, I was the music director last year, so I talked one-on-one with commercial promotions people from labels every day, who ask if we got their new releases.
"Compared to other college stations, KTCU is about as close as they come." In between bites of a freshly delivered pizza, Falgout jumps into the conversation. "It's easy to push buttons," he said. "The hard part is developing your personality on the air and getting your timing down. That just takes practice, but it's very easy here because there's no audience."
While small mishaps, like not playing the station identification at exactly the top of every hour, are relatively common, occasionally DJs make bigger mistakes. Then it's Adams' job to check up on his staff. But even the program director doesn't have a record entirely free of radio transgressions.
"I hit the eject button while the song was playing, and I didn't have another CD to play, so there was about 18 seconds of dead air," Adams said. "The music director was laughing in the other room, yelling out how many seconds I screwed up. That was pretty bad."
For the rest of the evening Adams and Falgout will try to avoid such slips as they keep late-night listeners entertained. They'll answer phones, give concert updates, play public service announcements and finish the pizza. And although Chip won't be there when the next DJ signs off at 2 a.m., there's a good chance he'll be listening or working on some other business of the station. Ultimately, Adams hopes to find a job at an alternative or modern rock station, where he'd play the same kind of music he does now.
"I'd love to be the program director of a commercial station, but that takes many years of moving to bizarre little tiny cities and getting your name noticed," he said. "I just hope I don't end up at an all-polka station."
Top