Related Articles:
Two-minute warning



More coffee, Maxine
Dennis Franchione could use a hand, inheriting a program that went bust under Pat Sullivan. Sportswriter Dan Jenkins '53 -- armed with a cup of joe and a mindful of memories -- recalls how great the Frogs used to be. And could be again.
By Dan Jenkins '53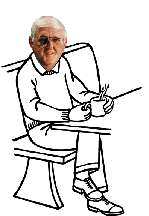 Here I sit on the corner of University and West Bowie in the old TCU Drug, which passed for the student union in my day -- that splendid time when the Horned Frogs used to whip up on everybody in football. Once again I'm majoring in drugstore and minoring in caffeine and nicotine. As a deeply intellectual character in my new novel Rude Behavior is heard to say, "College ain't nothin' but high school with cigarettes and coffee."
Incidentally, I should mention that Rude Behavioris now available in your neighborhood bookstores. If it's not there yet, a Pakistani has been hired to drop an atom bomb on Doubleday Publishers.
Anyhow, from the TCU Drug, where the soda fountain and tables and booths were known to hold hostages for six and seven hours at a time, it's only a short walk to the stadium on Saturdays.
That's where I can marvel at Sam Baugh '37 and Davey O'Brien '38 throwing touchdown passes -- and winning national championships for the Purple -- and where I can gaze at Jim Swink '55 continually exploding into daylight, and then watch Bob Lilly '61 turn rival ball-carriers into meat sauce.
Which brings up Dennis Franchione.
Frankly, I've been accustomed to ordering the franchione with meat sauce -- sometimes with just butter and garlic -- but that was before he became TCU's latest football savior, as in coach.
Maybe I'll learn to utter Franchione with the same pleasure that I used to utter the names of Dutch Meyer and Abe Martin.
I feel compelled to add that I rarely uttered Pat Sullivan's name -- except in vain. Which was mostly on those occasions when he'd send in his pet play, the one where the TCU ball carrier would take a handoff and try to make it all the way back to the line of scrimmage.
I know I run a risk while dreaming today. I could accidentally wind up in a Jim Shofner of a F.A. Dry season, scouring the countryside for something like a win over UT-Arlington.
But those dreary days are in the past. Unfortunately, so is the wonderful Southwest Conference, which disappeared before my very eyes after 80 years, thanks more or less to Greed, which is otherwise known as the University of Texas.
You may ask what I'm doing here. Well, I'm here to help Franchione build a football team that might bring the Frogs another era of gridirion glory, and do it whether we're in an old WAC, new WAC, semi-WAC, Big 12-13-14, Conference Fed Ex, or some other league that's yet to be created by a couple of thirtysomething TV producers who know roughly as much about college football as Tracy Lord in The Philadelphia Story -- they think South Bend sounds like dancing.
No matter. In the meantime I have to put this team together for Franchione. With the guys I have in mind, we'll only need 11 players going both ways, and a few notable alternates.
Here's the Big White team, or what they once called the starters.
Quarterback. Davey O'Brien '38. The "Dallas Dynamo" or "Slingshot Davey" -- take your pick -- was a unanimous All-America in 1938 when he led the country in total offense and passing and guided the Frogs to the national championship and a Sugar Bowl victory. Maybe you knew all that. However, maybe you don't know that he was the first player to win the Heisman, Maxwell and Camp awards in the same season -- only 20 others have done it since -- or that he was a two-year All-America. He made the Fox Movietone News team in '37 as a junior when he also led the nation in passing and punt returns.
O'Brien is still the most decorated college player in history. No other guy has ever won as many individual awards while at the same time leading the nation in so many categories and carrying his team to a national title, all in a single career. Where is his statue on the campus?
Halfback. Sam Baugh '35. What, I'm crazy? I'm not going to have O'Brien and Baugh in the same backfield?
Born in Temple and raised in Sweetwater, "Slingin' Sam" was named on three major All-America teams as a junior in '35 when he led the nation in passing and punting and took TCU to a national championship and Sugar Bowl victory over LSU. He was a consensus All-America in '36 when he again led the nation in passing and punting, hoisted the Frogs to a No. 5 finish in the country, then led them to a win over Marquette in the inaugural Cotton Bowl. He was fourth in the Heisman balloting. Idiots.
To this day, Baugh is one of only three quarterbacks who've led their teams to a national championship in college and an NFL title in the pros, which he did with the Washington Redskins in 1937 and 1942. If you want to win a trivia bet, the others are Joe Namath and Joe Montana.
Halfback. Jim Swink '55. The "Rusk Rambler" or "Swanky Jim" -- take your pick -- was TCU's greatest broken-field runner. He merely led the nation in rushing (8.2 yards per carry!), scoring and all-purpose rushing in 1955 when he toted the ball, and the Frogs, to a 9-1 regular season record and a No. 3 in U.S. in at least one rating system. His 8.2 yards per carry is an all-time NCAA record.
But my favorite thing was what he did to the University of Texas over a three-year period. In order of their appearance from scrimmage, he gained 147 yards, 235 yards, and 122 yards -- a total of 504 yards in all -- and scored nine touchdowns against the Longhorns, who richly deserved it.
Unanimous All-American in '55, named to a couple of teams in '56, Swink was runner-up for the Heisman in '55 -- should have won, more idiots voting. Still, this makes TCU one of only 22 schools so far to have produced a Heisman winner and a Heisman runner-up.
Fullback. Kenneth Davis '84. The "Temple Tornado" set a TCU record with 1,611 yards from scrimmage in 1984 when he led the Frogs to their first bowl game in 19 years. He rushed for over 200 yards from scrimmage in three games and gained over 100 yards in six others. That's a big yardage in nine out of 11, folks. And K.D. was also a unanimous All-America.
Hey, I know it's old-fashioned to have four guys in the backfield these days, but that's just one more reason why I live in the past.
End. Rags Matthews '28. A Fort Worth native, Rags was TCU's first All-American in 1927. This made him the first player to bring national attention to the Southwest Conference. Then he was voted the outstanding player in the East-West Shrine game. His all-around play was so impressive as he led the West to victory, the headline in the San Francisco Call-Bulletin read: "Matthews Beats East."
Tackle. Bob Lilly '61. When more than 300 sportswriters and sportscasters voted on college football's all-time team a few years ago, Lilly and Sam Baugh were among the 22 players. Only three other schools, Alabama, Michigan and Illinois, enjoyed as many selections. Neat stat. Carry it around in your briefcase.
An offensive and defensive terror from Throckmorton, Lilly and his cohort at tackle, Don Floyd, anchored the line on TCU's championship teams of 1958 and 1959, then Bob became a unanimous All-America in 1960. To say nothing of his doomsday antics with the Dallas Cowboys later on.
Guard. Johnny Vaught '33. Another Fort Worth native, Vaught became TCU's first AP All-America in 1932. Kind of like being a prom queen. The AP team for some reason was held in higher regard than any other back then and still is. But Vaught made three other selections as well.
Here was an overwhelming Frog bunch that went 10-0-1 and wound up No. 4 in the nation. At the time, that was the highest a Texas team had ever been ranked. Led by Vaught, who was said to be particularly maniacal on defense, six out of seven Frog linemen made all-conference, a feat that hadn't been done before and hasn't been done since -- by anybody, anywhere.
Center. Darrell Lester '36. What makes the big, rangy guy unique is not the fact that he came from Jacksboro without a nickname. As both a stout blocker and ferocious linebacker, Lester was both TCU's and the Southwest Conference's first two-year consensus All-America. This was in 1934 and 1935. He often went 60 minutes, like his All-America chum, Sam Baugh, on the '35 national champions.
Fact is, Lester is still the only two-year consensus all-America in TCU history, and if you have to ask what consensus means, you're reading the wrong story.
Guard. Ki Aldrich '40. Nobody loved to play football more than Ki, or played it with more intensity. If he had a broken rib, tape it up -- he'd play. That's why he could play guard even though he followed Lester as an All-America center. Ki made one All-America team in '37, then made nearly all of them on the undefeated national champions of '38. Another hero from Temple, like Baugh and Kenneth Davis. We could move the campus to Temple, except that would make it too far away from Angelo's, Railhead and Joe T.'s.
Tackle. I.B. Hale '39. Extremely mobile for a big man, Hale was the first of the '38 immortals to gain national recognition when he was named to two major All-America teams as a junior in '37. In the national championship year he made the Hearst and All-Players teams again. This made TCU in '38 one of only a handful of Southwest Conference teams ever to produce three All-America players off the same eleven -- O'Brien, Aldrich and Hale.
Hale and O'Brien came to TCU together from Dallas, which is probably the nicest thing Dallas ever did for Fort Worth.
End. Walter Roach '37. Yet another Fort Worth native, Roach was a three-year all-conference end on the Baugh teams of '34-'35-'36, which means he was one of Sam's favorite targets. He made one All-America team in '36 and starred on defense on TCU's Sugar Bowl and Cotton Bowl victories.
So that's it for the Big White team.
Of course, Franchione will need some alternates. Therefore, I heartily recommend these -- and more coffee, Maxine.
Ends. Don Looney '41, Bruce Alford '43, Kelly Blackwell '92, Stanley Washington '83. Looney was among O'Brien's legendary receivers in '38, but even without O'Brien in '39, on a hardluck team, he co-led the nation in receptions. Alford, a furious all-around competitor, was a mainstay of TCU's winning teams in '41 and '42 -- and MVP in the Orange Bowl. As for Blackwell and Washington, the fact that they were consensus All-Americans on mediocre teams in '91 and '81 says more about their abilities than anything else.
Linemen. Mike Brumbelow '29, Derrell Palmer '43, Clyde Flowers '45, Hugh Pitts '56, Norm Hamilton '57, Don Floyd '59. Only through dogged research have I been able to uncover that Brumbelow, a rugged guard on the unbeaten team of 1929, became TCU's second All-America -- after Rags Matthews -- when the New York Journal-American made him a first-team selection. No mysteries regarding the others. Each one an All-America. Palmer in '42, Flowers in '44, Pitts in '55, Hamilton in '56, and Floyd in '58-'59 were named to major selections.
Backs. Lindy Berry '50, Cy Leland'33, Jimmy Lawrence '36, Tony Jeffery '86, Jack Spikes '60, Andre Davis '94. Berry and Lawrence were two of TCU's greatest all-around backs. The Wichita Falls product led the nation in punt returns as a sophomore in '47, then as a passing-running tailback out of the old spread formation in '49 he made All-America. Jimmy Lawrence, who came from Harlingen, was all-conference three seasons, and as a senior halfback in '35 his slashing runs, pass catching and defensive play made him a co-star on the national champions with Sam Baugh and Darrell Lester.
I hope Jack Spikes is still a familiar name to most Frogs. He All-America fullbacked on the same teams with those tackles, Lilly and Floyd.
The names of Tony Jeffery and Andre Davis will be more familiar to Boomer Babes and Gen X's of the Purple ilk. When Jeffery gained 343 yards against Tulane in '86 and Andre scooted for 325 yards against New Mexico in '94, they helped the Frogs join an elusive society. TCU now is one of only six schools in all of major college football history that has produced two different ball carriers who gained more than 300 yards in a game. Just six.
I like that stat. It took only two shovels and a pitchfork to find it.
Cy Leland, the "Lubbock Jackrabbit," deserves special attention. As he helped lead the Frogs to a 9-0-1 record and their first Southwest Conference title in '29, then made the all-America team that was chosen by the Boston Record in 1930, he was considered "the fastest man in America in a football suit." That wasn't just because his 7.2 yards per carry in '29 was the best in the nation. It was because he did such things in the spring as go off to places like the Kansas Relays and Drake Relays and win the 100-yard and 220-yard dashes in near-world record times.
Folklore has it that Cy would have made the USA's 400-meter relay team at the '32 Los Angeles Olympics if he hadn't chosen to put on long pants and become a radio sportscaster.
You may now ask about the schedule this team is going to play.
I have it worked out here on a napkin. We open with wins over two WAC teams, SMU and Rice. We then knock off Texas A&M, Baylor, and Texas from the Big 12-13-14. Moving right along, we trample four teams from Conference Fed Ex, who happen to be Tulane, Houston, Southern Mississippi and Army. Finally, we romp over Colorado and BYU from the Pac-12, which used to be the Pac 10 before Colorado left the Big 12 and BYU left the WAC. That gives us a record of 11-0 and puts us in the Rose Bowl for the national championship game against Notre Dame, now in the Big 10, which is still called the Big 10 even though it has 12 teams.
This is how the computer has it in the Supernatural Bowl Alliance.
Now, can I get a clean ashtray over here, please?
Dan Jenkins was a Sports Illustrated writer for 25 years and continues to work as a novelist. Aside from his latest work, Rude Behavior, Dan has numerous other credits, including Semi Tough and Baja Oklahoma. He and his wife, "the lovely June" Burrage Jenkins '51, live in Ponte Vedra Beach, Fla., but make regular runs to Fort Worth to see the Frogs.

Top