Articles: Clinton's class | Meandering | That old time religion | "Dr. Lorenzo" | Ross . . . Robyn Ross

Message in a bottle
Water, water, everywhere, and lots of it to drink. The trick for 16 graphic design students from TCU and Mexico was making sure the agua was packaged to sell on both sides of the border.
By David Van Meter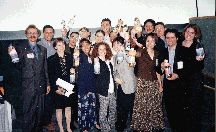 Adios, Evian.
Prepare for competition, Perrier.
Indeed, you might one day see Frio brand water on the shelves, the one that appears to have fruit floating in the bottle.
Or maybe it will be Fizzé, aimed toward women on the go and in a easy-to-hold container.
For the well-heeled older crowd, pizzÁzz could be the agua em botellada of choice, rich-looking, hip, and good enough to be seen on the table next to any bottle of wine.
Or, for the next generation, briza could be the next beverage, colored according to its fruit flavor, with just a touch of sugar to compete with its cola counterparts. The four brands were part of a four-day partnership between graphic design students from TCU and the Universidad de las Americas.
Their task -- the third such time that UDLA and TCU students have combined their talents -- was to build a better brand of bottled water for Marketing Management Inc., a Fort Worth firm that develops private label packaging for supermarkets and others. "All we have is a raw material, in this case, water," said Stuart Simpson, creative director for the company. "It's not a product until creative minds determine how it will be packaged, where it will be sold, who it will be sold to; it's designing your audience as much as designing a package."
Students divided into four design teams. Each began on a Monday, roaming supermarket aisles to surmise existing product strengths and weaknesses (ever notice that Evian spelled backward is naive?). That would be their first 18-hour workday. Three more and the students, running on "adrenaline and fumes," presented their bottled water prototypes.
"They were told they would get to spend 24 hours a day skipping their other classes, which sounded pretty good to them at first," said Graphic Design Prof. Lewis Glaser, who along with UDLA professor Maria Gonzales de Cosio oversaw the collaboration. "What they really got out of this was a chance to experience an international culture in a very realistic professional atmosphere. The result is a better understanding of the similarities, better citizens of the world community and, of course, better design."
Students had their own watered-down perspective.
"To me, it wasn't so much as two Mexicans and two Americans working together; it was four designers with four very strong creative ideas," said Lucinda Yang, one of the briza team members. William Galvin, working with her, agrees. "In our TCU classes, the way we usually handle design is as a solo effort. This is how it really works," he said. "We're not always going to get to use our ideas. We have to compromise, and when you do, you end up with this. We were studying under an illusion. This is a more realistic depiction of what life is like beyond school."
And between borders.
It has been a very good experience I think," said Gonzales de Cosio. "The Mexican students didn't know many English words when they came, and the TCU students didn't know many Spanish words. Now both groups have learned more words. . . and I think they've also made more friends."
The students would probably drink (bottled water, of course) to that.
Top