Articles: Take six | Littleton lessons | Caring 101 |
Looking for a few good women

Croaking frogs
Across the globe, frogs are dying or showing up with deformities. And as canaries in coal mines once warned miners of danger, frogs may be delivering a message to humans.
By David Van Meter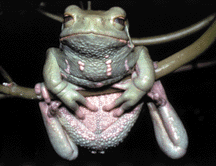 AND THE NEWS is not good, said Biology Prof. Gary Ferguson. "The problem is the overall degradation of natural systems," he said. "The real sensitive stages with frogs are the larvae stage and the tadpole stage; they become great indicators of what's happening with aquatic systems. The adults aren't growing up and dying off, they're just not growing up and reproducing."

In a February report to Congress, Interior Secretary Bruce Babbitt said up to one third of the 230 native species of frogs, toads and salamanders in the United States are declining in all or significant parts of their ranges. His department is seeking a budget of $9.1 million -- up from $1 million in 1998 -- to study the decline.

Ferguson, who will meet with some 1,000 herpetologists and icthyologists this summer to discuss the issue, cites several causes but stresses that nothing is certain: deforestation, introduction of other frog species, urban pollution contaminating watersheds. Researchers in Nature in April associated the disappearance of 20 frog species in Costa Rica with global warming and the aftermath of El Niņo.

"Caution needs to be exercised not to document the disappearance too quickly because there are natural fluctuations in all animal populations," Ferguson said. "Monitoring has got to be very long-term."

The TCU biologist does suspect that frogs, like horned lizards 20 years ago, are struggling. But even with TCU's mascot, why its population has dwindled remains uncertain. A common theme is that pesticides killed red ants, the lizard's food source.

"But what about where there hasn't been any great change in agriculture?" he asked. "The lizard used to be there and now isn't."

A federal frog task force called Frog Force (www.frogweb.gov) and led by Captain Ribbit is enlisting volunteers to gather information about frogs in your area.

Top