Related Articles: Higher Cost Education | The old college try

The old college try

Attending TCU is like most other things in life. Where there's a will, there's a way.
By David Van Meter



Matt Hood '91
HEY, MATT! How are you? Even though it was the green freshman's first day as a work-study student in the Office of Admissions, Matt Hood '91 knew the enthusiastic greeting from the attractive female junior had strings attached.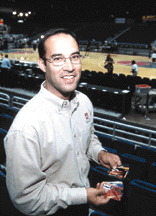 Turns out they were boxes, a closetful, each marked with the letters MAT, an acronym for the campus tours called Monday at TCU.
"She told me we would add a T and the boxes would be mine, and I would help her run the program," Hood recalled.
The rest of that story comes later, but that first work-study position marked only the beginning of Hood's efforts to pay for college.
On paper, Hood came to TCU from a two-income household, but the truth was closer to an impending divorce and only one dependable income. Worse, to receive a more attractive independent student aid package, Hood had to document at least two years of full-time employment; he had only worked one, as a full-time delicatessen night manager during his last year of high school. "I don't want to paint a Horatio Alger story, but it was pretty tough," Hood said.
His mother, Glenda Hoye, agrees. "When Matt was accepted to TCU, it was both exciting and traumatic. It was where he always wanted to go, but I knew how limited our funds were," said Hoye, now the program director of histotechnology at Indiana University. "There were times when there was no money left on his meal card, and he didn't tell me about it because he knew I couldn't do anything about it." Instead, Hood simply started working. And working. And working.
-- In line with his advertising/public relations major, Hood worked as a sales representative for the TCU Daily Skiff and later as its ad manager.
-- For two summers, he sold ads in Houston for campus telephone directories. With no place to stay, he bartered with area hotels, trading ad space for a good night's sleep. Restaurants fed him for similar deals. ("That was a really tough job, Matt said.)
-- He worked as a resident assistant for two years in Milton-Daniel Residence Hall, which paid his room costs during his middle years at TCU.
-- He also earned a small wage as student body president his senior year. Incidentally, Hood was also named the outstanding student in student government as a freshman and the distinguished student of the year by the Alumni Association as a senior. Finally, after an unpaid internship with a local ad firm his senior year, Hood performed freelance work for BizMart, which offered him a full-time job in November, even before his May graduation.
Hood's last semester at TCU, he earned 15 hours and worked 40-plus hour weeks. But when her son graduated, Hoye said, he had fewer loans to pay back than his younger sister will when she graduates from the University of Texas this year.
"Plus, I always felt that TCU was behind Matt financially," Hoye said. "I was always dealing with people rather than an office. It was like a safety net. I knew they would work with us, and I knew that Matt would never have to drop out because of finances."
Oh -- and remember Hood's first job? The boxes? The pretty junior?


1990-91 est. for Matt Hood
Total Cost $14,000
Beasley Foundation Grant
(for Disciples students) $2,900
Tuition Equalization Grant     (state) $1,800
Newby Loan $ 740
Work-Study $ 639
Perkins Loan (federal) $ 500
Dean's Scholarship $2,000
Other $ 200
Subtotal $8,779

Balance $5,221
Turns out, she was Dawn Prillaman '89, and the two married in 1991. Hood also worked with a fellow freshman, Todd Blouin '91, who was in the Hoods' wedding and remains a best friend today.
"It was a very special time for me," he said. "Working in the Admissions office, stuffing envelopes for four hours, getting paper cuts, and talking about your life, you develop some really great friendships."
And pay for college, too.

Miroslava Donevska
A slice of Bulgarian cheese.

A walk through the parks of Bulgaria's capital city, Sofia, with her Pekingese puppy, Rony.

It's the little things that Miroslava Donevska misses since coming to TCU from her homeland last year, which adds up to everything she once knew.

"Bulgaria has been under communist rule for almost 50 years," said the psychology and French junior, explaining why she came to TCU. "The university there doesn't offer many choices of study, and the economy is so poor you can't get a job anyway." Donevska's father is a math professor, her mother an English professor. Their combined wages pay the family's rent, so both moonlight to buy things like fresh vegetables, a luxury.

Donevska followed her sister Teddi '95, who graduated with honors and is now earning her graduate degree in mathematics from Oklahoma State. Mathematics Prof. Robert Doran enabled both to come, identifying loans for both and opening up his home for free room and board.

Yet, Donevska still works two TCU jobs, at the post office and the library, 20 hours a week; her sister is getting married this fall, and Donevska is earning enough money for her parents to fly to the States.

"I miss my parents so very much, even though Dr. Doran and his family have been very nice to me. I can help them with airline tickets now, and eventually they want to move to America.

"I guess my education is more about them than about me right now. I just hope I'm doing the right thing."



1999-2000 cost for Miroslava Donevska

Total Cost $15,000 (off-campus)
Pell Grant $ 3,125
Tuition Equalization Grant $ 3,380
Perkins Loan $ 1,500
Dallas Woman's Club Scholarship $ 1,500
Stafford Loan $ 3,500
TCU Grant $ 1,400
Fed. Supp. Ed. Op. Grant $ 300
Subtotal $14,705

Balance $ 295

Natascha Terc
IF THE YEAR is 1995, how long would it take to purchase a 1991 Nissan Stanza if you were 16 years old and earning $4.75 as a restaurant hostess in Bedford? Natascha Terc's strong suit isn't math, but that word problem was her reality. (The answer for her, by the way, was two years.)

Terc's father, a retired nuclear physicist, and her mother, who babysits out of her home, divorced when Terc was in the fifth grade. The middle child and only girl, Terc emerged from high school with an 1100 SAT score, but with little money for college. Living with her mother, Terc's knees buckled when she first figured the cost of attending TCU.

Now, two years later and a journalism junior, Terc is still driving the Stanza. She works a 7-to-4 shift at a dentist's office during the summer, part-time this fall as she takes 15 hours.

And after she graduates from TCU, she will have some $16,000 in student loans to repay. Terc doesn't pause long enough to let the amount sink into the conversation, or into her life.

"I'm going to have a degree from TCU when it's all over," she said. "And I've been given a lot of money -- much more than I've paid.

"Plus, we all have to do certain things in our lives. If I didn't do this for me, no one else would."



1999-2000 cost for Natascha Terc
Total Cost $18,500
Charitable room and board $4,000
Dean's Scholarship $5,000
International Student   Grant $ 3,000
Int'l Student Award $ 2,700
Other grants $ 1,500
Fees $ 1,240
Books $ 700
Subtotal $18,140

Balance $ 360





Top