Tragic lessons
Learning from Wedgwood
by David Becker '73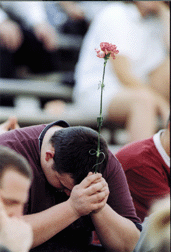 God works in mysterious ways . . .
On Sept. 14, Rabbi Harold Kushner lectured a joint Christian/Jewish audience about handling grief and sorrow. He pointed out that there are five gifts of religious commitment which all people of faith share:
The plague of loneliness.
Belief in one God.
Reverence.
Practical forgiveness.
A cure for the fear of death.

Reaching out. People from all faiths showed up in force at the city-wide memorial service held in honor of the seven who were slain at Wedgwood Baptist Church. Right, Nicholas Syesta of White Settlement. Mayor Kenneth Barr '64 told the crowd that Fort Worth is "still a good city and still a safe city"; and students from Columbine High School also spoke words of sympathy.
The next day, Fort Worth resident Larry Ashbrook entered the sanctuary of Wedgwood Baptist Church and opened fire on a youth rally, killing seven and injuring seven before turning the gun on himself.
The plague of loneliness. Isolation, it seems, comes into every human life. Having lost his parents and living alone at the time of the killings, Larry Ashbrook was an individual of many failures and frustrations. In his despair he saw no hope for the future. Dr. Andrew Lester, a professor of pastoral psychology at Brite Divinity School, says that every human must have a future story and something to look forward to in life. Ashbrook apparently anticipated nothing in his future. Faith in God and connecting with a religious community, Kushner said, "can cure loneliness."
Belief in one God. Kushner told his TCU audience that they should "affirm life" and praise God as a part of their everyday existence. He said God gives human beings "the strength and perseverance to overcome" calamity in life. After the shooting, the Fort Worth community quickly focused on prayer for the victims and thanksgiving for the community itself. On the Sunday following the shooting, 15,000 people came to TCU's Amon Carter Stadium -- to pray, to show support for the victims and to give thanks for God's blessings on the community. Rabbis, ministers, Roman Catholic priests and the Imam from the Tarrant County Islamic Association prayed together for the unity and restoration in Fort Worth. It was an amazing sight.
Reverence. I was one of the worshipers who attended Wedgwood Baptist that first Sunday service following the tragedy that had occurred in that same sanctuary. It was an upbeat and joyous place amid much sorrow. Church members call themselves "Wedgies" and showed resilience under all the media scrutiny. The pews were not full, but praises to God were loud and enthusiastic. Packets of tissue sat every two feet on the pews. The people of Wedgwood reclaimed their church, sang songs of praise and heard words of reconciliation and healing. Kushner had told his TCU audience, "Sophisticated people of the twentieth century have forgotten the comfort that can come from a religious faith."
One of the most heartfelt moments for me occurred when the parents of Kristi Beckel came forward to join as members of the Wedgwood congregation. Kristi had planned to join on Sunday morning, too. The witness of Mr. and Mrs. Beckel said very clearly that some healing had begun. Kushner says that "only with time and distance can we see the tragedy in the context of a whole life and a whole world."
Practical forgiveness. In seeking to forgive such senseless acts, Christians rely on God's word. The pain remains but the Bible reminds the believer that the road of grieving and forgiveness has been traveled before and they are not alone.
Kushner says in his book that we first need to forgive God for not stopping tragedy. "God does not cause our misfortunes. Some are caused by bad luck; some are caused by bad people; some are simply an inevitable consequence of being human and being mortal, living in a world of inflexible natural laws."
Considering what people of faith believe about God, no one will forget the events at Wedgwood Baptist Church, but we can be stewards of forgiveness.
A cure for the fear of death. Affirming life is the best cure for the fear of death. Kushner says that God's power is in "summoning friends and neighbors to ease the burden and fill the emptiness . . . God gives us the strength and perseverance to overcome [calamity.]" Indeed, the citizens of Fort Worth have seen other tragedies this year. Last spring when three firefighters were killed while battling a blaze outside city limits, officials denied the families full death benefits. What did the citizens of Fort Worth do? They raised the money to provide abundantly for the families left behind -- a lasting salve for death's sting.
Kushner's visit to Fort Worth on the eve of one of its saddest days is a coincidence; his visit was planned for many months to benefit the Brite Divinity School's Jewish Studies program.
Still, God does work in mysterious ways. And His healing has begun.
David A. Becker '73 is a writer and seminary student at Brite Divinity School. You may write to him at evadgorf@aol.com.

Tragic lessons, continued
"You all should be very proud of a great newspaper today," said Fort Worth Star-Telegram columnist Bud Kennedy. "That was a well-written straight news story with a better lead than ours. Phenomenal."
By Jeff Meddaugh '99
All that remained was ruin: shards of glass, bullets and bombs; broken human forms without life and breath; fragments of faith, hope and belief.
When I first heard about the shooting at Wedgwood Baptist, just a few miles from the TCU campus, I was stunned. As a student journalist and the editor-in-chief of the TCU Daily Skiff, I was also moved to action.
Were we going to cover it?
Were any TCU students involved?
Did it affect our readers?
I don't think any amount of preparation in the classroom could have readied the staff -- from editors to reporters to photographers -- to answer ethical questions that were as important as our coverage: Would our stories be presented tastefully without needlessly dragging out the details of an already horrific situation?
What was our stance on reporting the stories of those who were grieving or dead?
What was our duty to readers?
Could we accurately portray the drama of the event?
Could our coverage be perceived as sensational?
What ethical decisions would I have to make?
What would come together -- seamlessly, we hoped -- as that Thursday issue began in a scurry of Skiffers at a college newspaper with little experience in this area?
Over three days, we carried stories on various angles of the Wedgwood shootings -- police investigations, community and campus reactions and memorials. Each day my intention was for reporters and editors to collect pertinent information that would move the reader to grieve, wonder or draw their own conclusions about the tragedy.
Journalism is as much about reporting the news as it is about people. In the news- gathering process, numerous Skiff reporters talked to police, friends of the victims, students and other relevant sources.
Telling the story through photographs was touch-and-go. Capturing grieving persons on film can easily prompt criticism that journalism is intrusive, opportunistic and unfeeling. If someone didn't want his or her picture taken, the request was honored.
And if that request was made even after a picture was snapped, it was also given the same consideration. In fact, after I was told that a woman in a photo that was chosen for the front page had said she didn't want her image in the newspaper, I immediately pulled the photo.
When such an event threatens the idea of universal values -- independence, family togetherness, caring for others and the pursuit of happiness, among others -- a community can't help but be thrown into shock and outrage.
Three months later, we continue to learn about and examine how the Wedgwood tragedy has affected this community.
As a human, I can only pray that it won't happen again. As a journalist, I can only hope I always remember to embrace that sense of humanity.
Skiff Editor in Chief Jeff Meddaugh is a journalism senior from Broomfield, Colo.

A whole new Neeley
From E-Business to an Entrepreneurship Center to a new Finance Center, TCU is changing the way it conducts business education
BUILDING a solid business used to revolve around bricks and mortar.
Now, says Management Prof. Jane Mackay, it succeeds or fails based on "clicks" and mortar. That metaphor in mind, TCU will "download" a one-of-a-kind E-Business program this spring.
The e-commerce initiative will provide a distinct market niche for the 80 undergraduates who will enroll in the program this spring, said Mackay, the program's director, giving them the traditional tools of business but also the "technical backbone" to put their education to work on the Web.
"Nobody else in North Texas is doing this; our students will have the technical background to do anything on the Web," she said. "They're going to have 27 hours that is directly applicable to technology on the Web.
"If you think about purchasing an airline ticket or making a banking transaction without a computer, it's almost impossible now. This is not a fad; business will never be the same. And there is no business environment that will survive without being web-based at some point."
And the E-Business program is just the beginning of a new business plan for TCU's biz school, Interim Dean Bill Moncrief said, citing the formation of new entrepreneurship and finance centers, as well as four new executive MBA courses.
"I am deeply excited about the Neeley School's future," he said. "We are a school with huge potential and the desire to meet and even exceed our dreams."
Indeed, in addition to E-Business, the Neeley School has launched an Entrepreneurship Center, led by David Minor '80, who turned a one-lawnmower operation in high school into an INC 500 company 15 years later.
"An entrepreneur is someone who's willing to take a risk, someone who wants to create something from nothing," said Minor, who assumed his new position in November. "It's not easy to go out and hang your shingle and go to it. At the Entrepreneurship Center, we plan to combine the talents of the faculty we have and those we're going to bring in with the talent of practicioners, so there will be a strong balance between ideas on finance, marketing and e-commerce and the real-life experience of running a business."
The Neeley School's Finance Center will build upon the strength of its nationally respected Educational Investment Fund; the new program may mark the start of a unique investment management undergraduate degree.
Bell-Helicopter Vice President Sandi Walker counts herself among those who approve of the Neeley School's new business plan.
"I applaud the actions of TCUŠ introducing new curricula that address key business drivers such as e-commerce," she said. "The whole pace of change is forcing industry to rethink how we do things and get creative where there are no rules. If we don't, we will not survive. I think the same may well apply to the universities of the future. If they have to wait until everything is settled, they will be woefully behind and out of step with the rest of the world."
Mackay agrees.
"We joke around here that it's a new day at TCU, but I think that's really how a lot of us feel," she said. "We are a good school of business, no question about it. But now we have the drive to get into the top 50 in the country."

| | |
| --- | --- |
| Hanging out a new shingle. As the director of the Neeley School's Entrepreneurship Center, David Minor '80 hopes to show would-be entrepreneurs the art of the deal. Minor cut his first business contract as a landscaper, which would make him a millionaire 15 years later, with his grandmother. "It was her lawn mower, and she said I could mow anyone's lawn as long as I mowed hers for free." David and his wife Terri live in Fort Worth and have two sons, David and Matthew. | |

Frog food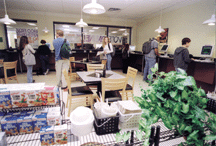 Top foods at today's Main...
1) French fries
2) Salad (make your own from salad bar)
3) Display cooking
4) Vegetable of the day
5) Chicken strips
6) Bulk candy (at Staples store)
7) Bagels
8) Biscuits and gravy
9) Individual cereal box
10) Grilled chicken sandwich
11) Hamburgers
Students want it their way. One-choice lunches of the past have been replaced by a smorgasboard of selections at TCU, including a cyber cafe, complete with Internet accessed computers (above), for those just passing through. Made-to-order meals cooked in front of the customer seems to be a national trend and explains why "display cooking" ranked number three, said Dining Services General Manager David Ripple. With a different menu every day -- Oriental or Mexican food bars, ribs or brisket and the trimmings, sizzling salads topped with hot meats and cajun or creole fare -- cooks prepare entrees in individual servings while students watch. In addition, omelets sell like, uh, hotcakes, on the weekends.

One small step...

Engineering students team up with NASA to take their education up, up and away. Students come to TCU in search of higher education, but three engineering seniors took that notion to extremes this past summer.

Students Ryan Coles, Roberto Hernandez and Isaac Varner were one of only 32 undergraduate teams who conducted zero-gravity experiments this past summer as part of NASA's 1999 Reduced Gravity Student Flight Opportunities Program.

To achieve "weightlessness" while still in the Earth's atmosphere, NASA flies a KC-135 aircraft through 40 parabolas -- quickly climbing to 33,000 feet and then diving to 24,000. Students have 25 seconds of zero-gravity at the top of the maneuver to conduct experiments, and 25 seconds of double-gravity at the bottom to reset their instruments. (The aircraft has also been used for motion pictures such as Apollo 13.)

The TCU threesome traveled to Lyndon B. Johnson Space Center in early August for two weeks of physicals and motion-sickness training before boarding the two-hour roller coaster-like flight over the Gulf of Mexico. The team's experiment aimed to verify the viscosity (or thickness) of a known liquid, in this case glycerol. A zero-gravity environment allows viscosity to be tested without using containers for the liquid, which would hamper the outcome. The students assembled a structure that emitted two opposing drops of the liquid and then incrementally inched the two together. A high-speed digital camera recorded how long the two drops took to merge into one.

"I think it gave us a finer appreciation for what NASA is doing," Coles said. "We had to make sure that we could do everything without gravity."At one point, the experiment's motor that moved the drops together seized and was repaired by the students as they fought intermittent battles between the forces of gravity and weightlessness.

"Getting to experience weightlessness is something that very few people get a chance to do,"said Engineering Prof. Andre Mazzoleni, the team's faculty advisor, half-lamenting that faculty were not allowed on board. "Also, it was a chance to participate in a research project from start to finish. The students wrote the proposal, designed and executed the experiment, and now they're analyzing the data and will present it at a technical conference. This was just a really neat thing for them to do."

When good speakers happen to good people

Rabbi Harold Kushner tells two packed TCU crowds to take fewer guilt trips

Christian clergy were the first to pick up Rabbi Harold Kushner's When Bad Things Happen to Good People for their congregants, making it a best seller in 1991.

That's when Kushner realized his message had relevance not only for Jews, but for Christians as well. "At a certain level of human experience we transcend all those denominational levels," Kushner said.

Kushner's address illustrated what the year-old Jewish Studies Program at TCU is all about, said Brite Divinity Dean Leo Perdue.

"Jewish Studies will help students recognize the contributions the Jewish faith and scholarship has made historically, but also the diversity and contributions that the living, breathing Jewish culture is making today," Perdue said.

Kushner told a packed Ed Landreth Auditorium that his most recent book, How Good Do We Have To Be, is about guilt. After noting that even though all religions help people feel good, when done wrong, religion can make people feel guilty and unworthy. Kushner said his crusade is to advocate a second kind of religion, "To tell people you're good, you're clean, you're worthwhile.

"The lesson we ought to take from reading the Scriptures is that we can be a really wonderful person without being a perfect one. You can make some mistakes but still be one of the people that shapes the world for the better.

"This sense of our inadequacy, that we can't measure up, drains all the pleasure and all the joy and all the hope from our lives."

The Jewish Studies Program has four components:
-- the Roslyn and Manny Rosenthal Chair for Judaic Studies (a search for a scholar to fill the seat has begun),
-- the Gates of Chai Lectureship in Contemporary Judaism,
-- the Jack B. Friedman Judaic Library in Honor of Barbara Friedman Rakoover,
-- and a planned visiting scholars program.

Perdue said that since Brite is an ecumenical and interfaith seminary, studies of all faiths -- and visits by scholars like Kushner -- are an integral part of the education of the students. "We come to learn from each other," he said, "rather than think we have all the answers."

Assault 101

When Eileen invited Jorge to her room that October evening, she only knew she didn't want the wonderful evening to end. She thought she knew this guy. She thought she was safe. She didn't know that he would not listen when she said no.

Jorge raped Eileen that night in Foster Hall's lounge. With about 60 wide-eyed people watching.

Jorge Castaneda and Eileen Trilli are two of the five members of TCU's new Assault Prevention Theatre -- which combines the talents of theatre students and the educational goals of campus police.

"I thought the theatre students could just do it better than I could standing there talking about rape and dating violence," Crime Prevention Sgt. Connie Villela said. "It is much harder to turn off when someone is acting these things out right in front of you."

The four students in the troupe who perform the 15-minute vignettes were trained by rape crisis counselors at the Women's Center in Fort Worth. When the performance is over, they answer questions from the audience, still in character, Villela said.

The scripts were written by the students with help from Villela, who knows the scenarios from working in law enforcement and as a rape counselor for 10 years. The troupe plans to offer their educational skits to local high schools as well as perform around campus.

Freshman Lindsey Leigh Rich said watching the graphic scene "ripped my heart out. "I know people who have been raped," she said. "But this kind of thing is really good because it lets those girls know there are others who have gone through this and that there are places to get help."

Two for the records

A home movie housed in the Mary Couts Burnett Library and filmed in Fort Worth on the day of John F. Kennedy's assassination made a big media splash in October when Librarian Glenda Stevens asked the press for help finding the filmmaker. The University has had the film, depicting the Kennedys at a breakfast event, for 10 years, but until now it has not been available for public use because of copyright laws. The media blitz worked; the film was taken by a now-deceased Fort Worth businessman who gave a copy to then-Congressman Jim Wright, who donated his congressional papers to the library. The library is also the home of the Marguerite Oswald Collection, which is a collection of books and information surrounding the Kennedy assassination gathered by Lee Harvey Oswald's mother. Additionally, TCU is the new permanent home of the Amon G. Carter papers, which contain almost 150 linear feet of personal records, scrapbooks, photos, clippings and memorabilia belonging to the late Star-Telegram publisher and philanthropist. Archival assistant Joseph Helmick (above left), who will be working closely with the collection, "tries on" one of the treasures, boots belonging to Will Rogers, a close friend of Carter.

A real art exhibit.

Three of the four artists selected by the Arts Council of Fort Worth to create public sculptures in open-air studios at the Botanic Garden during the summer had TCU connections. The two-month symposium featured Cameron Schoepp '87, now teaching sculpture at the University of Dallas; Chris Powell, art studio coordinator and sculpture instructor at TCU, and Alice Bateman, who is teaching 3D design here. Their summer works of limestone were installed at various Fort Worth locations: Shoepp's in General Worth Square downtown, Powell's at Capps Park and Bateman's at Titus Paulsel Park. All the artists used power tools, like Powell above, to speed the process, but it made for a dusty two months.