Capturing Budapest

Twenty students participated in the summer's latest TCU in Hungary program, eleven of them photographers. Their task? To define a city on film.
By David Van Meter



SHE'S SO VERY OLD, this Budapest. Separated by a gentle bend in the Danube River,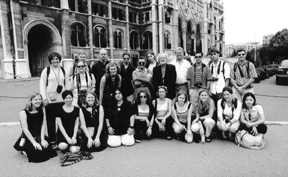 Buda and Pest have for 1,100 years been the focus of foreign aggression and Hungary's national resistance. Burned to the ground in 1241 by the Mongols. Conquered by the Turks in 1541. By the Hapsburgs in 1686. On the losing side of both world wars. It's no wonder the country's national anthem describes its citizens as "people torn by fate."

The TCU in Hungary contingent. Twenty students -- 16 from TCU, three from the University of North Texas, one from Austin Community College -- made the trip this summer, studying political science, drawing and photography. Leading them were "the three amigos" -- Political Science Prof. Manochehr Dorraj, Music Prof. Tamas Ungar and Art Chair Ron Watson -- and UNT photography instructor Patricia Richards. From left to right, in front: Mandi Kreimborg, Naoko Watanabe, Karry Johnson, Elizabeth Rivera, Dotty Zamora, Heather Callanan, Jessica Richards, Ashley Evans, Molly White and Tomoko Terazawa. In back: Katherine Neumon, Matthew Wallace, Jenice Murray, Derek Richards, Corrie McGovern, Greg Bahr, Dorraj, Dustin Corgan, Watson, Ungar, Chris Devero, Marcel Maitland and Steve Packard.

But Budapest was never really defeated. She was a center of the Renaissance. She made the initial stand against Stalin. The Iron Curtain that separated East from West for 50 years was first dismantled on her frontiers. Some muse that she couldn't be beat because no one could understand her language. The Nobel Prize-winning Italian physicist Enrico Fermi, speaking to a crowd one day, was asked if he believed in extraterrestrial beings. Fermi answered, "They are already here among us -- and they are called Hungarians."

| | |
| --- | --- |
| | Child's play. While amazing architecture and age-old statues downtown beckoned UNT student Matt Wallace, he couldn't help but notice that for any child nothing beats a good flock of pigeons. |

Today, Hungary's arms open the door to Eastern Europe. It is bordered by trouble on all sides, Slovakia, Romania and Yugoslavia. Yet, Budapest prospers, a Paris surrounded by the world's problems.



| | |
| --- | --- |
| Daydreaming. The sunbather at the Széchenyi Baths, above, was too concerned with the sun's rays to worry about his immodest pose, fine arts senior Molly White discovered. "Hungarians are a very open people, much less reserved than Americans in many ways. The entire trip made me realize that there are so many ways to look at life." | |

It is in this setting that 20 students and four faculty members set foot this summer -- the fifth anniversary of TCU's academic relationship with the country.
| | |
| --- | --- |
| "It is not a tour or joyride; there are a lot of materials to cover and many things to see couched in something beautiful," Music Prof. Tamas Ungar said. "We want them to remember what happened in 1066, that would be nice, but those sorts of things will be forgotten. What will be left is an overall impression of a country, of its history, of its people." | |

The blood of Christ. Radio-TV-film senior Chris Devero didn't want to take the usual European trip to London or Paris, so he settled for Hungary. Yet, even he was amazed, at right, to find a winery in the basement of a Budapest church.

Political Science Prof. Mano- chehr Dorraj agrees. "Students come back here not only to have a better understanding of the world, they become more aware of their American-ness.



| | |
| --- | --- |
| Neighborhood church. Radio-TV-film senior Steve Packard was on his way to the Budapest subway when he saw the church, top left, on a side street. "People were either paying no attention to it or actually admiring the architecture. It was like that everywhere; the more I saw, the more history I learned -- what they had gone through -- it just lit me up inside." | |

"Hungary is steeped in history and culture. Their past is, their present is, their art and architecture is. We don't have the burden of the past to carry on our shoulders. And that has been the key to our success. Many other countries not only have to explain and justify change but also couch it in a language that is sanctioned by the past."

| | |
| --- | --- |
| | Untitled. UNT student Dustin Corgan wasn't sure if they were homeless or just passing the time, but the two men in Moscow Square, left, talked for hours as if Corgan wasn't there taking their picture. "When I used to think of Eastern Europe, I thought of barbed wire and dogs. It's not that way at all. Budapest is a very modern city, and they take time to talk and enjoy life. They don't rush to work or to school or to anything." |

| | |
| --- | --- |
| Fountain of youth. Ashley Evans '99, who now works with Young Life, arrived in Budapest 10 days before her summer class began, and on one of those days she wandered up the Var (which means castle). "The fountain (at left) there wasn't even running; the girl just was standing there, looking at the sculpture of kids. I only got one picture and then she moved away." | |

| | |
| --- | --- |
| | Change. With the latest graffiti in the foreground, it was the timeless unity of downtown Budapest that UNT student Jenice Murray noticed, above. "Every building was so tall and they all touched and just seemed to flow into one another." |

| | |
| --- | --- |
| The underground. Sophomore Marcel Maitland found more than trains in the Budapest subway, above. "They were ignoring us, kids just doing their own thing. You could tell they didn't come from a very wealthy background, and this was how they spent their time. Coming from Plano, I had never seen anything like it." | |

| | |
| --- | --- |
| | Brought to you by Pepsi. Derek Richards, a student at Austin Community College, let his camera muse on the juxtaposition of the centuries-old Vajdahunyad Castle with modern-day advertisements, top left, just one of many lessons he learned. "I had no idea, for one thing, that chess was their national pasttime. By the end of the trip, all the guys had purchased chessboards and we played each other all the time, as well as some Hungarians even though we couldn't communicate with each other." |

| | |
| --- | --- |
| Under communism. The day was gray and soupy when graphic design junior Greg Bahr, in this self-portrait, came upon Statue Park, a collection of Communism-inspired statues gathered into one place by city leaders once the Iron Curtain came down. "I found it very interesting that even though they got rid of all the sculptures, they gathered them up and made a park out of them," Bahr said. "It's important to their culture, heritage and history and they realize it." | |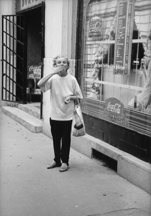 Mug shot. "I took a picture of her and she walked over and gave me a kiss, and then she walked away and blew me a kiss," said English senior Corrie McGovern of the downtown Budapest woman, above. "Then she gave me a Hungarian cigarette and told me to smoke it on a special occasion."






Top