Alumni Profiles

A rich man | Master key | A school of their own




A rich man
Melvin O. Dacus '44 -- the father of musical theatre in Fort Worth -- passes away at 76
By David Van Meter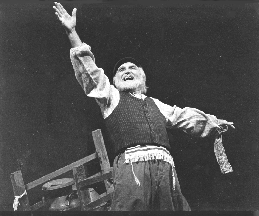 IN HIS five-decade actor-singer-producer career, Mel Dacus '44 played the role of Tevye in Fiddler on the Roof an amazing 521 timesŠ
If I were a rich man, the poor Jewish farmer living in turn-of-the-century Russia sings, Ya ha deedle deedle bubba bubba deedle deedle dum. All day long I'd biddy biddy bum.
And in hindsight, Dacus -- who died at age 76 on Oct. 6 -- stayed too busy to biddy biddy bum, but in terms of deeds he died a rich man indeed.
The youngest of six brothers and sisters, Dacus was born in Fort Worth in 1923 (family members recall that his parents initially thought Mel was a tumor rather than a pregnancy since his mother was past childbearing age at the time). His father, J. A. Dacus, was both a business manager and professor for TCU during its days in Waco and its first years. Mel grew up in Fort Worth mowing the campus lawns and in the 1950s helped to plant the live oaks that now line the campus.
Dacus graduated with a degree in voice in 1944, singing with the Fort Worth Opera in 1946. Service as a marine captain during World War II (he was present the day the second American flag was raised at Iwo Jima) and the Korean War interrupted his theater career -- as did a brief stint on Wall Street as a broker. He studied at the American Theatre Wing in New York, where he met his wife of 50 years, Katy, a Juilliard graduate. The two returned to Texas in 1953 and never left.
Dacus cofounded Casa Maņana Musicals, where he was producer and general manager from 1958-1975, not only resurrecting performances there but also creating the geodesic dome standing today. Over the years before and since Casa, he and Katy appeared side by side in The Sound of Music (he played the role of Baron Von Trapp more than 350 times) and Fiddler (she played Tevye's wife, Golde). The pair played husband and wife again in a 1985 Fort Worth Theatre production of On Golden Pond.
Dacus leaves behind Katy and three grown children, all married. Kim Dacus Reynolds is a nurse and gave her father three grandchildren, Phoebe Strole, Annie Strole and Zachary Reynolds. Mindy Dacus Fabiano is a free-lance writer-director-producer in Los Angeles, and her credits include producing the annual Writers Guild awards ceremony. Brent Dacus is a percussionist not only for Casa Maņana but also for four area bands.
Remembering daddy
By Mindy Dacus Fabiano
I am always amused at the inherent paradox found in medical terminology. The passing of my father, Melvin O. Dacus, was listed as a result of "congestive heart failure." One thing Daddy never had a moment in his life was a heart that failed.
In the wake of the violence at Wedgwood Baptist Church, the impending millennium and our over-scheduled lives, how glad I am to be able to center myself in thoughts about a man who found pleasure in the simplest wildflower, pleasure in the eyes of a child (who was quite positive Daddy was Santa Claus) and pleasure in making people happy and pleased with themselves. Indeed, some of his final words to the family surrounding his bed were, "Be kind to each other; take care of and love each other."
Certainly, a legacy for our community and all people everywhere. Papa was, of course, a man of many accomplishments, but I know this about him -- he would feel that all the awards and accolades in the world are really rather unimportant at the end of one's life. He would feel the only things that really matter when you look in the mirror are: Did I live my life with love? Was I kind and fair to all? and Am I at peace with that? There is no question of the answers to any of these with my father.
Lizzie Graves, our dear and wonderful housekeeper of 20 years, summed up Melvin O. Dacus best: "Blessed are the pure in heart, for they shall see God; he is and he will." So much for heart failure.
Top