Alumni Profiles

A rich man | Master key | A school of their own




A school of their own

When conventional teaching runs out of textbook answers, Wedgwood Academy Director Rachel Wittich '91 steps in, providing a successful learning environment for kids others have written off.
By Nancy Bartosek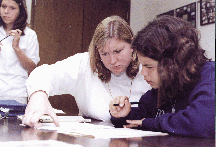 The library at Wedgwood Academy is housed in milk cartons, and the students prop their elbows on folding banquet tables instead of desks. Gym storage is the back of Director Rachel Wittich's car. Their athletic facility is a field behind the church where they meet.
Drop in during class and you might find the students draped about the floor as the teacher reads aloud, or softly bouncing their heads to rock music piped in through headsets during study time.
But ask any of these students or their parents and you'll discover there's a whole lot of educating going on at this school for children with learning differences. Mattie Jackson's son Michael, 12, for instance, caught up two grade levels since enrolling this fall.
And Laurie Anthis' two children refuse to attend any other school, the result, Anthis said, of Wittich's ability to "celebrate each of the students for who they are and not ostracize them for being different.
"I have seen Rachel take children expelled from every private and public school and work with them until they are successful."
Wittich '91 founded Wedgwood in January 1997 when she found herself facing unemployment due to ownership changes at the private school where she taught learning disabled children for five years. When the parents of her 10 students found she was leaving, they pledged their backing if she would start her own school.
That spring, the kids met at Wittich's home, where her unique combination of individual attention and no-nonsense attitude drew notice. By fall, the school moved into a south Fort Worth church, and Brandy Horton '96, now working on her master's in education at TCU, joined Wittich in the classroom.
Today, 27 students from grades 4 through 12 are instructed in one of three classrooms, each designed to teach these special kids how to learn despite disabilities such as dyslexia or attention deficit hyperactivity disorder. Their days are marked by intensive and individualized classroom study and frequent activity breaks, with lots of running sprinkled in.
"The kids who come here have fallen through the cracks," Wittich said. "And to see them make such great progress is so rewarding."
Adds Horton, "These kids come here with this huge frustration built up inside. I just fell in love with helping them find their strengths and rebuilding their confidence."
Accreditation is next on the list for the 3-year-old academy. Then, Wittich will set her vision on acquiring permanent quarters. Wedgwood is part of a coalition of private schools, including Starpoint School at TCU, that serve specialized groups of kids. "We built this school on a dream," she said of herself and the parent group that secured the original charter, ". . . because public education just doesn't work for everyone.
"When you see even one student finally find a place where he or she enjoys coming to school every day, you know why you make the sacrifice."
Top