Alumni Profiles
Mark Kitchens '94 | Jerry Ray '58






The hours are long, the work grueling, but two TCU alumni say that for them, civil service is...
Politically correct
By Nancy Bartosek

Lovell Brigham '88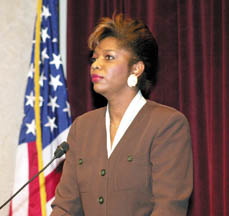 FIVE YEARS AGO, Lovell Brigham '88 had a great job and a bright future in public relations at Parkland Hospital in Dallas.
So when she resigned to prime democratic party pumps at county fairs and chili dinners, many wondered about her sanity.
Not today. Brigham spent that time greasing her own political machinery and in 1998 landed what she had set her sights on -- a political appointment in Washington, D.C.
As communications director for Secretary of Health and Human Services Donna Shalala, Brigham spends her days directing satellite feeds, taping interviews and dealing with the broadcast media in the heart of our nation's capital.
She says it's a lot more than just a job.
"I think most political appointees would feel that way," she said. "You see that what you are doing really makes an impact on the lives of others."
And the perks? Invitations to White House events. Access to inner circles of government influence.
"I am the product of a single-parent home from Tyler, Texas," she said. "Coming from those humble beginnings to our nation's capital and working for a cabinet secretary, with all the pomp and circumstance that goes with that, has been more than I could have ever imagined."
And as her mother might say, with that privilege comes great responsibility.
"I can never forget that I am a presidential political appointee," she said. "Whether I'm on the job or not, I can never forget that."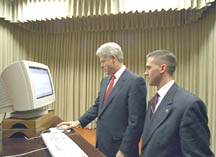 Few people write their own job descriptions, but that's what happened when Mark Kitchens' boss asked him in 1997 to survey ways the White House Press Office might serve the Internet-based press.
When Kitchens' research was complete, Press Secretary Joe Lockhart asked, "When do you want to start?"
Since then, Kitchens '94, assistant press secretary and the first director of Internet news for the White House, has been racing around the capital answering questions, orchestrating on-line conferences and uploading the President's message.
He's even sprinted down the street after the presidential motorcade.
"One time I got left; and when the President goes, they don't stop," he said. "Thank goodness they were only going a few blocks down the street to do the town hall meeting."
Kitchen never imagined he'd be chasing down a President when he was trying to figure out in college how to combine his passion for politics and his love of TV broadcasting.
He got his first political break when he landed a job with Congressman Pete Geren while still a student. That led to a position in Vice President Al Gore's communication shop.
Several months later, Kitchens moved to the White House Press Office as a news analysis coordinator, a position often referred to as the political residency for the press corps.
The pace is "crazy and hectic," Kitchens said, but the work satisfying.
"The great thing about the Internet is that it is dynamic and changing," Kitchens said. "I get to invent my job each day."
Top