Another TCU entrepreneur: Jim Ryffel 81 (MBA '84; RM '98)
Also read: John "Bo" Norris '80, Johnny '73 and Diane Rowand Simons '66, Celia Smith McGrath '83 andKevin Prigel '01



Katy Briscoe '82
Jewelry Designer Houston, Texas
Katy Briscoe '82 doesn't want you to see her jewelry first, but rather the women wearing it.
Her one-of-a-kind pieces fetch from $1,000 to $50,000 from clients hailing from New York to California.
"A good piece of jewelry should make a woman's soul soar," said Briscoe, who lives in Houston with her 6-year-old son, Dillon. "It's a form of self-expression; when a woman walks into a room, you should see her first and the jewelry second."
Briscoe launched her own collection at a breast cancer benefit in 1997, but her jewelry days started at TCU, when she worked for a local jeweler while taking night classes. With an eye for antiqued- highlighted gold, Briscoe uses colorful stones (like ice-blue aquamarines), bright gems and even old coins.
She also is a fan of religious imagery found on many antique coins. (Briscoe, at right, sports a faceted aquamarine beaded necklace with trillion-cut aquamarine and blue Tahitian pearl drop; 18-carat gold tourmaline and carved aquamarine earrings; and an 18K column and Laura bracelets.)
"I don't sell jewelry just to sell it," she said. "I look for the right design for a person; when the jewelry is right, it raises the countenance of a person."

John "Bo" Norris '80
Borrealis Yurts Gray, Maine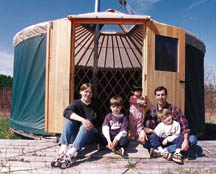 More than a decade into the yurt business, John "Bo" Norris is still scratching his head wondering how he got into it.
Yurts, invented centuries ago by Mongolian nomads, are circular tents made of felt or skins and, unlike tents, marked by six-foot vertical walls.
But what is setting apart the durable, self-contained dwellings made by Norris and his partner, Peter Wattler, are leak-proof skylights and even an opening for a wood-burning stove.
The second-largest yurt manufacturer in the United States, Norris and company build yurts ranging from 12-20 feet wide and costing as much as $6,000. He sold 70 yurts last year, with sales doubling every year.
"Our customers range from back-to-the-land, finding-pennies-in-the-couch naturalists to wealthy yuppies who just happen to own an island off the coast of Maine," said Norris, who with his wife Kathy lives in Gray, Maine, with their three children, Ben, Will and Lily. (The latter they adopted just last year from Cambodia.)
"I feel like I'm doing something good É giving people the option of living off the land in a remote location without harming the environment around them."

Johnny '73 and Diane Rowand Simons '66
Hip Pocket Theatre, Fort Worth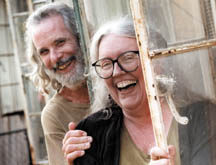 JOHNNY '73 and Diane Rowand Simons '66 may not be your idea of entrepreneurs, but for 23 years the owners and operators of Fort Worth's Hip Pocket Theatre have created a brand of theatre hard to find anywhere else.
Many of Hip Pocket's plays fall around the shores of Lake Worth, where Johnny grew up and still lives.
Still, the playhouse's quirky style has shown through productions as diverse as H.G. Wells' War of the Worlds, Edgar Rice Burroughs' Tarzan of the Apes and Federico Garcia Lorca's The Butterfly's Evil Spell.
All performed, the Hip Pocket has produced more than 175 productions, including 90 world premieres.
Johnny and Diane, married for 30 years, met at TCU and then worked together for years at Casa Ma–ana before starting their own theater in 1977. Johnny directs and writes while Diane serves as house producer and costume designer.
They have two grown daughters, Lake and Lorca, who also sometimes perform or direct productions.
Hip Pocket's thrust-stage amphitheatre looks like its general contracter worked without a tape measure. The stage balcony is perched in a tree. And its sound and light booth might have been purchased at a flea market. All the better considering the outcome.
"From the beginning, we were very cautious about trying to expand rapidly or change, alter too many things," Johnny said. "It's very important for the Hip Pocket to retain its texture, a rough-hewn quality I feel comfortable with. I like to term my theater 'illegitimate com-munity the-a-ter.' . . . I want to steer clear of le-git-i-mate theater."

Celia Smith McGrath '83
Olympia Gourmet Treats Strongsville, Ohio
The Glidden Company wanted chocolate paintbrushes. Air Touch put in an order for chocolate cell phones. And investment firm KeyCorp needed, yes, chocolate keys.
For Celia Smith McGrath '83 and her husband Bob -- owner of Olympia Gourmet Treats in Strongsville, Ohio -- it's all in a day's work.
But corporate clients mark only half of their efforts. In a cozy shop situated on the busiest street of the affluent Cleveland-area community, the McGraths serve up fudge, hard ice creams, specialty coffees and juices, even baklava and other pastries. Though sales have doubled in the last three years, things weren't always sweet for the couple.
When Bob first purchased the company, it's location drew little traffic and corporate clients were nil. And Celia was in her sixth year as a vice president measuring risk for a bank holding company.
That was when she took a risk of her own, working on the side to land a few corporate accounts for her husband's business.
"I thought to myself," Celia said, "if it's that easy, or if I'm that lucky, why am I sitting behind a desk monitoring risk for others?"
Today, the risk that comes with a seasonal business continues to be there, Celia adds, but the excitement is the treat she savors most. "I get a rush landing that next corporate account and finding ways to make Olympia Gourmet Treats that much better."

Kevin Prigel '01
Streetadvisor.com Fort Worth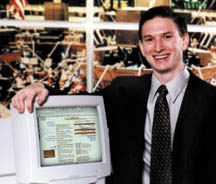 Kevin Prigel '01 purchased his first stock when he was only 8, so it only figures that at the ripe age of 18 he would start his own multimillion-dollar Internet company called streetadvisor.com.
Today, 20 months after the site began, he and 50 other financial analysts offer some of the most objective stock market advice found in (and out of) cyberspace. More than 700,000 different users visit the site every month.
"My Dad got me interested in finances," Prigel said. "From there, I just started reading more and developing the fundamentals as well."
Before streetadvisor.com, Prigel also helped manage TCU's Educational Investment Fund his first semester at TCU and later landed an internship with the billion-dollar investment firm owned and founded by TCU Trustee J. Luther King '62, a major supporter of Prigel's company.
"The people who come to our site can invest with the comfort that none of our analysts trade in stocks individuall; we have no investment-buying biases," Prigel said. "Basically, what we are saying is the complete and honest truth of how we feel."
Or as he told the Financial Times: His company will not get involved in investment banking, he insists, because "there is no way to remain objective if you have a seven-percent fee hanging over a potential deal."



Top