Articles: Going home | From greatest to yeast

Birthing a song
Voice instructor Colleen Mallette is pushing her music to new levels of irreverence
By Nancy Bartosek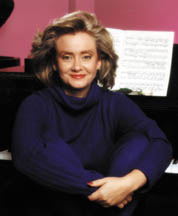 What are you doing with your sense of humor?
That question, tossed casually into a conversation in 1995, was a perpetual one-liner in Colleen Mallette's head. Divorced and trying to find direction at the time, Mallette never thought her quirky view of life might become a way of life.
The concept eventually spawned a new career for the classically trained soprano. This summer, the high "C" diva performed The Lamaze School of Singing presents: How to Birth a Song at the prestigious Edinburgh Fringe Festival in Scotland.
While there, the lively Mallette subjected audiences to her unique brand of humor, a style one reviewer said surely would make the "ghosts of history's finest composers quiver."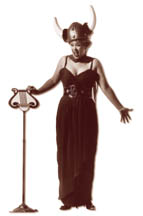 Not that she doesn't perform with an excellence that thrills -- her classically trained voice is at home on the best stages. Or that she chooses offbeat compositions -- her music moves through familiar opera to Gershwin and Cole Porter. It's just that she, well, gets it so confused, and often substitutes her own phrases for the actual ones.
After all, "Oh, filet mignon," "cafe au lait" and "du Chevrolet" really do sound proper when sung in upper octaves. Mallette has been tossing those fudged lines at audiences throughout the United States as one of the 250 performers with the Heartland Arts Fund, a federally funded program that helps municipalities and schools bring talented performers and artists into the community.
The musical whimsy is just an extension of Mallette's natural silliness, humor drawn from goofing off during rehearsals. The title of her performance is courtesy of her original accompanist, Shields-Collins "Buddy" Bray, principal keyboardist for the Fort Worth Symphony.
Bray told her of a teacher from his college days who, behind closed doors, loudly encouraged the students to "push, push" their voice, something most voice instructors eschew. It tickled Bray, reminding him of a woman giving birth. That anecdote gave birth to a 45-minute program that includes several incarnations by Mallette, including the appearance of Elspeth Rowena Smith, an over-enthusiastic 19-year-old from Sweetwater who is auditioning for the opera (and murders the music in the process); a horned-helmet bedecked crooner, a la Gotterdammerung's Brunnhilde, and a spurned lover who ends up draped on the grand piano.
The performance has evolved over the years to keep it fresh, with subsequent accompanists bringing their own impromptu style to the performance. Mallette is also working on a new production, Momma's Hot Oil Treatments, based on her years as a "good Baptist girl growing up in the South."
"To me, there's nothing better than serious laughter," she said. "Dad-gum it, times are hard enough. Let's laugh a little."

Mallette is scheduled to perform with local pianist Mark Stamper on Oct. 5 at the Texas Boys Choir in Fort Worth. Find out more at www.highCdiva.com.


Top