In the line of duty
In football, the real battle is fought and won at the line of scrimmage -- and senior offensive tackle David Bobo is a big reason why the Frogs may go undefeated in the war this fall.
By David Van Meter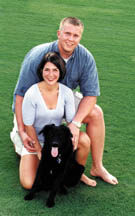 Almost no one wants to be a champion at 5:40 in the morning.
In an apartment a block away from Amon Carter Stadium, David Bobo eases his 295-pound, six-foot five-inch frame out of his bed, careful not to wake his wife of nine months, Karly Reichenstein Bobo '99, a former TCU distance runner.
Their dog, Zeus, a Labrador/Australian shepherd mix, stretches after Bobo, paws clicking as he follows his master down the hall.
Wait. Scratch that.
Bobo admits with a laugh that it is Karly, still a dedicated runner, who usually wakes up first.
Still, that doesn't mean the 22-year-old senior quick tackle isn't a champion himself. Here in the pre-dawn darkness of this July day, the groggy Bobo doesn't stop to ponder that he's a top contender for the coveted Outland Trophy -- given annually to college football's best lineman.
Or that he's a first-team All-WAC offensive line member. He probably doesn't even know that the Sporting News called him one of the top five tackles in America.
What Bobo does sense is that it is time once again. It may be a month until official two-a-day practices consume every Division I-A program across the nation -- but by then, it's too late. B
obo puts on his best stained ballcap and slips out the door. Joining him this morning or later in the day, about 95 percent of the TCU football squad will lift, run and sweat -- with nary a coach in sight.
"We control ourselves; we work out on our own," said Bobo, who led the Frog front offensive five last season with 197 knockdowns. "This is our third year [under Dennis Franchione], and we know where we need to be in order to play our best." The polite Odessa native -- "yes sir" is ingrained in every response -- understands what it means to be the best; he helped take the storied Odessa Permian "Mojo" to the state championship his senior year, with Bobo himself earning consensus Texas all-state honors.
Recruited by former Head Coach Pat Sullivan and by the Franchione-led New Mexico, Bobo chose TCU, following his sister Jamie Bobo Russell '95, a former TCU swimmer. Enroute to Sullivan's dismal 1-10 final year, Bobo played in the first three games, dislocating his elbow.
"I went out to eat at some restaurant with my family, and I didn't have enough strength to open a packet of Sweet N Low," Bobo said. For the remainder of the season, he admits he went to treatment every day, "but I kind of separated myself from what I loved so much."
Two hours after he woke up, the brim of Bobo's cap is wet with sweat. John Cougar Mellencamp sings about Jack and Diane from an overhead stereo in the Walsh Complex at the south end of the stadium. Bobo lies flat on his back, in his fourth set of 110-pound dumbbells bench presses.
"Oh yeah, life goes onÉ" croons senior strong guard Michael Keathley, spotting Bobo and pushing him toward one more repetition. Arguably the most menacing member of the front five, Keathley sports a four-inch long off-season goatee and strokes it fondly, knowing Head Coach Dennis Franchione will make him shave it off before the season opener against Nevada-Reno.
On the ground near Bobo is a worn weight training manual. The regimen for this day calls for 25 hurdle stretches, 100 sit-ups, 15 pull-ups, a set of leg extensions and curls, three sets of squats and box jumps, followed by nearly 5,000 pounds worth of chest and back lifts.
Random quotes are sprinkled throughout the book: Earn the right to be confident and proud. Proper preparation will allow you to do this.
Later, Bobo and Keathley, as well as placekicker Chris Kaylakie, walk to a nearby practice field for mobility exercises, from lunges to shuffles to a "karaoke" running sprint calling for serious coordination. Bobo's least-favorite exercise is the last one -- running backward in kick-like steps up a hill.
"Both David and Michael are all-around the most athletic of our entire offensive line," said strength and conditioning Coach Ben Pollard. "And they're both very serious. They have a chance to play at the next level, and if they're not here, they're at work, or with their families."
Indeed, Keathley, who with his wife Lori has a two-year-old son Kalen, left immediately after practice for work at a Fort Worth pawn shop. Bobo goes home to see Karly before he heads to a sports psychology class, one of three courses he completed over the summer. A former high school swimmer, he also worked most of the summer teaching swimming lessons with Head Swimming and Diving Coach Richard Sybesma.
After he finishes lifting weights, Bobo is reminded of the rankings and accolades he's received in recent days. He waves them off with his big hand.
"Michael is as good or better than I am, and they completely overlooked him, so the rankings to me are not very accurate," he said. "In fact, [everybody on the line is] basically the same age, and we really don't put anyone above anyone else. There's so much respect between all of us. I don't yell at anybody else to get them going. We know when it's time."
And the guys do work as one unit. Victor Payne, who squats 725 pounds and bench presses 500, is its strength, Bobo said. Tackle Jeff Millican, who has already completed his studies for a degree in finance, has the brains. Center Jeff Garner supplies humor, often cracking jokes between downs. Keathley carries "the fire and spirit, definitely." And Bobo? Others call him the leader, but he just aw-shucks the title in his best West Texan manner.
"I just enjoy playing the game; there's something special about running out on that field," he said. "Plus (he pauses to grin), there are not too many sports where you can hit someone every single play, and for it to be legal."

LT for 2000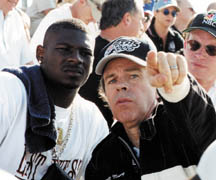 The TCU Heisman campaign for halfback LaDainian "L.T" Tomlinson and his Heisman Run might be an indicator of how many yards the star running back will gain this season (remember, he ran for 1,850 last season).
Or it could simply mean that the 2000 season is the year of the Frogs. For the second year in a row, TCU has been named the favorite in the Western Athletic Conference football media poll.
Coach Fran and company earned 206 points and 16 first-place votes from media members, nearly three times the number of first-place votes garnered by second-place pick Fresno State. Hawaii was picked third, Rice fourth, followed by SMU, UTEP, Nevada, Tulsa and San Jose State.
The media also voted LaDainian Tomlinson as the offensive player of the year and Frog defensive end Aaron Schobel as the defensive player of the year. Tomlinson also earned first-team All-America status from Athlon, Playboy, Football News, The Sporting News, Dave Campbell's Texas Football, Blue Ribbon, Street and Smith and Preview Sports:
"He's as hard to catch as his name is to spell. He's the best-kept secret in college football." -- Ron Franklin, ESPN
"It is nice to know that Heisman Candidate LaDainian Tomlinson can run for 400 yards in a game if he wants to; it's even nicer to know that he doesn't have to for the Horned Frogs to win." -- Lindy's Magazine
"If TCU's tailback can advance one more rung, he will be mentioned in the same breath as All-Stars, All-Pros and -- just maybe -- Heisman winners." -- Dave Campbell, Texas Football


Top