Alumni Profiles
No borders

Alumni Awards 2000
Since 1954, TCU has recognized the contributions of nearly 400 of its most outstanding alumni and friends. This year was no different, as a "star-studded" evening during Homecoming/Reunion weekend proved.
By Nancy Bartosek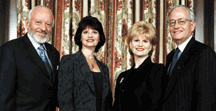 Distinguished Alumna Award. Sisters Liz Minyard Lokey '76 (second from left) and Gretchen Minyard Williams '78 not only share this award, they are co-chairmen and co-CEOs of Minyard Foods, Inc. Liz was the first woman chair of both the Greater Dallas Chamber of Commerce and the Dallas Better Business Bureau and is co-founder, and now life member, of the North Texas Food Bank. Gretchen serves on the boards of Chase Bank of Texas N.A, Baylor University Medical Center, The Institute of Aerobic Research Center, CONTACT Counseling and Crisis Center and the Dallas Mavericks Foundation. She is co-chairwoman of the Leukemia Association of North Central Texas. The sisters, above with husbands (left) Paul Lokey and J.L. "Sonny" Williams, have been ranked first among the top 50 women owners of firms in Texas and 14th among the top 500 women-owned firms in the nation.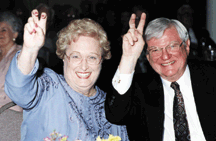 Valuable Alumnus/Alumna Award. For nearly a half a century, George '48 and Rosemary Johnson Runnion '51 have been TCU stalwarts. Extremely active in the Fort Worth alumni chapter, they have both served on its Board of Directors. George is the vice president of the Quinq club and has served as reunion gift chair and reunion chair. Rosemary was instrumental in the colonization of Delta Delta Delta at TCU and later became chapter adviser.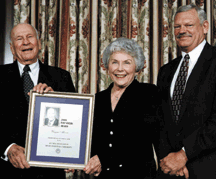 Founders Award. Brite Divinity School business has been one of Wayne Moore's priorities since 1968, when he first became a trustee. Since then, he served 23 years on the Brite Board as well as years of service on the TCU Board of Trustees. TCU staff member David Murph remembers a call he got from Wayne, who was hospitalized in Midland. Wayne asked him to "come quickly ... I have something urgent to discuss." David, a minister, rushed to Wayne's side, finding him in bed with an oxygen clip in his nose. It didn't look good. When David asked how he was, Wayne replied: "Damned near died, but I'm better now. Now sit down so we can talk about this Brite business." Wayne, left, is with friend Mary Hardie and nephew Tom Moore.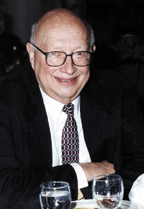 Honorary Alumnus Award. After earning a record that stood for 40 years at the University of Texas for catching 43 passes in one game, History Prof. Ben Proctor played professional football with the Redskins before heading to Harvard. Since joining TCU in 1957, he has been recognized as the top teacher of the year several times, was a Minnie Piper Fellow and was named one of the top 10 professors in Texas. In addition to directing 41 master's theses and 22 doctoral dissertations, he helped establish TCU's Phi Beta Kappa chapter. Author of nine books and more than 30 articles, his latest book, William Randolph Hearst: The Early Years, 1863-1910, was recommended for the Pulitzer Prize.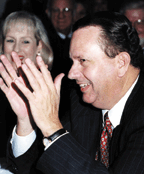 Royal Purple Award. In his high-profile position as mayor of Fort Worth, Kenneth Barr '64 is painting the entire city purple. From his beginnings at TCU as a Delta Tau Delta, Ken over time became president and CEO of The Barr Company printing firm. Ken became mayor in 1996 after serving on the city council for three years. The people of Fort Worth expressed their confidence in his leadership when in 1997 he was elected to his first full term by capturing 81 percent of the vote against three opponents.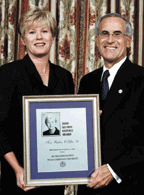 Alumni Service Award. Few would be willing to spend three to six hours on the road to attend a meeting, but Teri Baker O'Glee '78 thinks nothing of driving to TCU from Austin. For eight years, she served on the National Alumni Association Board of Directors, representing the association on the Board of Trustees for four years. Long active in Austin alumni affairs, she served on the local chapter's board for several years and is a member of the recently established Austin Regional Council where she provides guidance on alumni and development programming, supports educational and advancement efforts and acts as the University's representative in the area. She serves on various boards in the Austin area that support children's issues. Recognized for her organizational expertise, Teri has chaired two major charity benefits.

Frog O-Fame Award. When sprinter Raymond Stewart '89 came to TCU, he was already an Olympic Silver medalist and a national hero in his native Jamaica. That first year at TCU, he fought injury and homesickness and went on to accomplish more than any Horned Frog sprinter in TCU history. Raymond still holds the school record in the 100-meter dash. He was named an All-American seven times and won 100-meter titles at the Penn Relays, Florida Relays, Texas Relays and Southwest Conference Championships. Twice he had victories in the 100 at the NCAA Championships. In his final race at TCU he set the collegiate record in the 4 X 100-meter relay at the 1989 NCAA Outdoor Championships. In 1989, Raymond beat Carl Lewis to become the fastest sprinter in the world. He has been a finalist in four more Olympic competitions, showing his Horned Frog pride by wearing his TCU socks as he ran for Jamaica.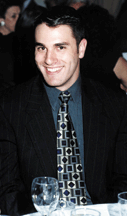 Distinguished Student Award. Think accomplishment, and you might also think of Tyler L. Smith '00: He graduated in May with a 4.0 in business administration, one of 42 students in his class to receive a full-tuition academic scholarship. After his junior year, Tyler backpacked through Europe before reporting to Mansfield College at Oxford University for summer studies in British economic history and international economics. At TCU, Tyler was involved in Project PRISM, the Emerging Leaders class, the Campus Leadership Forum, the TCU Leadership Conference and The Commission on the Future of TCU. He was a founding member of the campus chapter of Pi Kappa Phi and served as its vice president.

Top