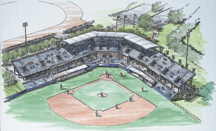 A field -- and a new rec center -- of dreams
SOME SAY night games ruined Wrigley Field in Chicago, but baseball games in the evenings may mark a rebirth for TCU baseball. When the $7 million lighted facility is complete -- about half the funds have been raised -- it will sport a cantilevered roof, 3,500 seats, luxury seats, locker rooms, batting and pitching cages, training rooms, a press box and field office for TCU's head coach. Site work could begin as early as the summer. The stadium is bounded by the Bayard Friedman Tennis Center to the north, the Lowdon Track to the west and the Garvey-Rosenthal Soccer Stadium to the east. Home plate will be on the northwest corner of this space, placing the right-field fence parallel with Berry Street.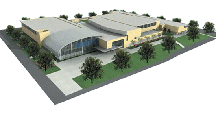 A 1998 SURVEY determined that nearly 92 percent of TCU's students participate in the University's recreational sports programs, more than 75 percent logging more than three hours a week of sport or exercise. Those statistics, say campus planners, are just one reason for the $27.5 million expansion of the student recreation center. "The University has made a commitment to be a residential campus," said Don Mills, vice chancellor for student affairs. "Part of a successful residential campus is to provide quality-of-life facilities." Preserving the Rickel name in its administrative suite, the improved center will expand the old building from 146,000 feet to 202,000 feet. New features will include five gyms, a larger weight room, a cardio room, indoor jogging trail overlooking five racquetball courts, an outdoor recreational pool, even a climbing wall. Other improvements will include new quarters for the kinesiology department, the TRIO programs, the Adams Writing Center and the Intensive English Program.

A degree in fun
Paper airplanes. Magnetic soccer. A balloon on a bottle in boiling water inflates while another in ice does the opposite. It might sound like just a lot of fun, but in the 25 classrooms and among the 300 elementary students attending TCU's first Mini-University in October, learning was the real curriculum. "We not only wanted to get these elementary students excited about math and science, we also wanted to give our pre-service education students the chance to practice their skills in a classroom," said Janet Kelly, project director and associate professor of education. More than 30 pre-service education majors served as lead teachers and planned and developed the courses they taught in the workshops. Another 43 TCU students assisted in the classes.

Playing around
Mud-caked boots slowed the steps but didn't hinder the enthusiasm of an army of Pi Kappa Phi fraternity brothers who arrived early one Saturday morning in November to "Rise" a playground for the children of Starpoint School and The Rise School, a national preschool program for children with Down Syndrome that opened a school at TCU last fall. Funded primarily by the Kimbell Art Foundation, two brightly-colored jungle gyms -- complete with slides, tunnels and climbing structures -- now grace the backyard of Starpoint School. "My own brothers and sisters don't tackle me with joy when I come into a room," said Pi Kap Josh Gardner, explaining his motivation as one of the project's coordinators. "These kids do."

Engineering goals
The concept seemed simple -- build a robot out of Legos and a microchip that could move and then fling ping-pong balls into a widegoal. But as the non-engineering majors in associate engineering Prof. Stephen Weis' freshman design class learned, goals are much easier to miss in the real world. "On paper, every one of these bots should get the job done," Weis said of the nine students projects completed. "But the students discovered that the hardest thing to do is build something that can repeat the same task over and over. There's just so many variables." Below, psychology freshman Robert Mood and his team turned in the most successful robot.

Hungry to share
The temperatures dropped to their lowest in November the night junior Mandy Mahan and senior Richard Collins camped out in a cardboard box beside Frog Fountain. No, the two weren't squatters, that night they were hunger activists, hoping to raise awareness at TCU about the plight of the homeless. "I learned you get a lot hungrier the colder you get," said Mahan, chair of the Hunger Week committee. The "shanty town" Mahan and Collins constructed was part of the Hunger Week activities on campus, which also included a hunger jail, canned food drive, hunger chapel, a service project and the annual hunger banquet and silent auction. During its 18-year history, Hunger Week has raised more than $200,000 and donated many tons of food to local shelters. This year $7,000 and several truckloads of food went to the Tarrant Area Food Bank.

Winter coats
TCU cofounders Addison and Randolph Clark may be immortalized in the collective memory, but the bronze statues of the brothers would deteriorate if left to the elements. Each fall, Clyde Ridge, supervisor of the TCU paint and sign shop, undertakes a three-step, half-day process to protect the Clarks: Old wax is removed followed by a pre-wax primer and a coat of new wax.

Going for the gold.
Jon Drummond '89 was born with spina bifida. By the time he turned 32, Drummond had suffered spinal meningitis three times. And in 2000? The former TCU sprinter won an Olympic gold medal running in the 400-meter relay for the United States and was a semifinalist in the 100 meters. In November, the former TCU sprinter donned his medal and delivered the secret to his success to a Justin Center roomful of former and current TCU tracksters. "In life," he said, "you set out to do things and while it may not always turn out to be what you wanted, there is always a reward in persevering." Other Frogs honored with Drummond were Ricardo "Flash" Williams, who competed in the 200-meter relay for Jamaica, and current students Kim Collins, who represented St. Kitts and placed seventh in the 100 meters, and Lindel Frater, who finished fourth for Jamaica in the 400-meter relay and was a semifinalist in the 100 meters.

Work of the Irish.
Acclaimed Irish poet Rita Ann Higgins came to TCU in October, speaking to TCU classes in part on the struggles that come with being labeled the country's "working-class poet," a phrase she despises. "I did not want any title or pedestal to come down from. . . . It is so difficult to have something to be answerable to. I only want to be answerable to the pen that is giving me the poems."
Prism ╩
After the man up our street
stuck broken glass
on top of his back wall to keep out those youngsters
who never stopped
teasing his Doberman Pincher,
He put the safety chain
on the door
sat at the kitchen window,
let out a nervous laugh
and watched the Castle Park sun
divide the light
and scatter it all over his property.
-- Rita Ann Higgins

In Brief
Signing to change the world. The November signing of a dual-degree agreement with the Universidad de las Americas in Puebla, Mexico, marked another footprint as TCU steps across cultural and geographic boundaries. The agreement, signed by UDLA Academic Vice Rector Jorge Welti and TCU Chancellor Michael R. Ferrari, allows students from the two universities to earn degrees in communication from both institutions simultaneously. As part of the program, students spend one of their upper-class years at the sister school.
Critical care. "We're looking at a shortage of more than 400,000 nurses by the year 2020," nursing workforce scholar Peter Buerhaus told a crowd gathered for the keynote speech during the Lucy Harris Linn Institute in November. "This is really a social problem, one the profession alone cannot solve." This shortage will occur when the first of the 78 million baby boomers begin to retire and have greater health care needs, Buerhaus said government should assist by offering greater economic incentives to prospective students.
One tuition fits all. The TCU Board of Trustees executive committee approved in February a new pricing structure that better aligns TCU with other prominent private universities and reflects the value of the complete "TCU experience," said Chancellor Michael R. Ferrari. Beginning Fall 2001 with entering students, tuition and fees will be covered by a single, inclusive tuition and university fee charge of $7,500 per semester.
The advantages to the new pricing structure, Ferrari said, include a higher four-year graduation rate, a major goal of all private institutions. The single-fee pricing structure also encourages students to explore a wider variety of courses and subjects without the barrier of significant added costs. The comprehensive fee also follows sound admissions practices by more clearly informing parents and students from the outset the cost of a TCU education.
"Nearly all private universities in the United States offer a semester fee pricing structure to reflect the complete experience of private higher education, which takes place both in and out of the classroom," he said. "At TCU, the total experience is an uncommon balance of four factors.
"First, TCU offers the strengths and choices of a major university tempered with the true humanity of a small college.
"Second, TCU is a friendly, caring community where our faculty are teacher-scholars who conduct and publish research, but focus primarily upon teaching and mentoring.
"Third, we have a special church relationship that does not seek to impose a particular religious point of view, but instead challenges students to consider what he or she believes. And fourth, we emphasize the development of the individual in a liberal arts based, global-minded curriculum. TCU students are learning to change the world."

TCU tomes
Paradise Vendor
By David Alan Hall '87
Writer's Showcase
Casey Raymond thinks he can save the world. Or at least make it a whole lot better for the little guy. And he just might be able to do it. He's got a couple of big ideas -- how to build safe, cheap, non-polluting cars and houses -- and the money to make it happen. That is, if he can stay alive. Certain big-business folks don't cotton to his ideas and want him dead.
David Alan Hall's '97 epic novel of one man's lifelong quest to bring a little paradise to the world is an intriguing action tale of perseverance and ambition. The story charges through Casey's life while examining the cost and questioning the value of power, fame and success.
You'll like Casey as you cheer for his dreams and weep at his follies. And you'll think more than twice about what makes mankind mankind. Hall will be at the TCU University Bookstore on Berry Street March 31st at 2 p.m. to sign books.
In the Way Elephants Do
By David L. Kilpatrick
!stBooks.com
Noah the Wanderer is a cantankerous 100-year-old bull elephant who has lived an incredible life. Now living out his few remaining days in a run-down Midwestern zoo, Noah tells the story of this remarkable life -- from his beginning in an African savannah to his adventures across three continents, to his experiences as a circus performer and side-show attraction.Through it all he witnessed all the human world has to offer: war, peace, love, hatred, kindness and absolute cruelty.
Kilpatrick's Noah is a gentle, insightful character and a gifted storyteller. Sharing the travels of this wonderous animal is a delightful journey into an existence beyond our own -- and yet all at once marvelously familiar.