From his early days as a devout minister to his second life as a Cherokee chief and medicine man, C.W. Duncan '56 (BD '59) has been...
Sprinting backwards to God
By Nancy Bartosek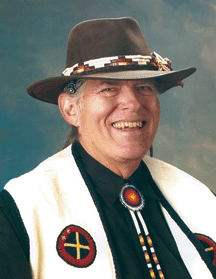 Coyote overslept. When he rose, he hastened to Grandfather, knowing he was late for the naming ceremony. Poor Coyote, he had proudly bragged he would be first in line and receive a noble name. Now he would be stuck with Coyote, which means imitator. Grandfather took pity on the dejected Coyote and gave him a special duty... "When lives stumble out of balance, you shall be the one chosen to stabilize them." To this day, Coyote remains very proud to be special, and while he always endeavors to do good, like many of us, he is thwarted by his ego and appetites. So beware. The mischievous Coyote lurks nearby to give you a helping hand when your world is out of balance.
C. W. Duncan '56 (BD '59) chuckles as he relates the story of Coyote, an important character in the Cherokee storytelling tradition.
Known today as Grandpa Sings-Alone, Duncan knows Coyote well -- the troublemaker has shadowed him his entire life. Coyote did his job effectively, Duncan says, pushing him through troubles and trials to an unusual balance in life.
"I have spent my whole life running toward my spirituality," Duncan said. "But to find my religion, my own way of serving and worshipping, I've gotten there backwards." With Coyote nipping at his heels, Duncan has moved from Christian minister to psychologist to Grandfather Chief of the Free Cherokees. His circuitous path to his spiritual roots has landed him contented in the role of professional storyteller, author and medicine man.
The son of a respected Christian Church (Disciples of Christ) pastor and a Anglo-assimilated Cherokee mother, Duncan knew from a very young age he would enter the ministry. His course set, Duncan entered Brite Divinity School in 1956, his new bride Rose Nell Hehl '56 (whom he met the first day of his first freshman class at TCU) in tow.
Not long after settling into training, Duncan and his wife found themselves seeking answers to why they had not been blessed with children.
The doctor's prognosis was grim -- Duncan did not produce live sperm. Not willing to accept the finality of that news, Duncan determined to petition the Lord to heal him. He had no idea Coyote was lying in wait. One morning Duncan found his way to the meditation room at Brite, a small, secluded room off the chapel, where he knelt at a quiet altar.
On the console in front of him were a few buttons. He pushed several, one of which piped the soft strains of Sweet Hour of Prayer into the room. Unbeknownst to Duncan, the music also filled the chapel, where a prominent guest preacher was waxing eloquent for a house full of fellow seminarians.
The preacher raised his voice, determined to compete with the music. At that moment, Duncan bowed his head and offered his fervent petition, which not only reached God but boomed into the chapel: Puleeze God, let my sperm live and swim strongly upstream.
Moments later, the meditation room flew open, and a red-faced dean yelled, Get out! Now! Duncan chuckles. "I couldn't imagine what caused such violent agitation. Only later, and with great pleasure, did my fellow students enlighten me."
Nine months later, Duncan and his wife welcomed the first of their four children. The small family was sent to minister in Frisco, following the footsteps of another recent seminary graduate named Billy Tucker, who would later lead TCU as chancellor for 19 years.
Coyote trailed behind, continuing to exasperate Duncan. While performing his first baptisms, Duncan misjudged the water's depth and slammed an unusually tall parishioner's head against a cement step, knocking him silly.
During his first hospital visit as a minister, the new preacher inadvertently kicked the catheter bag of a blind, dying patient, jerking the tube suddenly out of the poor woman. Horrified, Duncan silently turned and quick-stepped it anonymously down the hall past the nursing station, commenting to them that he heard someone cry out who might need attention.
As the years moved forward, Duncan continued to be perplexed by the prodding of Coyote, pokes that eventually led him to leave the ministry to practice psychology. His 17-year marriage floundered and Duncan ran smack into his Cherokee heritage.
Finally listening to Coyote's prods, Duncan spent several years serving as a psychologist to the Mojave Indian tribes before finding his way to Maryland where George Whitewolf, a Monacan/Sioux spiritual leader, mentored him into the Native American spiritual world.
All the while, he continued to practice psychology, focusing on people with severe dissociate disorders and writing his first book, The Fractured Mirror: Healing Multiple Personality Disorder. He laughingly refers to that as his last gift to psychology.
In Maryland, Duncan also met his soul mate and now-wife Priscilla Cogan, an award-winning author and psychologist who joins him in the Indian traditions and practices. Now a storyteller and medicine man, Duncan conducts pipe and sweatlodge ceremonies.
While his audience has changed a bit over the years, Duncan continues to do what he knew he'd always do . . . minister and heal. His stories and methods are just different than before.
"There are spiritual teachings in even the most unseemly of tales," he said. "The Indian way of praying is just that . . . a way of centering, getting grounded with grandmother earth. You don't have to not be anything else to do that.
"When Pete Gutterman was in the sweatlodge, he was still a Jew, and when Father Tom was there, he was still a priest.
It is not a conflict with anyone's faith to be part of the ceremonial life of the tribes. In fact, many of the medicine men are Christians."
Today, Duncan and Cogan spend their days between Massachusetts and Michigan where they write and share their experiences through presentations and workshops. Both are celebrated storytellers, a gift Duncan has had since he was a child.
His best stories are available on CD, one of which -- Grandpa Sing-Alone's Favorite Tales -- was chosen as a 2000 Parents' Choice Award. He's also working on a new series of original tales of his own creation, based on a figure he calls Grandpa Fry Bread, a congenial character who is as big around as he is tall.
But his favorites are traditional Indian tales, and many center around Coyote, for he knows he is a bit of one himself.
"There is a little Coyote in all of us and a lot of Coyote in some," Duncan said. "Truly troublesome, our own human perversity becomes Coyote's best tool. Consider the number of national leaders who have worked hard for the people but allowed lechery, greed and egotism to tarnish their image and render them foolish.
"This is the way of Coyote."

Read more about Duncan's life in Sprinting Backwards to God, his most recent book. Order it at www.twocanoespress.com

Top