It may be his first head coaching job, but the Frogs' 29th gridiron boss has the coaching business
By David Van Meter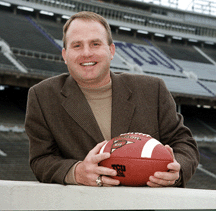 Warily, I walked into the office that former Head Coach Dennis Franchione moved out of in December, leaving behind only uncertainty.
The place still felt the same. Exact same executive washroom. Commanding view of Amon Carter Stadium. Framed pictures of the Frogs' 1998 and 1999 bowl victories. Same polished mahogany desk.
But that was before Gary Patterson -- a 19-year veteran of college football and a 41-year-old father of three -- started sitting behind the desk. And before the Frogs lost to Southern Miss, 28-21, in the 2000 Mobile Alabama Bowl.
Patterson paused and drank from a half-empty bottle of Mr. Pibb. It's pushing 3 o'clock on this January afternoon; the soda is lunch, again, for the compact, steely-eyed coach.
In fewer than 10 working days, Patterson had hired all but one of his nine assistance coaches. One of them -- new defensive coordinator Chuck Dreisbach -- would later tell me, "Gary is not going to allow anyone to outwork him."
Patterson slowly spins the soda bottle in his hands. "I guess the one thing I did, not as a head coach but as a defensive coordinator, is I allowed 14 points in the fourth quarter," Patterson said matter-of-factly of the Mobile loss. "I really thought our kids played hard in that ballgame, though not always smart. In some ways I'm glad it happened like it did, not that we lost, but the way the whole situation turned out."
The situation? Oh, yes, the one that began on Nov. 14 when the Frogs were invited to their third bowl game. Two weeks later, Franchione accepted the head coaching job at the University of Alabama. One week later, TCU picked Patterson, the team favorite, for the head coaching spot. Six days later, Franchione pulled out of his earlier commitment to coach the Mobile game.
The Frogs lost one week later. Patterson quickly waves off any attempts to blame his former boss. "We just lost the complete focus we had in what we were trying to accomplish," he said. "But the biggest thing in life, whether you're a football coach or a business executive is that when problems arise, how you solve those problems.
"I think that's what has made me a good coach because I've never had a problem with doing what it takes to get the job done. I think that's what you're going to find with the staff I've brought here. They want to get the job done, too."
THE OLDEST of four, Patterson grew up in Rozel, Kan., where his father leveled farmland for irrigation. Patterson started working at age 9.
"We worked most of the day, took a nap, and then worked until the sun went down," Patterson remembered. "That kind of upbringing is just a way of life there. Kids there start driving wheat trucks at 14."
Far from a "hayseed" upbringing, it was a land of huge combines doing big business, but it was small-town life. Patterson's swimming pool was the Arkansas River. A trip to the movies meant a 45-minute drive to the one-screen theatre in the next town.
The defensive back Patterson played football for Pawnee Heights High School, and then for Dodge City Community College. He finished his college career at Kansas State. After graduation, Patterson figured his coaching highlight film would be filled with high school games.
Mentors like Western Michigan Coach Gary Darnell, and later Franchione, would show him a different game reel. Today, Patterson has coached at 11 different colleges -- none for more than three years until TCU. His first job paid only $275. Others included doing the team laundry and cooking as well as coaching. Patterson calls it a "growing-up" experience.
"I think I learned that treating people well and establishing lifelong relationships are more important than how fast you climb to the top," he said. "It's better to me to move slower and establish a firm foundation -- where you can be proud of who you are and what you stand for."
Patterson and Franchione first crossed paths at Pittsburgh State in 1985, but it was in 1996, when Patterson became defensive coordinator at New Mexico, that his talent became apparent. Over the four years before Patterson joined his staff, Franchione was 18-27. Afterward, his teams went 40-19.
At TCU, Patterson perfected the most successful defensive scheme in the country, in total defense and scoring defense. A confusing scheme for most teams, it puts five secondary backs on the field, including three safeties. Ready against the pass, the pressure-style defense can also adapt quickly to the run.
The real difference, said the defensive coordinator Dreisbach, is that "Gary has a knack for getting the best out of his players," he said. "That's probably the most important quality a leader can have."
As the head defense coach at Western Michigan last year, Dreisbach invited Patterson to the school last spring. "We went lock, stock and barrel with Patterson's system," he said. "We ended up ninth in the country in total defense."
Free safety Curtis Fuller knows why. "He allowed us to make a lot of calls on the field," he said. "A lot of times, we're calling the coverages and the blitzes, and it gets you totally involved in what the whole defense is doing. "He encouraged us to become coaches on the field."
Patterson and his staff, the coaches on the sidelines, understand the challenges that await them when the 2001 season opens. For one, the Frogs graduated 26 seniors, including halfback LaDainian "L.T." Tomlinson. But the February signing of 16 scholarship players -- including quarterback Tye Gunn of LaGrange, the state's 3A player of the year, and Blinn College juco running back Reggie Holts -- is a good first-down play in the game plan Patterson has in store for the Horned Frogs.
"I played at Kansas State; if you would have told me 18 or 19 years ago that the Wildcats would be going to the Cotton Bowl every year and beating Tennessee, I would have wondered what you had been smoking," Patterson said. "I sense that we have more potential here. We're sitting right in the middle of one of the greatest football states of all time.
"And that's where my job comes in. I'm not a flash person. I'm not the guy who walks in the room and people say, 'Wow, he's the guy that ought to be running this or that.'
"My job is to keep people interested in TCU football, to win football games and to give people the dreams they have for the University."

Top