Related Articles:
In the valley of the shadow



A man in black
The tale of another TCU kidnapping
By David Van Meter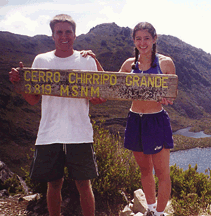 Daniel Shaw '99 and his wife Alyssa Anes Shaw '99, nearing the summit of Mt. Chirripo, the tallest peak in Costa Rica. Shaw would later be kidnapped briefly in Colombia.
THE MOST amazing thing in Houston engineer Daniel Shaw's apartment is the map stretching from ceiling to floor across an entire wall and part of another.
A geography buff by nature, it is the mountains that captivate Shaw '99. He has spent most of his life climbing them, his sinewy arms giving evidence to a way of life more than a passing hobby.
That drive prompted Shaw and his childhood best friend, Dave Staley, to plan the ultimate mountaineering trip two Januarys ago, "our dream trip after college," Shaw calls it. To climb the tallest mountain in every country in North and South America.
More than 23 peaks, Shaw and Staley would see terrain ranging from a sulfur-spewing volcano in Guatemala to the tallest desert peak in the world in Chile. The climbers also planned to climb in Colombia.
"Both Dave and I are real confident; we've always been warned not to do things," Shaw said. "When people warned us of the danger there, the political instability, I guess we didn't heed the warnings as much as we should have."
The trip foreshadowed the trouble to come. Driving into Mexico in a "beat-up" Mazda, Shaw and Staley paid off corrupt police officers trying to confiscate their driver's licenses.
In Nicaragua, dense jungle left them slightly lost and without much food or proper clothing; they found shelter for the night, and a bowl of pasta for dinner, at a remote hut where a man and his son were staying. The next day, the two were forced to seek the help of police, after the backpack containing their passports was stolen.
"That was really strange," Shaw remembered. "They agreed to come help us, and then they piled into the back of our car because they didn't have one. . . . It was weird seeing three police officers with machine guns crammed in the back seat."
Next came Costa Rica, where Shaw was joined by then-girlfriend Alyssa. Together, they climbed 14,000-foot Mt. Chirripo. Before Alyssa left, he assured her he would contact her every few days. That changed once Shaw arrived at the base of Colombia's Mt. Colon a few weeks later.
"No one had climbed it in years," Shaw said. "There wasn't even a known route up the mountain. We just had to check it out."
The 19,000-foot ascent proved to be the trip's most beautiful climb. Mid-way down, on a different route and with darkness approaching, Shaw and Staley stayed the night in their tent on the edge of a small Indian village.
Shaw was reading when "a man in black" fatigues approached them. He left and returned a short time later.
"He told us we were going to have to come with him."
The two had been taken by one of Latin America's largest militant leftist groups, the Revolutionary Armed Forces of Colombia, or FARC. A 45-minute, pitch-black march into the mountain undergrowth transported the two Americans to a cocaine processing plant. The two spent the night on banana leaves and black plastic, guarded by guerrillas.
"The next morning, the leader of the group asked us, joking-like, if we were scared," Shaw said. "I said, 'I don't know, do we have a reason to be scared?' The commandante nodded his head and smiled. Later, he would tell the two men, "We're trying to figure out how much to get for you.' "
Then the unexpected happened. The lead guerrilla produced a Palm Pilot-like organizer; the instructions were in English. He asked Shaw and Staley to translate how to use the device.
Then, perhaps endeared to the two, he agreed to the ransom terms the boys proposed: The coats off their back, the 50 dollars they carried in their pockets, a GPS tracking device, a stove and two cameras.
"He said we were lucky," Shaw said. "He said they usually kill Americans."
Once out of site of the camp, the two broke into a walk-run. Suddenly, the guerrillas ran up from behind. Shaw thought their captors had changed their mind.
"They only wanted to know what kind of film the camera took," Shaw said.
Incredibly, Shaw continues to climb today. Next up are Peruvian peaks Huascaran and Alpamayo, which will complete Shaw's South American goal.
"Getting into that situation tells you what your character is like more than you ever knew it before," Shaw explained. "After it happened, I evaluated what is important to me in life. I came to the conclusion that what is important to me is Alyssa and my family, but mountaineering is also a part of who I am, too."

Top