Related Articles:
Dove season |Star struck | The Hollywood pitch



Nutrition and Dietetics Green Chair
International Olive Oil Council member Connie Peraglie Guttersen '86, the Green Honors Chair for nutrition and dietetics, says what is needed at the nation's dinner tables is an ethnic cuisine led by the olive itself

Olive toil

by David Van Meter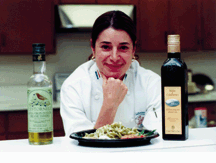 It was the goddess Athena who brought the olive to the Greeks, the mythology goes.
Zeus promised to give all of Attica to the god or goddess who made the most useful invention.
Beating out Poseidon's nifty war horse, Athena planted the world's first olive tree on the rocky soil of the Acropolis, producing a fruit that can be used for heat, light, medicine -- and for incredibly healthy food.
This lore is not lost on Connie Peraglie Guttersen '86, in her fifth year as dietitian for the Culinary Institute of America. Neither did the petite, fit PhD allow the olive's nutritional value to escape TCU's nutrition and dietetics students.
For one rainy week in February, the mantra of the former TCU faculty member and visiting Green chair was Mediterranean cuisine, a diet heavy on fruits and vegetables, light on meat, and where more often than not, olive oil is a key ingredient.
"We're not trying to drastically change the eating habits of the American consumer, but to start a good, steady course toward healthier options," Guttersen told students. "And you do that by offering more variety, which comes from ethnic cuisine."
While rock-salt salmon -- a nine-pound fish encased in a hardened shell of rock salt and egg whites -- cooked in a nearby convection oven, Guttersen prepared dishes illustrating how the Mediterranean region, though 40 percent of its diet comes from fat, enjoys better health and lower levels of obesity than Americans: pasta and a basil pesto sauce using extra virgin olive oil instead of, perhaps, margarine or butter; a cucumber dip with olive oil and strained yogurt instead of cream cheese; and a spicy romesco cracker dip rich with olive oil as well as tomatoes, bell peppers, chiles and Italian bread.
Food management junior Shawnie Smith was among those surprised at the flavors that passed around the Bass 309 classroom.
"I realized how many things you can do with an olive and how flavorful it is. It's a powerful flavor and different olives have different flavors," she said. "I had a bad view of the olive, even though I knew it was a healthy fat, because it is so high in fat. But I was really surprised at how good it is for us."
And that was Guttersen's take-home lesson exactly. "The reason the Mediterranean population consumes so many vegetables and beans and grains is that they cook with olive oil, and this adds flavor," Guttersen said. "They never steam vegetables with the fat-free vinaigrette.
"If we stay with a typical American cuisine, where do we get a chance to incorporate more vegetables?" Guttersen asked. "Our big three are green beans, carrots and broccoli.
"You can achieve flavor by herbs and spices and cooking techniques, rather than rely primarily on fat, salt and sugar to achieve flavor. Once we start experiencing the Mediterranean flavors of olive oil, cumin, coriander, saffron and paprika, we find that they are exciting and delicious.
"We have to teach the consumer about flavor and where to find it."
Americans, she said, can lower their weight -- and expand their food choices -- by using more monounsaturated fats such as nuts and avocados, eating fewer processed foods and watching portion sizes.
"Already, we're seeing that restaurants and food professionals are offering consumers more choices, and they include healthier foods that are also delicious," she said. "We know they're not going to take baby back ribs off the menu; those are good sellers. But we're giving them ideas for foods from ethnic cultures that are just as delicious.
"We don't teach diet plates, because no one wants to eat that. We're providing foods that are healthy but just as flavorful and exciting to experience."


Top