Related stories: Three's charm |Anton Mordasov |Yuri Blinov

Tadashi Imai
By David Van Meter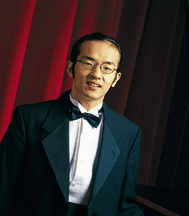 Tadashi Imai remembers giving piano performances when other kids were playing kickball.
He also remembers being hated for it. His mother's piano caught his attention at age 3; Imai's first professional performance at 13 set him apart from his younger brother, who would grow up to be a cartoonist, and from the others in his neighborhood.
There also was the birthmark. Imai gently touches the olive-sized chocolate birthmark on his left temple.
"I think" -- continually, Imai pauses to let his Japanese mind find the right English words -- they just did not like it," he figures, still puzzled 13 years later. "So I spent most of my time alone, but by then I had already started enjoying music. I could concentrate more on the thinking of music."
Imai would go on to win or place highly in three major Japanese competitions, including the Twelfth Takahiro Sonada Award in Oita, claiming the Governor's Prize. It was then he first met Tamas Ungar.
A year later, he made his professional debut in Tokyo and participated in the Okinawa International Music Festival. But the the pain remained. Imai turned to philosophy books.
"I wanted ╔ to learn about humanity," Imai said, "because, if possible, I thought I could improve the relationship with my friends." He discovered the answer at his fingertips. "Before, I was playing the piano, I think, because I wanted to me a Japanese music star. But I realized that people can share that same feeling you have on stage. I looked out into the audience and I saw them feeling what I was feeling."
Imai smiles broadly now -- one of 30 competing for Cliburn gold -- the mark God gave him now in an entirely different spotlight, just like the pianist himself.
"I think now ╔ this is my trademark."